2025 ZR1 Captured in the Wild
May 26, 2023
The photo spies in Detroit spied several new 2025 Corvette ZR1 prototypes wearing heaving camouflage with Chief Engineer Josh Holder behind the wheel. There were at least four prototypes in both Coupes and Convertibles models.
The cars are wearing that heavy black cladding that hides many of the details, but from first glance it appears that the front spoiler is even more aggressive than that on the Z06, but that could just be the covers exaggerating those details. Through the front mesh, we are seeing some of the same design details on the front fascia that are also on the widebody Z06/E-Ray.
On the back, there is a high wing that is very similar to that on the Z06s. We also see a couple of cars with what looks to be the Z06's base aero.
The ZR1 has been rumored to pack the LT7 V8 which features the same high-revving 5.5L DOHC engine found in the Z06 with the addition of twin turbos. That new powerplant would boost the estimated power to 850-hp. While we'd love to see a more aggressive design for the ZR1, we're not really seeing it in these photos yet.
While not shown in these photos, another spy photographer also captured a Porsche 911 GT2 RS and several Z06s also in the convoy.
Check out the full gallery on the Corvette Bloggers site by clicking here:
---
Win a 2023 Corvette Z06 70th Anniversary Edition with Z07 Plus $25K Cash for Taxes!

The National Sprint Car Hall of Fame and Museum will be giving one lucky winner the opportunity to bring home a 2023 Corvette Z06 70th Anniversary Coupe with the Z07 Performance Package plus $25,000 cash to pay for the taxes. This 2023 Z06 has the exclusive 70th Anniversary White Pearl Metallic exterior with Ceramic leather GT2 seats. The car is powered by the naturally aspirated 670-hp LT6 that revs up to 8,600 rpm! Your donations help to support and promote the non-profit National Sprint Car Hall of Fame and their mission of promoting sprint car racing.
Ticket packages start at just $25 and Thundering Thursday readers get 25% Bonus Entries. Enter today to win the most anticipated Corvette ever by Clicking Here.
---

John V's Garage
My name is John V. When I was 19 years old, I bought my first Corvette, a 1965 Milano maroon 350 hp convertible from Harry Mann Chevrolet in Los Angeles. From that moment on I was starstruck and smitten for life! Two years later in 1967, I had to make the difficult decision to keep the Corvette and not go to college or sell it and attend USC!
I chose the latter.
Fast forward…….
It wasn't until the early 90s that the bug hit me once again to find my old Corvette or something very similar. It was the Fall of 1991, I came across Corvette Mike on Interstate 5 in Orange County California. When I walked into the showroom, filled with classic Corvettes, there in front of me was a beautiful 1965 Nassau blue convertible, however, it was a 300hp and I wanted something a little peppier.
I met Mike Vietro at that time and the search began. I traveled the entire country covering at least five states on a wild goose chase before receiving a phone call back from Mike who says he found a beautiful 1965 Corvette convertible, it was yellow with a 365 hp engine. Wow!!
I took a ride down to see the car and I decided at that point I was going to buy it. Being a very particular and finicky Corvette owner I had Mike's team start a frame-up restoration to my exact standards. Ahhh, the joy of ownership once again.
Fast forward once again to 2015, It was on this occasion that I decided to buy a very similar Corvette 50 years to the date of my original purchase on March 6, 1965, at Harry Mann Chevrolet.  Mike set up a factory tour and I was able to watch the complete assembly of my new Corvette at the Bowling Green plant. I had the most wonderful time with all of the workers who took great pride in their workmanship and camaraderie. I even had lunch with them in the employee cafeteria! What a thrilling experience and one I will not forget, ever!
I have been part of the Corvette Mike family ever since and now, as I age, I am going to trust in Mike and his team to find new homes for both of my adored children that have four wheels.
This week on May 23, 2023, Corvette Mike honored me at my home for a visit that I will cherish forever!  Thank you Mike!
John V.
---
Helping Widows Across The Nation Sell Their Loved Ones Prized Possessions!

From the estate of Corvette collector and N.C.R.S. member Kurt M. Geis, Corvette Mike presents these multiple N.C.R.S. award winning Corvettes!
Performance Award Winning 1994 Arctic White with Black Interior
Duntov Award Winning 1972 Targa Blue Coupe!
1972 – Just arrived – Call for pricing
1994 – Just arrived – Call for pricing
---
1996 Porsche 911 4S COUPE
The last of the air cooled 911 models!

Arena Red w/Tan interior. 3.6L flat 6-cylinder, 6-spd. manual transaxle, AWD.
This one owner 911 Carrera 4S Coupe was purchased new at Walter's Auto Sales in Riverside, CA. and has remained in California ever since.
The car is powered by a 3.6-liter flat-six that drives all four wheels through a six-speed manual transaxle with a limited-slip differential. It is finished in Arena Red Metallic over Tan leather and is equipped with 18″ chrome Turbo Twist wheels, a power-operated sunroof, and factory CD stereo, cruise control, and air conditioning. It's been faithfully serviced and runs and drives beautifully, with cold A-C!
---
1967 L79 350hp Conv w/AC, A. I. R.
4-speed And power steering!
Tank Sticker

In the dictionary next to the term "Hens teeth" there resides a picture of this ultra rare and documented 1967 Corvette. Same family owned since 1968 in Northern California. 
This HK suffix engine stamp was so seldomly used they rarely put them in the holder.
Mostly original paint, interior, engine compartment and chassis. 
Ermine White with Black interior, L79 327/350hp, M21 4-Speed.
Factory optioned with:
C60 – Factory AC
J50 – Power Brakes
U69 – AM/FM Radio
N40 – Power Steering
A31 – Power Windows
K19 – Air Injection Reactor
A01 – Soft Ray Tinted Glass, All Windows
Coming Soon
---
CF1 Roadster
Kindigit Designs & Corvette Mike Collaboration
Render your dream car right here!!! ✍️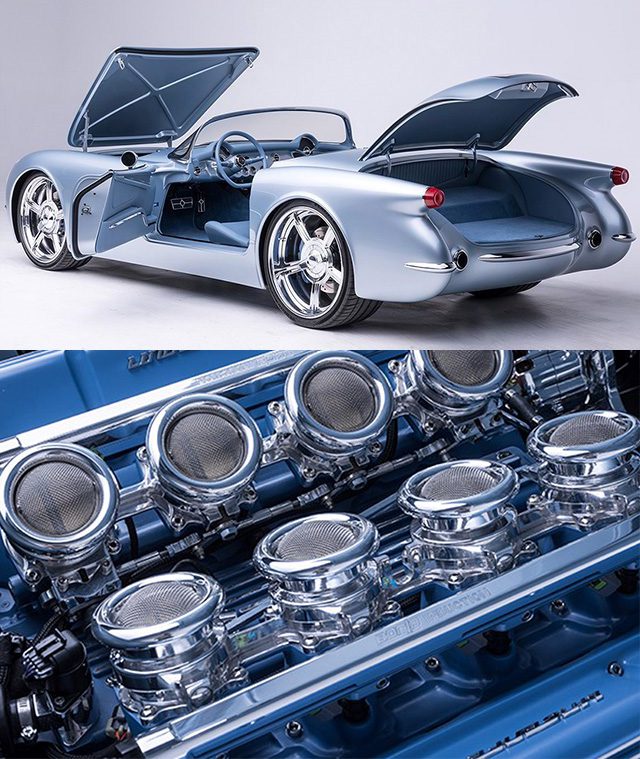 Kindigit Designs of Bitchin Rides and Corvette Mike have collaborated to bring you the Koolest of Bitchin Rides — a series dedicated to the ultimate resto-mods. The last of a true breed of combustion engines purpose-built by Lingenfelter, developing enough horsepower to rip the steel cords right off these Michelins.
This combination of a very limited, select edition of carbon fiber bodies mated to Roadster Shop chassis culminated into something very special. The first, from scratch, retro look 1953 Corvette Roadster with all the trick goodies of modern-day Sportage transportation with a flare to dare you not to stare.
This CF1 is already SOLD, though you can custom build
and reserve yours today! Talk to us, baby!!
Call 714-630-0700 or email: Troy@CorvetteMike.Com
---
1967 Black 435
&
Red 1959 Wanted!
If you have a 1967 Black L71 427/435
and/or
a Red/Red or Red/Black 1959, we have Cash!

Email me to talk about any cars you want to sell: Troy@CorvetteMike.Com!
---
Want some Corvette Mike Swag?

Click here to see our Apparel Store.
---
Comic of the Week