Wynn Las Vegas "Ultimate Race Week"
October 12, 2023
Corvette Mike can't get enough Wynn excitement and is back again as a Platinum Sponsor for this year's Wynn Las Vegas Concours
Kindigit Designs of Bitchin Rides and Corvette Mike's CF1 At The Wynn
As the holiday season rapidly approaches, it's time to mark your calendars and start booking those special holiday events. One exceptional event, kicking off on November 10th, is the second-annual Concours at the Wynn, followed by the highly anticipated Formula 1 Heineken Silver Las Vegas Grand Prix 2023.
The second-annual Concours promises to be a weekend-long celebration that will undoubtedly become the social highlight of the fall season for car enthusiasts, food aficionados, and anyone who appreciates the finer things in life. The event will feature a stunning display of pre- and post-war vehicles set against the backdrop of the lush greens at the Wynn Golf Club. In addition to classic automobiles, you can expect to see elite Hypercars, cutting-edge Electric vehicles, and rare Concept and Culture cars. Delight in curated food and beverage experiences, enjoy live entertainment, and explore special Concours event packages. For those looking to make the experience even more luxurious, event-plus-suite packages are available, offering the chance to stay at the renowned Five-Star resort, the Wynn. For more details about the Concours, Click Here.
If you're a fan of speed and excitement, the Wynn has something truly special for you. They are offering an exclusive-access, no-holds-barred race experience that's unlike anything else. This is the ultimate F1® race package presented by the Wynn Las Vegas, the founding partner of the Formula 1 Heineken Silver Las Vegas Grand Prix 2023. With this package, you can enjoy an adrenaline-pumping hot lap around the racecourse alongside a real F1 driver. Witness the thrilling pit crew action live during the race with exclusive access to the F1® garage. You can also mingle with fellow enthusiasts at the luxurious Wynn Grid Club, a private club reserved for VIPs attending the event. And there's even more excitement in store. For all the details about this ultimate F1® race package, Click Here.
Don't miss out on these incredible opportunities to make your holiday season truly memorable with the Wynn's exclusive events. Whether you're a car enthusiast or a thrill-seeker, there's something for everyone to enjoy.
---
LONE STAR STATE REGIONAL 
NOT TO MISS THE DEBUT OF THIS PREVIOUS CYPRESS GARDENS 
TOP FLIGHT 1967 CORVETTE,
restored by Nabers Fame. This Alloy Head 427 has been in hibernation
for nearly 30 years!
Will you be in the Frisco, TX. area next week (October 19-21, 2023)? if so you should stop by the Lone Star NCRS Regional judging event and track down Corvette Mike. Mike will be there are a entrant this year and would love to talk to you about cars and life.
This year the event will be offering Flight, PV, & Concours Judging Awards.
For more information, check out their schedule by Clicking Here.
---
Win a 2024 Corvette Z06
Plus $20K for Taxes!

MS Solutions is a 501(c)(3) non-profit organization based in Worcester, MA that provides direct assistance to those diagnosed with Multiple Sclerosis. The organization just wrapped up its 2023 campaign by awarding a 2023 Corvette Stingray Coupe to Meagan Butler on September 10th and now they've launched their 2024 campaign with the grand prize being a 2024 Corvette Z06! This Arctic White Z06 Coupe will feature a 2LZ interior outfitted with Adrenaline Red/Black two-tone Competition seats. The Z06 rides on Gloss Black Spider forged aluminum wheels with Bright Red Brake Calipers and Black Exhaust Tips. Your donation enters you to win this Corvette, but more importantly, those funds are used directly to support those diagnosed with Multiple Sclerosis.  
Thundering Thursday subscribers get 25% Bonus Entries so get your tickets today by Clicking Here.
---
Send your story today and get a keychain!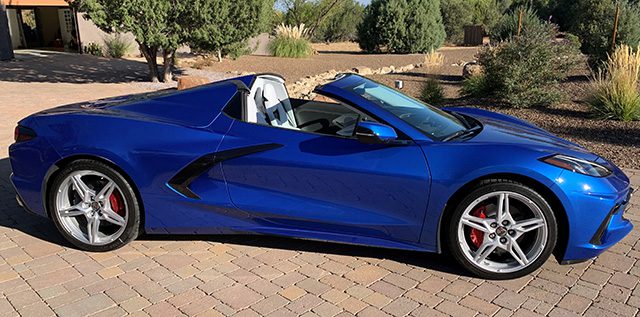 Skip's C8 Convertible
In 1967 I had saved $4,000 for 4 years of college (yes! $1000/year Canisius College, Buffalo NY). I was fortunate to receive a full 4 year scholarship, so purchased a base 327/300 Marina Blue convertible February 1967…. list $4,600…. paid $3925! Sold the C2 in 1976 (I know mistake now, but then could not buy without selling). I since have bought/sold (had to sell to buy) 10 Corvettes including C2s, C3s, C4's, C6s and C7s. Currently owner of a 2017 C7 coupe and C8 above, which was manufactured in September 2020…. first month of C8 HTC production. At 77 years of age, my last, but far and away, the best!
Skip U.
---
New Inventory!

Tuxedo Black w/White interior, L84 327/375hp fuel injected big tank Coupe
This amazing "Tanker" was completely restored around '12. Very little was known at the time about the car, so AutoAncestry.com was brought in to do a search for all previous owners and information on the car. The N.C.R.S. Shipping Data Report was also ordered and found that the car had been built on May 19, 1964, and delivered to Guaranty Chevrolet in San Diego, California. Search results showed it was ordered by a gentleman in the Navy, who must have had some racing in mind. The car is equipped with not only the N03, 36.5-gallon gas tank option, but also transistor ignition (offered for the first time in 1964), the L84 fuel injected engine, J56 vented metallic racing brakes, F40 suspension, and quick take off wheels. In other words, all the 1963 Z06 package options. The color combo of Tuxedo Black exterior with a White leather interior and Black carpets is also quite unique and very rare. No racing history has been found, but the original owner was transferred to Ft. Carson, Colorado in the late '60s. He then drove or moved the car, in the early '70s, to Cincinnati, Ohio and sold it to his father for $6100, it appears. The car then sat outside his father's house for several years before a man bought it. It had been advertised in the local paper as needing an engine. Apparently, the original engine had been blown. It was sold for $1300 to another man in 1975, who installed a 350ci small block in it to move the car to his garage, as his plan was to restore it someday and work on it.
A local Cincinnati Corvette lover and businessman saw the car, as well as the Trim Tag, and various parts in boxes. He also noticed the original jacking sticker under the carpet put over the tank cover. That sticker indicated it originally came with factory knock-off wheels.
He spent the next 20 years trying to buy it and finally succeeded in 2004. At the time, it had been painted Resale Red, but the original White leather interior was still in the car, but very dirty. The T.I. and J56 brake parts were in boxes, along with much of the F.I. parts.
Knowing it would take a great deal of money and time to restore the car back to original, the owner sold it to D&A Corvettes, who spent several years pulling the body and restoring everything, including repainting it in lacquer and installing original '64 vintage knock-offs and '64 vintage bias ply tires. He also installed a restoration L84 engine with all proper date codes and a pad stamp that only lost 25 points in N.C.R.S. National judging, due to the "RX" suffix not being typical factory production.
After the current owner purchased the car, he had the F.I. unit refreshed, worked on the brakes, and made sure all N.C.R.S. judging items were correct and operated properly. He then drove it to Cars and Coffee events and a couple of car shows, and then started it through N.C.R.S. Flight judging.
The originality and condition are high on this car, it scored 96.5 at the Texas Regional in 2017, and then at the N.C.R.S. National Convention in Las Vegas in 2018, where it scored a 97.1. It was also taken to the Muscle Car and Corvette Nationals in '22, along with his entire C2 tanker collection for the "Corvette Legends" display, sponsored by none other than Corvette Mike.
This is a truly a unique Corvette. And most likely one of one. The car runs and operates very well. The car currently has American Mags and radials on it for driving purposes, but the original tires and wheels are included for show and judging.
---
Beautiful, frame-off restoration

Rally Red w/Black interior, 327/375hp fuel injected, 4-speed
Here is a '65 fuel injected Coupe with a matching #'s engine that really makes quite a first impression. As well as a second one!
The meticulously done frame-off restoration was completed around '20 and still looks ultra fresh! The paint is show-quality and it's equipped with some highly desirable options, such as, side exhaust system, knock off wheels wrapped in Gold line bias ply tires.
Fantastic looking and driving '65!
---
2004 Coupe with only 49k miles

Black w/Black interior, 346/350hp, 4-speed automatic
This beautiful Black Coupe has spent its life right here in sunny
So. CA. and it's in excellent condition throughout.
Options include:
1SB Preferred Equipment Group.
Magnetic Selective Ride Control.
Red Painted Brake Calipers.
Body Side Mouldings.
12 Disc CD Changer.
Borla Exhaust System.
Cross Drilled Brake Rotors.
Polished Aluminum Wheels.
Lloyds Floor and Cargo Mats
---
Want Some Corvette Mike Swag?
---
Comic of the Week