2 super special cars have auctions ending today
October 30, 2023
What a Day on Bring a Trailer
2 super special cars have auctions ending today
#1 — Ends Today at at 1:32 PST — NO RESERVE!

2017 DODGE VIPER GT COUPE!
The last year Every Made
only 56 miles on the odometer!
The widow must sell!
Viper White w/Blue stripes, Black interior. 8.4L/645hp V10, 6-speed
This is one truly unique Viper! It was part of the "1 of 1" program and custom built for its original and only owner! We have extensive correspondence from Dodge to the owner as well as a binder full of photos showing the car being built!
This is essentially a new car with only 56 miles on the odometer.
---
#2 — Ends Today at 12:42 PST
1963 327/360 FUELIE 4-SPEED!
Daytona Blue w/Saddle Interior!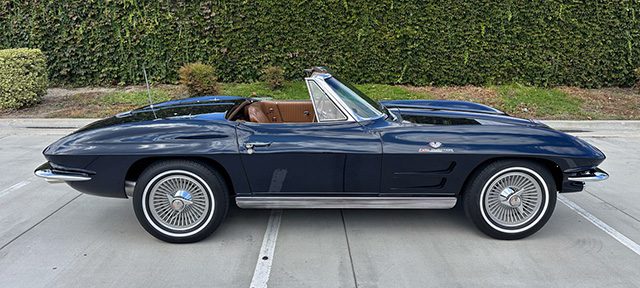 Great running and driving car!
The '63 featured here is a car we've known about for years. The last two owners have been our clients, and the car was serviced here at Corvette Mike! Over the last several years, there has been extensive service, including a rebuild of the F.I. unit, brake service, tune-up, rear main seal, fluid service, exhaust system, and more. The car is in great mechanical condition and is an excellent driver. Exterior-wise, the paint does have some checking (is that the right term?) and cracking, but it is shiny. The interior is in excellent condition and has leather seats. Other options include power windows, aluminum knock-off wheels with white wall radial tires, and a Tan soft top.
---
What a Week in the Lone Star State!
Lone Star NCRS Regional Judging
1967 L89 Coupe Alloy Heads 1 of 16
restored by Nabers Fame
Pictures by Corvette Mike Vietro
Rare, adj.; Rarer; Rarest a) Marked by unusual quality, merit, or appeal: Distinctive b) Superlative or extreme of its kind. So says Noah Webster. Exceptional, extraordinary, remarkable, singular, uncommon, unusual. So says Roget.
How rare is rare? General Motors only built 16 of these fascinating cars in 1967. This car, VIN 122908, was built 32 cars from the end of production on the last day of 1967. It was delivered to Cochran and Celli, California's oldest Chevrolet dealer, on July 28, 1967. It was one of two produced for California with the K19 Smog equipment and sold to its original owner, Donald Stankovsky of Berkeley, CA, now of Houston, Texas. The car found its way through several owners until it arrived at Chris Marcom's Southwest Corvette Collection in Frederick, Oklahoma. Through the guidance of Jim Purvis, the vehicle was purchased by its current owner in Novem­ber of 1987 and sent to Naber Brothers in Houston for a complete body-off restoration. Later entered Larry M., an astute and well-known car collector who carefully stored it in a climate-controlled car barn with many of its stable mates. After many attempts and nearly 29 years later, a deal was finally struck, and it changed hands again to the Publisher of Thundering Thursday, Corvette Mike Vietro, seen in the above photos receiving his Top Flight award last Saturday in Frisco, Texas, at the NCRS Regional Meet.
---
The National Sprint Car Hall of Fame and Museum in Knoxville, Iowa recently awarded a 2023 Corvette Z06 that was won by Phillip Winslow Jr of LaRue, Ohio and now the racing venue is back with their new grand prize for their next giveaway and it's another Z06! When you make a donation of $25 or more to the National Sprint Car Hall of Fame and Museum, you are automatically entered to win this Torch Red Corvette Z06 Convertible with Z07 Performance Package plus $25K cash.
Thundering Thursday subscribers can score an extra 20% more entries by Clicking Here.
---
Send your story today and get a keychain!
Glenn K and his father's 1975 Corvette
My Corvette story started early. I was 4 or 5 years old. My Dad bought a new 1967 Corvette convertible. I remember riding around in the back in what we called the well. Today that would be illegal. What a great car. I wish we still owned it.
When I was fifteen my dad bought an orange 1975 Stingray. I was about to turn 16. No chance I'd get to take my driving test in it, right? WRONG. The best part: after I finished the written test, I was walking out to the parking lot with the DMV officer. He asked me what car my dad's was. I told him the orange one. I wasn't aware, but parked next to my dad's Corvette was an orange VW Beetle. The in-structor walked over to get into the VW. I told him that wasn't my dad's car. The instructor had never given a test in a Corvette before. I think I passed the test right then and there; the rest was a formality!
My dad owned several more Corvettes, but of course I eventually had to have my own cars. I kept it in the Chevy family with a couple Camaro Z28's, which I really enjoyed Then came married life and kids. I had to give up toys – for a while.
In 2008, my wife Pattie and I took a test drive in a new Roush Mustang. A few days later we took out a used 2005 Corvette. The next day Pattie said to me, "You should buy the Corvette if you want it." Folks, let me tell you if your partner gives you the green light to buy your first Corvette, don't hesitate, buy it! After I bought the Corvette. I said to Pattie, "Apparently you didn't like the Mustang." She said, "A Mustang or Camaro is nice until a Corvette shows up."!
Glenn K.
---
Hauntingly Great Deals!
Awesome, frame-off restored L88
Bloomington Gold Certified, Bloomington Gold Special Collection 2018
Silverstone Silver w/Black leather interior, certified 427/430, 4-speed
This absolutely spectacular '68 is one of the most correct examples you'll ever see for sale! Not only has it been meticulously frame-off restored, but it also happens to have its original, C.C.A.S. certified engine still under the hood! This is almost unheard of with L88s, as most were raced hard and put away wet (and broken). Add to the equation the factory documentation, which includes Window Sticker and Protect-O-Plate, P.D.I., original title, C.C.A.S. engine pad, and Trim Tag certification, featured magazine articles, and you've got an ultra-collectible Corvette that was at the pinnacle of performance, in the era of the muscle car wars!
Options include both hard and soft tops.
---
1967 L71 CONVERTIBLE
Loaded with 15 options
Sunfire Yellow w/Black interior, 427/435hp, 4-speed manual
15 OPTION 435HP 2 TOP CONVERTIBLE WITHOUT A RADIO!
ONLY KNOWN EXAMPLE W/SIDE PIPES, F41, SHOULDER HARNESS AND HEADREST SEATS!!!
NCRS Regional Top Flight Award Winner
NCRS-validated tank sticker and car shipper
Matching numbers L71 427/435 HP V-8 engine
Very rare 15 factory option 435 HP Corvette with "Radio Delete"
The only known example with these options in Sunfire Yellow
Matching numbers M21 close ratio 4-speed transmission
Sunfire Yellow with Black stinger
1 of 747 ordered without a Radio
3.36 Positraction rear end
F41 suspension
Power steering
Power brakes
Side exhaust
Head rests
Tinted windshield
Transistor ignition
Shoulder harnesses
775×15 White stripe tires
NCRS shipping data report!
---
2009 Hummer H3
Under 9k Miles!
Still on the MSO and in original owners collection.
Ordered with most options including power sunroof, Monsoon Stereo with 6 disc CD Changer.
Priced at $59,900
---
Comic of the Week