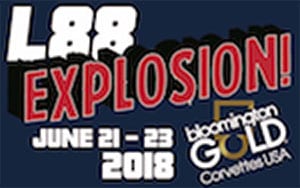 Panning for Gold in Two Weeks!
June 7, 2018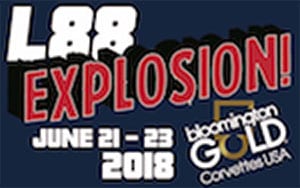 Where has the first half of 2018 gone? In just two weeks the Bloomington Gold show will open to the public. Started in 1973, Bloomington Gold Corvettes USA is the longest running all Corvette event in the country and is attended by well over 30,000 people each year.

Bloomington Gold is recognized worldwide among car owners for its prestigious judging process of Corvettes and the authentication a Bloomington Gold Certification brings to a Corvette.  The 2018 Event will once again be held at the Indianapolis Motor Speedway on June 21-23.
On top of being the oldest all Corvette show, it has also had a long history of growth. In 1974 it was expanded to two days, Saturday and Sunday, and a gymkhana event was added. Attendance for the show tripled and 82 vendor spaces were sold at $5.00 each. The number of Corvettes grew to 684.
In 1975 an all-Corvette auction was added with over 100 cars entered. Other Corvettes were offered for sale in the Show & Sell event, while 300 cars were pre-registered to compete in the concours. Over 1200 Corvettes were on hand with several thousand enthusiasts in attendance.
By 1977, the Bloomington Corral had grown to be the biggest Corvette event in the country, with people attending from across the nation and around the world. The show was expanded to three days this year, and both attendance and Corvette numbers again grew considerably.
Fast Forward to 2018 and the event is back at the Indianapolis Motor Speedway for the 4th year with over 200 vendors, 50 L88's from all years, ZR1 GoldSpeed Ride Along, Gold Laps lets you drive your own car around the Iconic Indianapolis Motor Speedway, Autocross, Classes and so much more.
—————————————————————————————–

For our loyal customers:

Consignments Net YOU More!!

You get the $$$ and we do all the work for you!!!

Garage too full?

Have a car to sell?

Same day cash!

Running or not!!!

———————————————————————————

Part of Mike's most recent 8 car Collection Purchase


Have a collection to sell? We have cash. 
———————————————————————————-
1957 Corvette Fuel Injection Unit for sale

This F.I. unit was taken off of a '57 Corvette engine.  It has been completely rebuilt and is ready to be installed.  What is needed is the distributor and air cleaner unit (not included).
The numbers are as follows: Serial # 2102. Part #7014520.  Air Meter #7014521A.  Fuel Meter #7014522 which is a mid-1957 fitment for either a 250hp or 283hp engine.
Price: $8,500 $6,950


If you're in the market for a '67 that you could use as a daily driver, this example should definitely be on your short list! We sold this car to the last owner a few years back and he traded up to a 1966 Big Block. Well optioned and serviced, so it is ready to roll.

Power Brakes, Power Steering, aftermarket AM/FM Radio.

Matching #'s 327/300hp small block, Vintage AC, 4-Speed.
Stock #: 6005 – Price: $69,900
Cars Listed on eBay at Auction Pricing
1958 Silver Blue w/Blue interior, 4-Speed
1967 Marina Blue, L68 427/400hp, 4-sp
1967 Jewel Blue, 327/300hp, 4-spd
1967 Marina Blue Corvette w/Black interior, L79 327/350hp
1968 Red Chevrolet Custom Pickup truck
1971 LS6 454/425hp, Sunflower Yellow, 4-Spd, Docs and Awards
1982 White/Silver Corvette Coupe, 6,800 Miles!
2016 Land Rover LR4 HSE Silver Edition
Comic of the Week