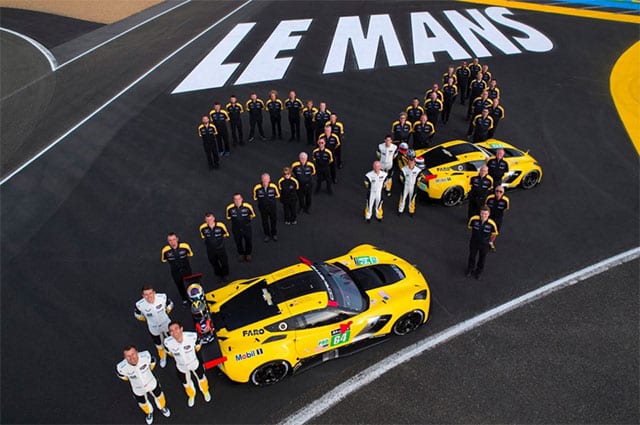 Le Mans Weekend
June 14, 2018
Another year has passed, and battle for the 86th running of the 24 Hours of Le Mans trophy is here this weekend.
In the high stakes GTE Pro class, both Ford and Porsche are all in with four cars each, Ferrari is brining three cars and Chevrolet, Aston Martin and BMW are only bringing two cars each.
With all the Balance of Performance changes handed out just yesterday, it's hard to call who will be at the front in the GTE Pro battle, and grab the bragging rights, but if the race season so far is anything to go by, it looks set to be a good battle between the five manufacturers.
Click here for Chevrolet's teaser video.
———————————————————————————————————–


Bloomington Gold, June 21-23, Indianapolis Motor Speedway
—————————————————————————————–

For our loyal customers:

Consignments Net YOU More!!

You get the $$$ and we do all the work for you!!!

Garage too full?

Have a car to sell?

Same day cash!

Running or not!!!

———————————————————————————

Part of Mike's most recent 8 car Collection Purchase


Have a collection to sell? We have cash. 
———————————————————————————-
1957 Corvette Fuel Injection Unit for sale

This F.I. unit was taken off of a '57 Corvette engine.  It has been completely rebuilt and is ready to be installed.  What is needed is the distributor and air cleaner unit (not included).
The numbers are as follows: Serial # 2102. Part #7014520.  Air Meter #7014521A.  Fuel Meter #7014522 which is a mid-1957 fitment for either a 250hp or 283hp engine.
Price: $8,500 $6,950


There is a sentimental attachment that Corvette Mike has for this particular '65. It was the 158th car Mike ever sold way back in '83! We even still have the original sales jacket and contract!

Frame-off restored, multiple N.C.R.S. Top Flights, Zora Arkus-Duntov Mark of Excellence Award!

L79 350hp small block engine, M20 4-speed, power brakes, power steering (added), tinted windshield, both hard and soft tops, 3.55 Positraction rear end, C & C Group, whitewall (currently radial) tires, and, to top it off, factory air conditioning!

Originally sold new out of Starksen Chevrolet in Lancaster CA., this is truly a CA. car as its spent it's life here.
Stock #: 6049 – Price: $92,500 Firm
Cars Listed on eBay at Auction Pricing
1958 Silver Blue w/Blue interior, 4-Speed
1967 Marina Blue, L68 427/400hp, 4-sp
1967 Jewel Blue, 327/300hp, 4-spd
1967 Marina Blue Corvette w/Black interior, L79 327/350hp
1968 Red Chevrolet Custom Pickup truck
1971 LS6 454/425hp, Sunflower Yellow, 4-Spd, Docs and Awards
1982 White/Silver Corvette Coupe, 6,800 Miles!