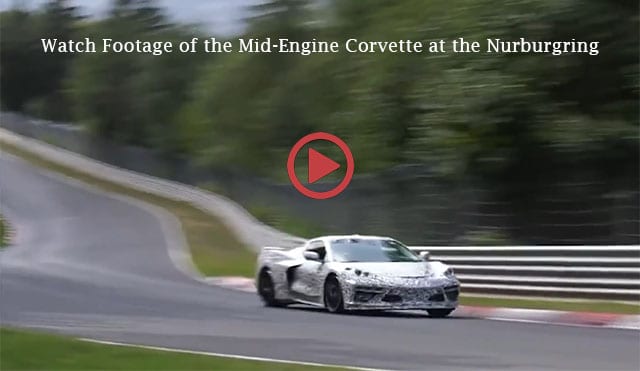 Unwrapped C8 Runs Nürburgring
September 6, 2018
There have been a lot of spy photos published recently of the C8 mid-engine Corvette being test driven on the street, but not a lot of new information. Well now we have a video of it being tested on the Nürburgring.

The video shows the mid-engine C8 Corvette rounding the famous track; make sure to turn up your speakers. The people we have talked to say it sounds like a turbocharged 4.2-liter V8, just like the rumors say is one of the engine options. It is quieter than the current ZR1, leading us to agree with the turbo idea. Give it a close listen and let us know what you think.
We still know very little about the C8 and this is just one of the test mules we have seen, so there may be other engine optioned C8's running around, as the rumor mill says there will be engine options at the release.
Another change to the long standing rumor that the C7 and C8 will be available at the same time, is in dispute. The new rumor is that the C7 will end production next year when the C8 becomes available. The C8 is also slated as a 2020 model year. So, if you want a front engine Corvette, this may be your last chance.
For our loyal customers – Consignments Net YOU More!!
You get the $$$ and we do all the work for you!!!
Garage too full?
Have one or more cars to sell?
Same day cash! Running or not!!!
For approved collections, Mike will visit personally. Contact him at Sales@CorvetteMike.Com
Click Here to submit your car!
Discounted Parts Table Items
Pictures Available Upon Request.
1956 – 1960 Corvette Hardtop – Charcoal/Red. Price: $5,995 $4,888
1967 Corvette Red Line Tires. 7.75 x 15 Firestone Deluxe Champion Red Line Tires. Complete set of 4. For judging purposes only. Price: $995 $685
1991 ZR-1 Owner's Kit – Complete and like new. Price: $650 $375. Two sets available at this price.
1957 Corvette Fuel Injection Unit – taken off of a '57 Corvette engine, completely rebuilt and is ready to use. Part #7014520. Price $5,500 OBO (make us an offer).
1968-1969 L88 Holley 4bbl carburetor – Completely rebuilt (by Jerry Luck) and ready to
install. 3925519 R4054A 861. Price: $4,500 $3,500.
Coming Soon!

1966 Black/Silver, 427/425 Convertible with 4-Speed and Frame off Restoration.
Featured Corvette of the Week

1-Owner 2016 finished in the striking combo of Torch Red and Black Interior.



Nicely optioned with 2LT Package, chrome wheels and rear spolier. It has been in Southern California its entire life, and of course, comes with a clean Carfax.

376/455hp, 8-speed paddle-shift automatic with just 9k Miles.
Stock #: 6078 – Price: $48,500