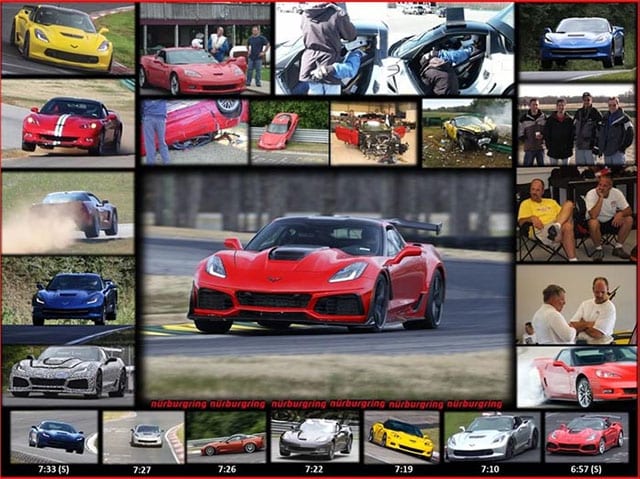 Nürburgring in 6:57?
September 12, 2018
Is it true that the C7 ZR1 lapped the Nürburgring in 6:57 and the C7 Z06 in 7:10? Well a photo, allegedly posted by Jim Mero's wife Terri, on Facebook shows a collage of Jim allegedly driving several different Corvettes on various tracks. Since Jim just retired as the ride/handling engineer and test driver for the C7 Corvette team, this collage seems to be the perfect retirement gift. Interestingly, the numbers underneath the photos seem to be the lap times at Nürburgring; most of which have never been officially announced!! Clever Terri.
Here are the vehicles pictured on the bottom row of the collage and the time posted:
C7 Z51 7:33 (S)
C7 Grand Sport 7:27
2009 ZR1 7:26
2012 Z06/Z07 7:22
2012 ZR1 7:19
C7 Z06/Z07 7:10
C7 ZR1 6:57 (S)
It is not clear what the (S) means, however, some people are speculating that they may mean the time was calculated using the best segment times instead of one single lap.
———————————————————————————————————–
For our loyal customers – Consignments Net YOU More!!
You get the $$$ and we do all the work for you!!!
Garage too full?
Have one or more cars to sell?
Same day cash! Running or not!!!
For approved collections, Mike will visit personally. Contact him at Sales@CorvetteMike.Com
Click Here to submit your car!
Discounted Parts Table Items
Pictures Available Upon Request.
1956 – 1960 Corvette Hardtop – Charcoal/Red. Price: $5,995 $4,888
1967 Corvette Red Line Tires. 7.75 x 15 Firestone Deluxe Champion Red Line Tires. Complete set of 4. For judging purposes only. Price: $995 $685
1991 ZR-1 Owner's Kit – Complete and like new. Price: $650 $375. Two sets available at this price.
1957 Corvette Fuel Injection Unit – taken off of a '57 Corvette engine, completely rebuilt and is ready to use. Part #7014520. Price $5,500 OBO (make us an offer).
1968-1969 L88 Holley 4bbl carburetor – Completely rebuilt (by Jerry Luck) and ready to
install. 3925519 R4054A 861. Price: $4,500 $3,500.
Coming Soon!
Featured Corvette of the Week
2007 Yellow/2-Tone Ebony/Cashmere, 3LT Convertible Automatic.
Frame-Off Restored 1966


Sold new out of Marsh Hallman Chevrolet in Albany, NY in Tuxedo Black w/Silver interior. Out of the 27,720 Corvettes built in '66 only 1,190 were painted Tuxedo Black. The rarest Corvette color in '66.

Complete, nut and bolt frame off restoration that was completed in '13, but looks like it was finished last week! Optioned with power brakes, power steering, tinted windshield, side exhaust, AM/FM radio and knock off wheels.

#'s Matching L72 427/425hp, M21 4-Speed Manual Transmission.
Stock #: 6079 – Price: $125,000