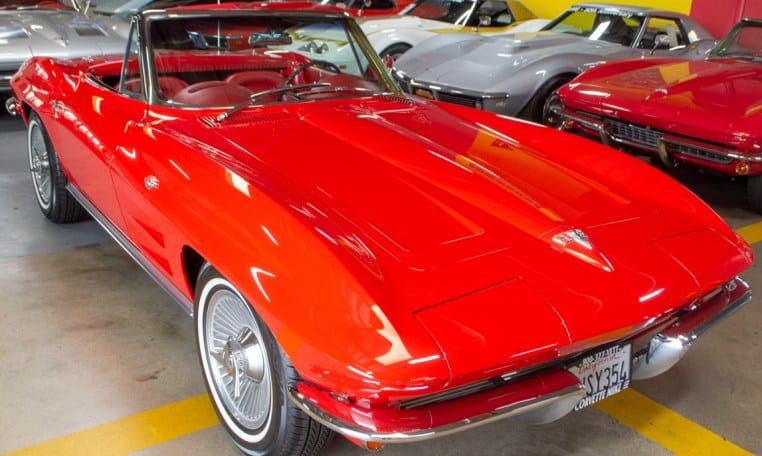 Gone But Recovered
October 4, 2018
It seems that we keep hearing about people going to car shows, only to have their car stolen while they sleep.
A few months ago, we told you about somebody that had their entire truck and trailer, with a classic Corvette in the back, stolen. Now Gary and Vicki Pasch's, while going to Bloomington Gold in Indianapolis, had their 1965 Fuelie Corvette taken while they slept at a local motel.
As is the case with most classic car owners, this 1965 Fuelie had massive sentimental value to them, as they had bought it 47 years ago as newlyweds.
After 3 months, the couple had given up hope of ever seeing their car again, but then the phone rang. On the other end was an Indianapolis Metropolitan Police Department officer who informed them that their car had been found in a storage unit just a few blocks away from the Motel it was stolen from.
It appears that the thief's had no idea what to do with the car once they stole it, but they knew how to cover their tracks, as the storage unit did not require ID when renting the unit, and the bill was paid at a kiosk in cash.
The good news is that the car was found mostly intact, but the wire loom seemed to have some fire damage, both the front and back of the car were damaged from being pushed and the passenger side fender was cut.
The good news is that the Vette has been returned to Gary and Vicki Pasch and is being put back into its original shape.
Don't forget that Bloomington Gold Charlotte will be at the Hendrick Motorsport Complex in Charlotte, NC October 12 & 13th.
For our loyal customers – Consignments Net YOU More!!
You get the $$$ and we do all the work for you!!!
Garage too full?
Have one or more cars to sell?
Same day cash! Running or not!!!
For approved collections, Mike will visit personally. Contact him at Sales@CorvetteMike.Com
Click Here to submit your car!
Discounted Parts Table Items
Pictures Available Upon Request.
1956 – 1960 Corvette Hardtop – Charcoal/Red. Price: $5,995 $4,888
1967 Corvette Red Line Tires. 7.75 x 15 Firestone Deluxe Champion Red Line Tires. Complete set of 4. For judging purposes only. Price: $995 $685
1991 ZR-1 Owner's Kit – Complete and like new. Price: $650 $375. Two sets available at this price.
1957 Corvette Fuel Injection Unit – taken off of a '57 Corvette engine, completely rebuilt and is ready to use. Part #7014520. Price $5,500 OBO (make us an offer).
1968-1969 L88 Holley 4bbl carburetor – Completely rebuilt (by Jerry Luck) and ready to
install. 3925519 R4054A 861. Price: $4,500 $3,500.
Featured Corvette of the Week
Riverside Red and Red interior. Although we're always on the hunt for pristine and correct examples of every era of Corvette, we've seldom seen a '64 with the pedigree and in the condition of this one!
This mid-year managed to stay completely original until '97. As a matter of fact, it was so original, it received the Bloomington Gold Survivor Award in '94. A complete nut and bolt frame off restoration was completed in '98 and it received a re-paint in '03.
It still retains its correct matching #'s engine and is optioned with the L75 327/300hp engine, 4-speed manual transmission, Knock off wheels, power steering, am/fm radio, Positraction rear end, back-up lamps, tinted glass whitewall tires and very rare factory air conditioning.
It comes with a huge binder that includes the original Dealer Invoice, Owner's Kit, Bloomington Survivor Award, complete owner history, photos of the restoration and receipts going back almost 50 years! The car was even driven in a parade by none other than Mario Andretti!
Stock #: 6084 – Price: $85,000
Comic of the Week