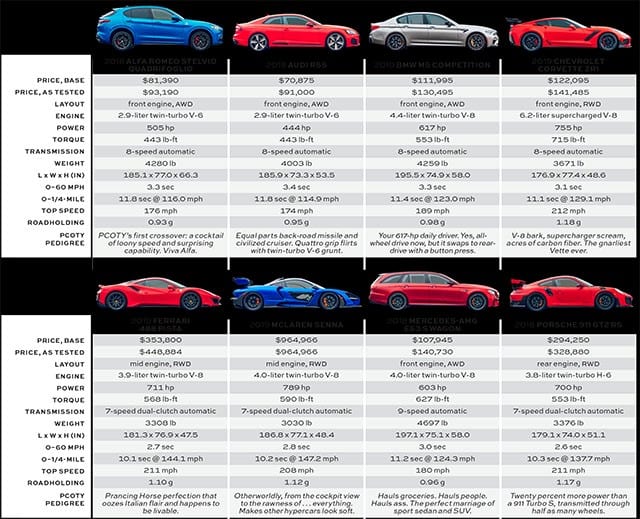 2019 Road & Track Performance Car of the Year: 2019 Corvette ZR1
December 14, 2018
For the 6th year, Road & Track has gathered some of the most impressive performance cars to ever be offered. The eight-car group consisted of Chevrolet Corvette ZR1, Ferrari 488 Pista, McLaren Senna, Porsche 911 GT2 RS, BMW's M5 Competition, Audi RS5, Alfa Romeo's Stelvio Quadrifoglio nad the Mercedes-AMG E63 S wagon.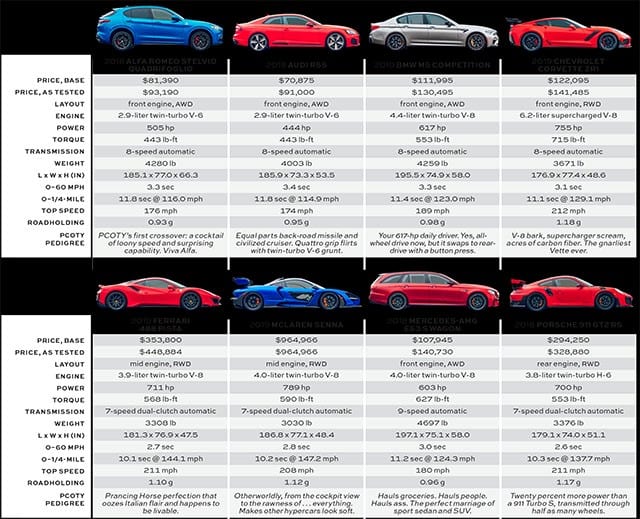 Some of the requirements to qualify for the contest included cars that are from the most recent model year, can be driven as everyday transport, go fast in any condition, cruise quietly on the freeway, carry multiple people and more luggage than just a helmet.
The four track-inspired cars had the best times around the NCM Motorsports Park, but this competition is more than just lap times. It is also about the personalities of the cars, and none of them disappointed. The Stelvio has a delightfully loose corner-exit balance on throttle, the RS5's famous Quattro system with the active rear differential allows unmatched high-speed cornering yaw, and the M5 builds momentum under acceleration that feels like hyperspeed. The Pista supplies on-demand oversteer whenever desired, while the ZR1's reactive chassis and menacing supercharger scream excite the senses at every curve. The GT2 RS simply produces effortless speed, and the Senna gives you supreme confidence to push as hard in the fastest area of the track as in the slowest.
At the end of all the driving and testing, the vote was close, yet clear-cut. Second place: the McLaren Senna. It is the best million-dollar car in history, bar none—and that is no longer a backhanded compliment in this increasingly plutocratic age where you can have everything from a Ferrari hybrid to a 16-cylinder pocket battleship for that kind of cash.
First place winner: The 2019 Corvette ZR1, because it brought out the wide-eyed enthusiast in all of us—IndyCar pros, club racers, and jaded journalists alike. Everyone wanted more time in the ZR1. Every aspect of the ZR1, from the rib-cage-vibrating engine note to the adjustable traction control, strikes a chord. The Chevy also happens to exhibit many of the McLaren's qualities at one-seventh the price. It too is awkwardly but compellingly styled by the demands of the air and the engine. Like the Senna, it combines an appetite for lap time with a remarkable ability to handle imperfect roads.
SAVE THE DATE!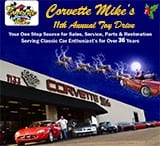 This Saturday, Corvette Mike's Annual Car Show and Toy Drive!
Toy Drive: This Saturday December 15th
For Our Loyal Customers Consignments Net YOU More!!
You get the $$$ and we do all the work for you!!!
Garage too full?
Have one or more cars to sell?
Same day cash! Running or not!!! For approved collections, Mike will visit personally. Sales@CorvetteMike.Com Click Here to submit your car!
Discounted Parts Table Items Pictures Available Upon Request. 1956 – 1960 Corvette Hardtop – Charcoal/Red. Price: $5,995  $4,888 1967 Corvette Red Line Tires. 7.75 x 15 Firestone Deluxe Champion Red Line Tires. Complete set of 4. For judging purposes only. Price: $995  $685 1991 ZR-1 Owner's Kit – Complete and like new. Price: $650 $375. Two sets available at this price. 1957 Corvette Fuel Injection Unit – taken off of a '57 Corvette engine, completely rebuilt and is ready to use. Part #7014520. Price $5,500 OBO (make us an offer). 1968-1969 L88 Holley 4bbl carburetor – Completely rebuilt (by Jerry Luck) and ready to install. 3925519 R4054A 861. Price: $4,500 $3,500.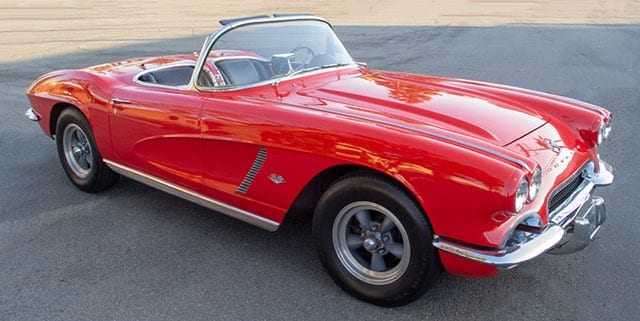 1962
Already fitted with front disc brakes and American mags.
This 62 Corvette is ready for Boulevard cruising.  Act now!!! $49,777.00
Featured Cars of the Week 1982 Coupe with just 9,652.9 Miles!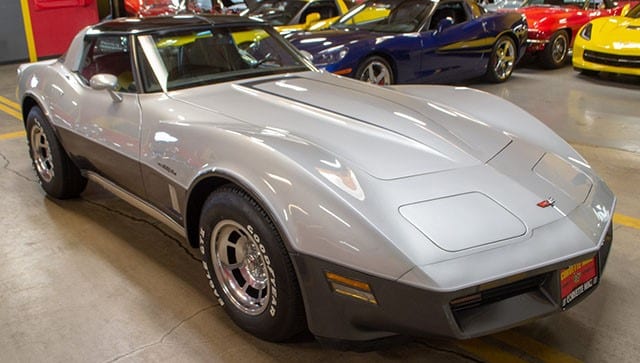 This 1982 Corvette is a one owner example with only 9,652.9 miles since new. Finished in Silver and Grey over Charcoal leather, the car has been kept garaged and covered, and it has reportedly never seen snow or rain.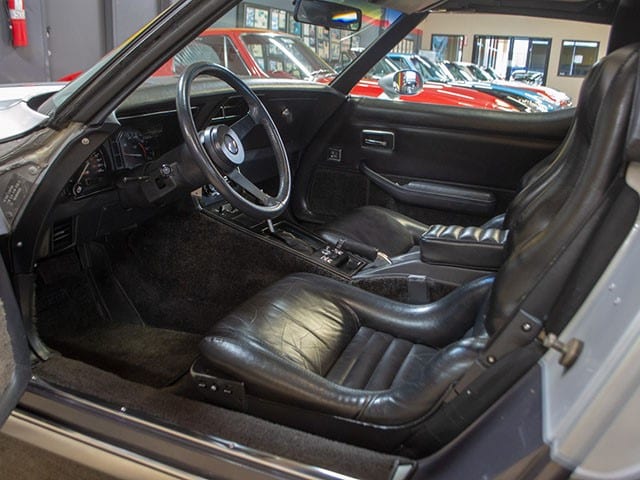 The charcoal interior features powered leather seats, mirrored T-tops, and a factory AM/FM radio with a cassette deck.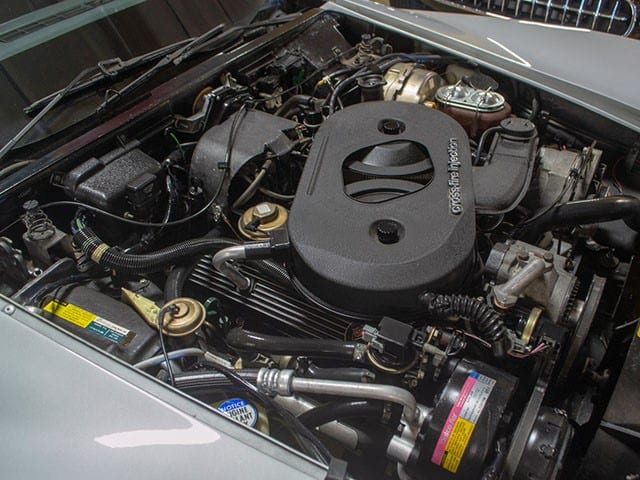 The 350ci V8 is fitted with factory Cross-Fire fuel injection, which utilizes twin computer-controlled throttle bodies. Power is sent to the rear wheels through a 4-speed TH700-R4 automatic transmission.
Stock #: 6101 – Price: $28,900
Cars Listed on eBay at Auction Pricing 1958 Silver Blue Big Brake, Fuelie, 4-Speed
1960 Red Resto-Mod with LS2 and 6-Speed
1962 Red Roman Red, 327/340hp, 4-Speed
1963 Sebring Silver/Red 327/300hp, 4-Speed
1966 Tuxedo Black Conv. Silver interior, L72 427/425hp, 4-Speed
1967 Rally Red/Red, L79 327/350hp 4-speed
2005 LeMans Blue Coupe 1SB Automatic
2013 Audi Q7 3.0T S line Prestige AWD, Automatic
2016 Land Rover LR4 HSE Silver Edition
2017 Corvette Racing Yellow Z51 Coupe With 1,600 Miles
Comic of the Week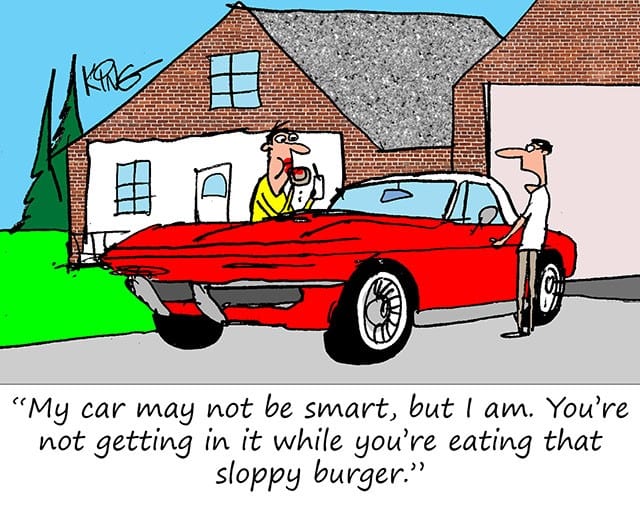 Jerry King Cartoons