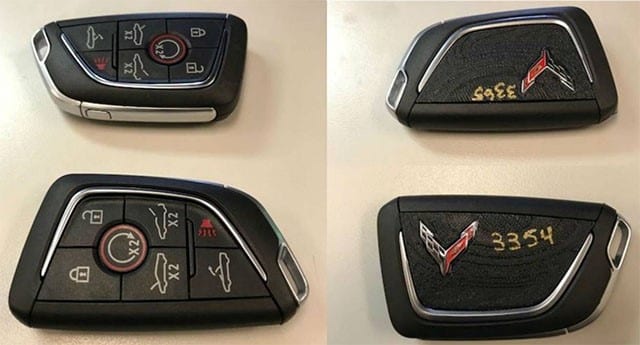 2020 C8 Mid-Engine Key?
December 7, 2018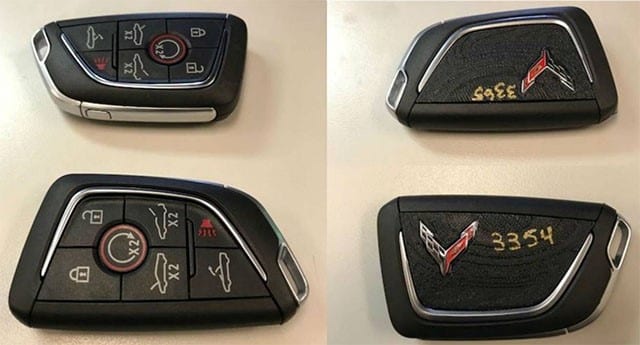 It is a small thing, but if this FCC application, recently unearthed by CarScoops, is really the new key fob design for the mid-engined C8 Corvette, it shows some interesting details. The first being that the C8 will come as a coupe and convertible, and second, there is no manual transmission option, as you cannot have a remote start on a manual transmission car.
The fob is similar too a Cadillac-branded key that leaked a month ago, and has buttons to operate the vehicle's locks, trunk (front and rear), convertible top, panic alarm, and remote start. Another page in the FCC filing refers to the device as "GM MY2020 B1 KEYFOB," confirming that General Motors is aiming for a C8 launch within the 2020 model year. The back side of the fob shows a new redesigned "crossed flags" Corvette logo.
The filing also contains a diagram that confirms the fob will come in two different frequencies so that it will be compliant with wireless device standards in other counties. This would allow sales in European and Asian markets.
If GM is going to make the C8 available as a 2020 production car, they will need to formally reveal it soon; perhaps at the Detroit Auto Show next month, or at the New York show in April. Despite multiple sightings of the C8 on the road and race track, we still don't know a whole lot about the actual car apart from its general body shape. Rumors abound has to engine and interior layout, but there is still nothing reliable on this front. There is also no news on pricing.
SAVE THE DATE!
Corvette Mike's Annual Car Show and Toy Drive!
Toy Drive: Saturday December 15th
For Our Loyal Customers
Consignments Net YOU More!!
You get the $$$ and we do all the work for you!!!
Garage too full?
Have one or more cars to sell?
Same day cash! Running or not!!!
For approved collections, Mike will visit personally.
Discounted Parts Table Items
Pictures Available Upon Request.
1956 – 1960 Corvette Hardtop – Charcoal/Red. Price:

$5,995

  $4,888
1967 Corvette Red Line Tires. 7.75 x 15 Firestone Deluxe Champion Red Line Tires. Complete set of 4. For judging purposes only. Price:

$995

  $685
1991 ZR-1 Owner's Kit – Complete and like new. Price:

$650

$375. Two sets available at this price.
1957 Corvette Fuel Injection Unit – taken off of a '57 Corvette engine, completely rebuilt and is ready to use. Part #7014520. Price $5,500 OBO (make us an offer).
1968-1969 L88 Holley 4bbl carburetor – Completely rebuilt (by Jerry Luck) and ready to install. 3925519 R4054A 861. Price:

$4,500

$3,500.
Need to get a new Sleigh For the Family?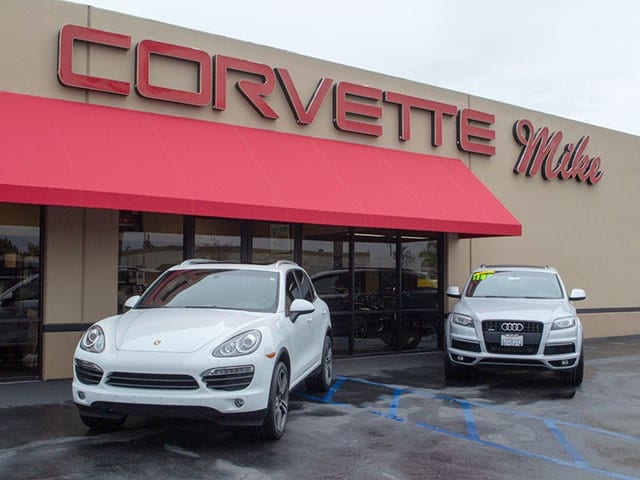 We have two SUV's at super low prices that will fit the bill!
Sold Separately or as a pair.
Click Here to see the 2013 Porsche Cayenne S. Stock #6104 $29,900
Click Here to see the 2013 Audi Q7 Prestige. Stock #6098 $18,900
Featured Cars of the Week

This beautiful '67 has been fully restored in its original Red w/Red interior.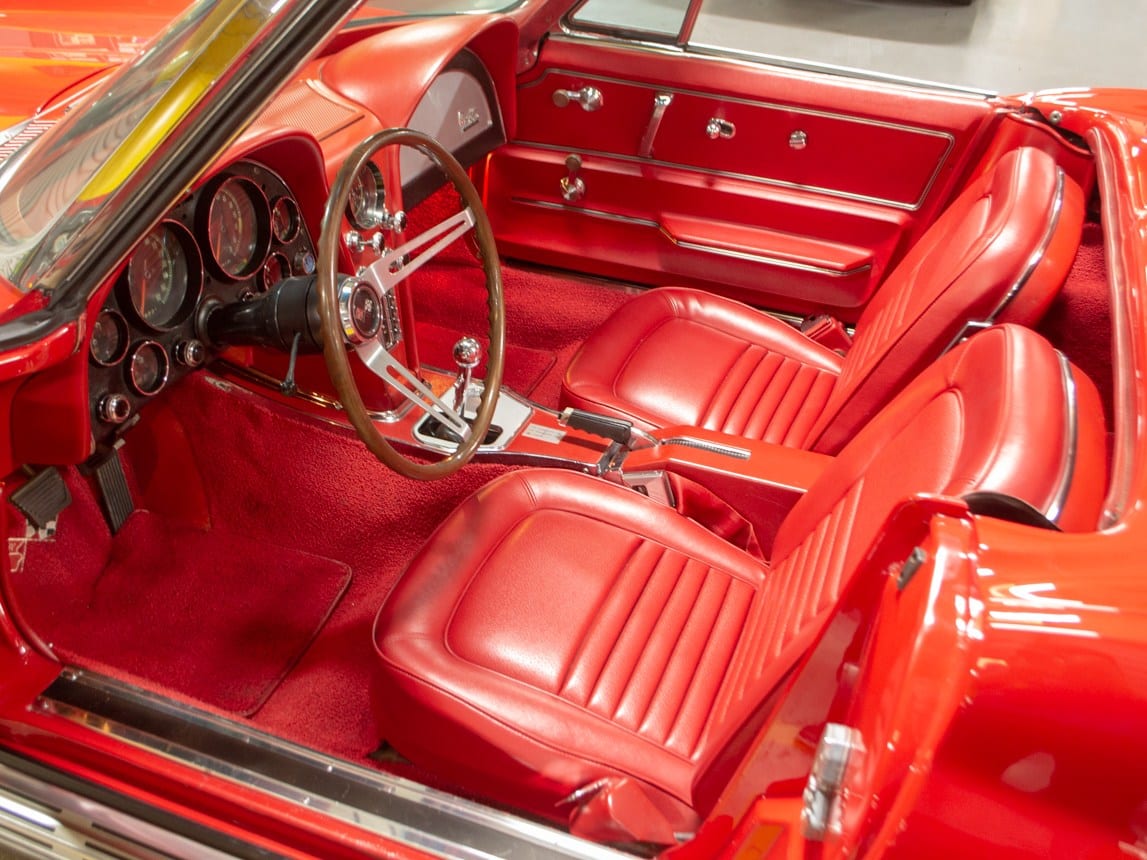 Imagine being behind the wheel in this cockpit optioned with AM/FM radio, side exhaust and reproduction Bolt-on wheels with Red line radial tires.


The car not only looks fantastic, it's also a joy to drive! Its matching #s L79 350hp 327 small block starts up instantly, idles with that slight lope and has gobs of power. Optioned with power steering, it tracks and stops straight.

Stock #: 6070 – Price: $95,000 $89,900
Cars Listed on eBay at Auction Pricing
1958 Silver Blue Big Brake, Fuelie, 4-Speed
1960 Red Resto-Mod with LS2 and 6-Speed
1962 Red Roman Red, 327/340hp, 4-Speed
1963 Sebring Silver/Red 327/300hp, 4-Speed
1966 Tuxedo Black Conv. Silver interior, L72 427/425hp, 4-Speed
1967 Rally Red/Red, L79 327/350hp 4-speed
2005 LeMans Blue Coupe 1SB Automatic
2007 Yellow Z06 with only 27k miles
2013 Audi Q7 3.0T S line Prestige AWD, Automatic
2016 Land Rover LR4 HSE Silver Edition
2017 White C7 Corvette Coupe
2017 Corvette Racing Yellow Z51 Coupe With 1,600 Miles
Comic of the Week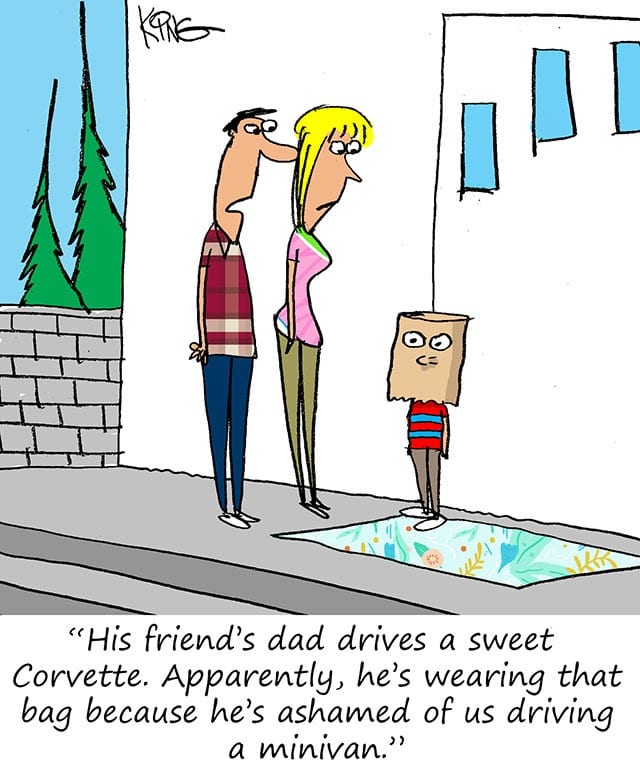 Jerry King Cartoons