LE MANS TIME AGAIN!
June 13, 2019
Are you a race fan? Do you want to watch 62 cars in 4 different classes go around a 8.5-mile road course in France? Do you have a free 24 hours straight to watch the race of all races? If you answered yes to all these questions, then this weekend is made for you.
The 87th running of the 24 Hours of Le Mans takes place this weekend and features the largest grid ever seen, with organizers expanding the field to 62 cars for the biggest test of endurance in motorsport.
The race starts on Saturday the 15th at 6:00am California time and ends Sunday at (you guessed it) 6:00am on Sunday the 16th.
Corvette Racing is celebrating its 20th consecutive Le Mans, an all-time event record, that also sees the 18th straight team start for Oliver Gavin and 16th for Jan Magnussen, in what is believed to be the Corvette C7.R's final appearance in the French endurance classic.
GTE-Pro class will have a total of 17 cars, 2 Corvette's, 2 BMW's, 2 Aston Martin's, 3 Ferrari's, 4 Ford GT's and 4 Porsche's.
You can watch the race on the Motor Trend Network (used to be called Discovery Velocity) and online at MotorTrend.com.
---
We buy used cars!
Cream puff inventory needed!
Lemons need not apply.
Consignments Net YOU More!!
You get the $$$ and we do all the work for you!!!
Garage too full?
Have one or more cars to sell?
Same day cash! Running or not!!!
For approved collections, Mike will visit personally.
---
Inbound NOW!

1972 Ferrari Daytona
365 GTB/4, S/N 15717 (1972 USA production).
Sold new in Southern California, this stunning silver with black interior Daytona.
Comes with books and tools and "Ferrari Classiche".
Trades accepted. Excellent financing.
---
Featured Car of the Week
2013 60th Anniversary 427 Convertible


What Mike likes about this car:
"Imagine getting behind the wheel of this 427 convertible, which earmarked the end of the C6 era! Such a striking color combination to commemorate the 60th anniversary of America's True Sports Car! In my humble opinion, the powers to be of the GM design studio should be applauded for executing such a dramatic influence on the Corvette Collector world. Every significant Corvette Collection must have one of these. However, with so few produced it's going to be hard to find one with such low miles and in such near perfect condition. 
Happy throttling!  Apex! Exit! Accelerate! "
CM V8tro
This stunning example has led a pampered life in a private collection.
It's essentially new, having been driven only 597 miles!


Arctic White with Blue interior with 60th Anniversary Package,
60th Anniversary Stripe Package and Carbon Fiber Package.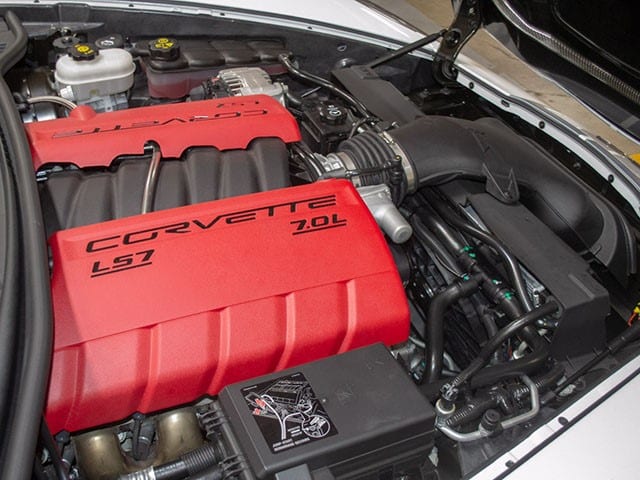 Loaded with 1SC Package. 427/505hp, 6-speed manual
Price: $59,990
Trades maybe?   Financing yes!!! Thrill rides no!!!
---
Attention West Coast NCRS Members that are going to the 2019 NCRS Convention in Greenville, South Carolina July 14-19.  Mike Ingham is taking his wife's `69 to the "Year Of" display, and is looking for other cars to fill up the Reliable Carriers truck. If you have been thinking about taking a Corvette to Greenville Mike would love to hear from you. The transport would probably leave Southern California for Greenville about July 1. You can reach him via email at michael.ingham248@gmail.com or by phone at 510-420-0968.
Upcoming events:
Rodeo Drive Concours d'Elegance, June 16
A Father's Day Tradition
Rodeo Drive, Beverly Hills, CA
Bloomington Gold Corvettes USA June 20-22
Indianapolis Motor Speedway
2019 NCRS Convention July 14-19
Greenville, South Carolina
Pebble Beach Automotive Week:
Pebble Beach, Monterey and Carmel, CA
August 13-18
Pre-Reunion Races at Laguna Seca
August 9-10
Automobilia Monterey
August 12-14

Corvettes at Carlisle
Aug 22-25
Carlisle, PA
2019 National Corvette Museum 25th Anniversary Celebration
And Hall of Fame Induction
Aug 28-31
Have a special event coming up? Let us know and we will let others know.
---
Limited edition signed print.
Artist unknown.
Price: $475  $285!
Other artwork available.
Discounted Parts Table Items
Pictures Available Upon Request.
1956-1962 Corvette Hardtops – Priced from $4,888.
1963-1967 Corvette Hardtops – Priced from $2,000.
1968-1975 Used convertible top assembly. Good condition.
1957 Corvette Fuel Injection Unit – taken off of a '57 Corvette engine, completely rebuilt and is ready to use. Part #7014520. Price $5,500 OBO (make us an offer).
1968-1969 L88 Holley 4bbl carburetor – Completely rebuilt (by Jerry Luck) and ready to install. 3925519 R4054A 861. Price: $4,500 $3,500.
Cars Listed on Bring A Trailer at Auction Pricing


1967 Chevrolet Chevelle SS L78 396/375 4-Speed

Cars Listed on eBay at Auction Pricing
1960 Red Resto-Mod with LS2 and 6-Speed
1966 Milano Maroon w/Black interior, L72 427/450hp, 4-speed
1967 Rally Red, Red Int, L71 427/435hp 4-Speed
1967 Marina Blue Corvette 300hp Auto
1970 Twilight Blue Oldsmobile 442 W30 Convertible
1999 Plymouth Prowler, Prowler Purple w/Slate Interior Convertible
2001 Pontiac Firebird Trans Am Convertible
2006 Ford GT Heritage Edition, Heritage Blue/Orange, 3,914 Miles
2013 White Porsche Cayenne S, Automatic, AWD
2013 Audi Q7 3.0T S line Prestige AWD, Automatic