NO TUNE FOR YOU!
June 1, 2019
There are six weeks until Chevrolet shows off the C8 mid-engine Corvette at an event in Orange County, California, and the rumor mill is going strong. The latest comes from Muscle Cars & Trucks, citing sources that say "successfully flash-tuning, reprogramming and otherwise altering the engine control unit to increase power output will be next to impossible."
The anti-hacking encryption is written into the electronic control module and will block any attempt to "read, write, and/or replace the standard ECU of the C8." If the ECU detects such an effort, and that "programming event fails," the Corvette will enter a "recovery mode" that requires a reboot. The computer can be reprogrammed, but only by an entity with the proper encryption keys – meaning a trip to the dealer.
This new computer is part of GM's new Digital Vehicle Platform and will be installed in all GM cars in the future. The protective measure is meant to keep bad actors from taking over a car. That would especially be true of an autonomous car, since the new architecture has been designed with the next decade of mobility advances in mind.
There is some good news for tuners though. GM did say that they may give qualified tuners access to reprogram part of the computer. I would assume that the big well-known guys may get access to tune away for a fee, or license.
---
Featured Corvette Collection of the Week!
New 7 Car Collection with Super Low Miles!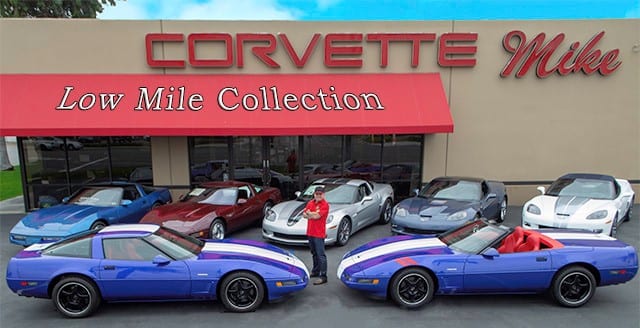 484 Mile 1990 R9G, 530 Mile 1993 40th ZR-1, 46 Mile 2009 CSR Z06 1 of 20, 838 Mile 2011 ZR1, 597 Mile 2013 60th 427 Conv, 192 Mile 1996 GS Cpe, 1,354 Mile 1996 GS Conv
WHAT MIKE LIKES ABOUT THIS COLLECTION:
"This entire collection of low mileage extraordinary, rare and high-performance Corvettes was purchased from a Collector last week, who also happens to be a good friend! The cars seen here span decades and model changes. 20 years' worth from 1993 to 2013. The R9G also has its race motor and is the only one produced in quasar blue. The 2009 CSR is one of 20 built and one of 10 in silver. I can bet nobody has one of these Z06's. Take your pick you will not be disappointed."
Buy one, or buy them all!
Trades maybe?
Financing yes!!!
Thrill rides no!!!
---
Look What Mike Found!
Time Capsule 1977 Black on Black L82 Corvette Coupe!
1977 Black Corvette L82 Coupe.  Mike's new toy!  This '77 defines the phrase "Time Capsule"!  It's as original as they come and is an N.C.R.S. 4-Star Bowtie Award winner!  Only 1,590 miles since rolling out of St. Louis!  We'd wager it's the only one like it in captivity!
Available for viewing.  Not currently for sale!!
---
Upcoming events:
Rodeo Drive Concours d'Elegance, June 16
A Father's Day Tradition
Rodeo Drive, Beverly Hills, CA
Bloomington Gold Corvettes USA June 20-22
Indianapolis Motor Speedway
2019 NCRS Convention July 14-19
Greenville, South Carolina
Pebble Beach Automotive Week:

Pebble Beach, Monterey and Carmel, CA
August 13-18
Pre-Reunion Races at Laguna Seca
August 9-10
Automobilia Monterey
August 12-14
Corvettes at Carlisle
Aug 22-25
Carlisle, PA
2019 National Corvette Museum 25th Anniversary Celebration
And Hall of Fame Induction
Aug 28-31
Have a special event coming up? Let us know and we will let others know.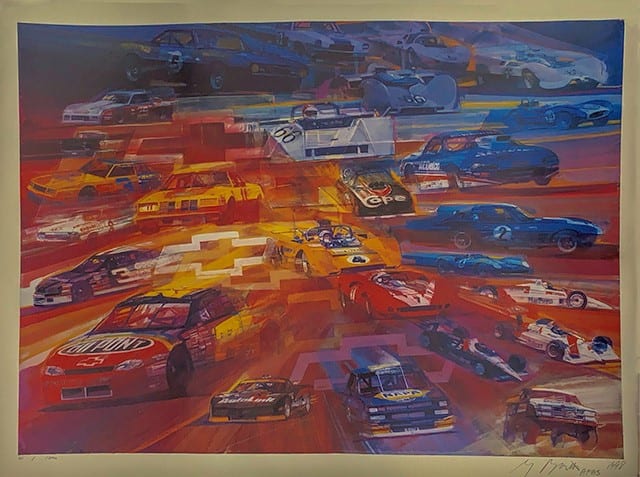 Limited edition signed print.
Artist unknown.
Price: $475  $285!
Other artwork available.
Discounted Parts Table Items
Pictures Available Upon Request.
1956-1962 Corvette Hardtops – Priced from $4,888.
1963-1967 Corvette Hardtops – Priced from $2,000.
1968-1975 Used convertible top assembly. Good condition.
1957 Corvette Fuel Injection Unit – taken off of a '57 Corvette engine, completely rebuilt and is ready to use. Part #7014520. Price $5,500 OBO (make us an offer).
1968-1969 L88 Holley 4bbl carburetor – Completely rebuilt (by Jerry Luck) and ready to install. 3925519 R4054A 861. Price: $4,500 $3,500.

Cars Listed on eBay at Auction Pricing
1953 White that just finished restoration
1960 Red Resto-Mod with LS2 and 6-Speed
1966 Milano Maroon w/Black interior, L72 427/450hp, 4-speed
1967 Rally Red, Red Int, L71 427/435hp 4-Speed
1967 Marina Blue Corvette 300hp Auto
1967 Camaro Indy Pace Car
1969 Oldsmobile Toronado
1970 Twilight Blue Oldsmobile 442 W30 Convertible
1972 Ferrari Daytona
1999 Plymouth Prowler, Prowler Purple w/Slate Interior Convertible
2001 Pontiac Firebird Trans Am Convertible
2006 Ford GT Heritage Edition, Heritage Blue/Orange, 3,914 Miles
2012 Ashen Gray Metallic Camaro ZL-1 Coupe With 350 Miles
2013 White Porsche Cayenne S, Automatic, AWD
2017 Corvette Racing Yellow Z51 Coupe with just 3,500 miles