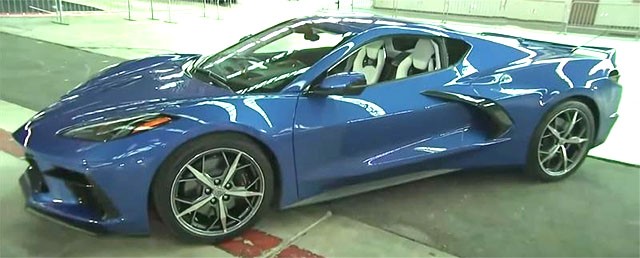 THE 2020 C8 CORVETTE IS ALMOST SOLD OUT
August 1, 2019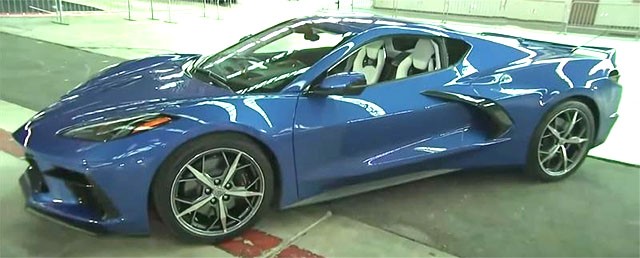 According to dealer reporting advance deposits on the new C8, the 2020 C8 Corvette appears to already be a smashing success. Switching from a front- to a mid-engine setup was a bold but necessary decision, but there could have been some serious backlash from the Corvette's most loyal fans. Turns out that's not the case. Speaking with Michael Simcoe, GM design chief, at the Concours d'Elegance of America, Autoblog has learned the first year 2020 C8 is nearly sold out.
"I think the orders have already hit the first year of production numbers," Simcoe told a large crowd. Asked to further elaborate privately a few minutes later, Simcoe confirmed the C8 is very close to being sold out for the upcoming model year, but there's still availability. "It's nearly sold out. It's so close that it's bound to be sold out soon," he clarified.
If you want the first year Mid-Engine C8 Corvette, and you have not already visited your Chevrolet dealer of choice, you may want to do it very soon.
2020 Chevrolet C8 Corvette Z51
FULL Video REVIEW
Here is a video we found that gives a great overview of the New C8.

---
We buy used cars!
Cream puff inventory needed!
Lemons need not apply.
Consignments Net YOU More!!
You get the $$$ and we do all the work for you!!!
Garage too full?
Have one or more cars to sell?
Same day cash! Running or not!!!
For approved collections, Mike will visit personally.
Click Here to submit your car!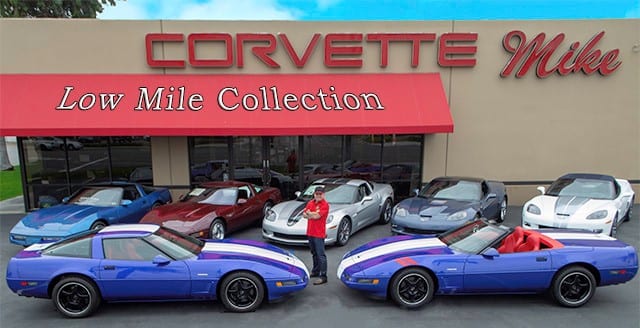 Click Here to Submit Your Car!
Inbound NOW!
1982 2-OWNER SHARK Corvette Coupe
We're always looking for nice driver quality Corvettes. And this 2 owner '82 certainly qualifies! This local Shark has been very nicely maintained over the years and recently had an extensive service performed, which included oil change, brake job w/new calipers, power brake booster and control arm bushings.
Priced at: $15,500
Trades accepted. Excellent financing.
Featured Car of the Week
1967 Heavily Awarded L71
Factory Side Pipe Delivery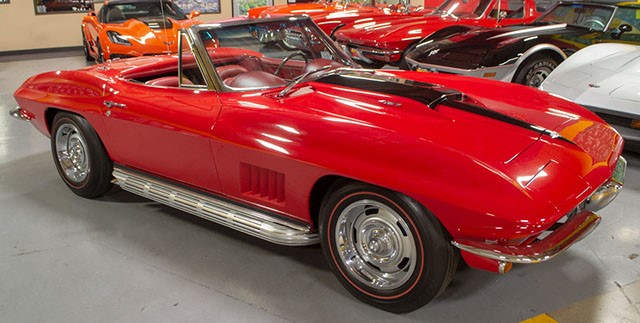 What Mike likes about this car:
"For as long as I've been attending all of the nationwide Corvette shows including Bloomington Gold back to the early 80s the 1967 red on red 435 convertible with factory side exhaust has always been the car to own.
I encourage you to stop by and have a firsthand look at this amazing example and please feel free to have the car inspected by anybody of your choosing. I drove it recently and it is quite the performer!"
Happy Throttling!
Apex • Exit • Accelerate!!
CM V8tro
This beautiful matching numbers 1967 Rally Red L71 Corvette Convertible came off the St. Louis assembly line on March 29th of '67 and was sold new out of Prout Chevrolet in Elyria, OH. It's been frame off restored to a very high standard in its correct Rally Red with Red interior.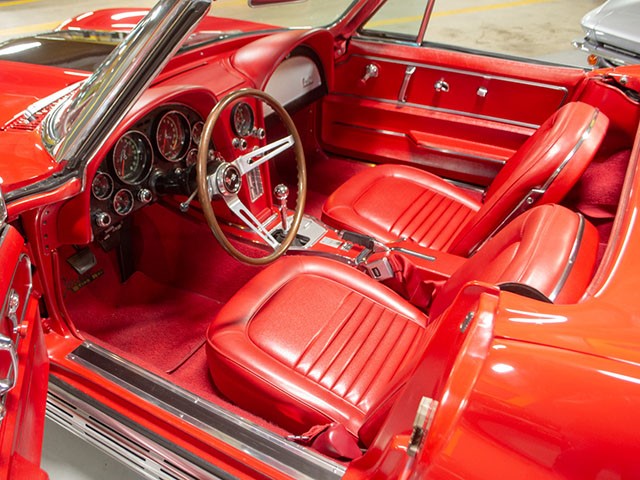 This '67 is indeed a rare example, being one of only a handful of Rally Red w/Red interior L71 Convertibles ever built.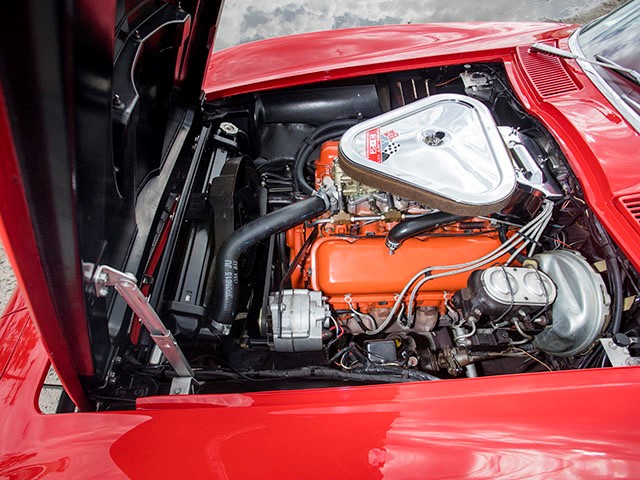 It's also loaded with great options including; L71 427/435hp engine, M21 close ratio manual transmission, 4.11 Posi rear end, am/fm radio, N14 dual side exhaust system, J50 power brakes, power windows, tinted glass, F41 suspension, Rally wheels w/Red line tires. Corvette collectors and aficionados; this is the essence of Corvette beauty and performance! It's when Chevrolet got everything just right.

And not only is it rare, it's also achieved the highest honors within the Corvette hobby, such as the Duntov Award and Triple Crown Award, having first won multiple N.C.R.S. Top Flights, Bloomington Gold and Chevy Vette Fest Gold Spinner!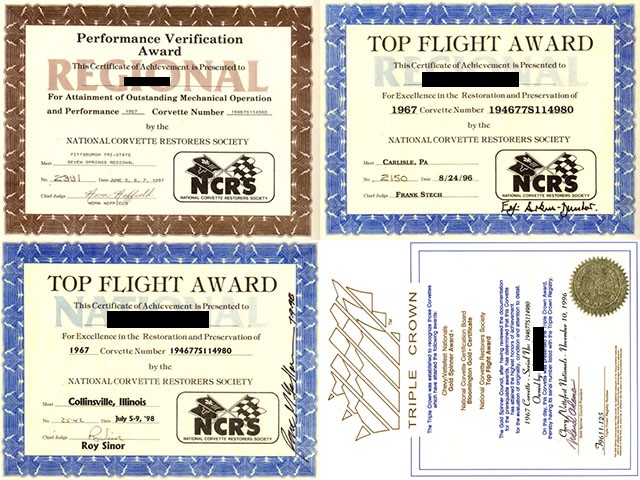 Special Price: $195,000 – Good until Monday 8/5 @ 5:00pm
Trades maybe?
Financing yes!!!
Thrill rides no!!
---
Upcoming events:
Marconi Automotive Museum
Open House & Meet The Founder
August 11 2019 – 8AM-1PM
Pebble Beach Automotive Week:
Pebble Beach, Monterey and Carmel, CA
August 13-18
Pre-Reunion Races at Laguna Seca
August 9-10
Automobilia Monterey
August 12-14
Corvettes at Carlisle
Aug 22-25
Carlisle, PA
2019 National Corvette Museum 25th Anniversary Celebration
And Hall of Fame Induction
Aug 28-31
Have a special event coming up? Let us know and we will let others know.
Real Knock offs and Bolt-Ons for sale.
Tires, repro wheels and caps.
Call for pricing.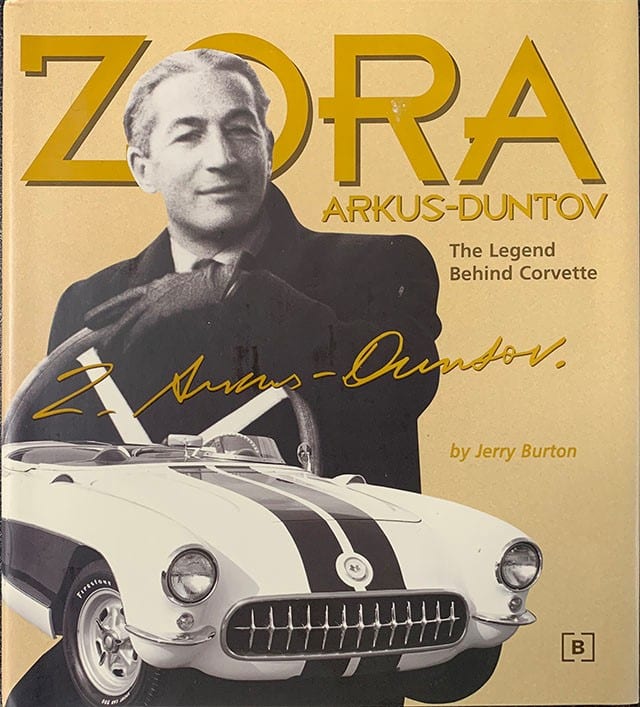 Zora Arkus-Duntov
The Legend Behind Corvette
Signed by the author Jerry Burton
Price: $25  $15!
Other books and artwork available.
Discounted Parts Table Items
Pictures Available Upon Request.
1956-1962 Corvette Hardtops – Priced from $4,888.
1963-1967 Corvette Hardtops – Priced from $2,000.
1968-1975 Used convertible top assembly. Good condition.
1957 Corvette Fuel Injection Unit – taken off of a '57 Corvette engine, completely rebuilt and is ready to use. Part #7014520. Price $5,500 OBO (make us an offer).
1968-1969 L88 Holley 4bbl carburetor – Completely rebuilt (by Jerry Luck) and ready to install. 3925519 R4054A 861. Price: $4,500 $3,500.
---

Cars Listed on eBay at Auction Pricing
1953 Frame Off Restored Roadster
1958 Snowcrest White Convertible
1967 Camaro Indy 500 Pace Car Convertible
1967 Rally Red, Red Int, L71 427/435hp 4-Speed
1970 Twilight Blue Oldsmobile 442 W30 Convertible
1999 Plymouth Prowler, Prowler Purple w/Slate Interior Convertible
2011 Supersonic Blue ZR1 w/3ZR
2013 White Porsche Cayenne S, Automatic, AWD
2017 Yellow C7 Corvette Z51 Coupe, Automatic