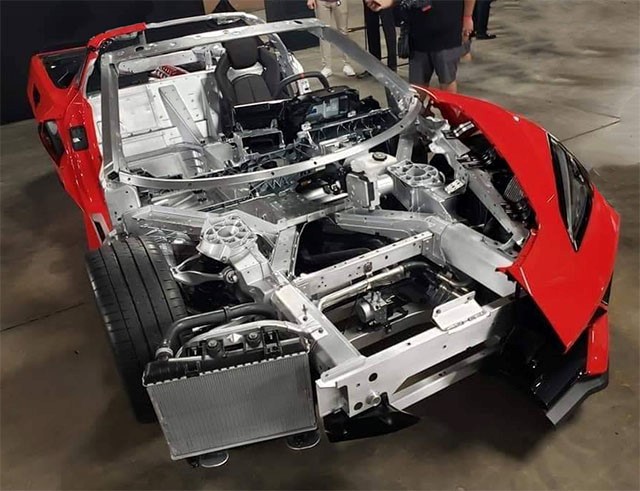 THE 2020 MID-ENGINE C8 GOES HI-TECH
August 13, 2019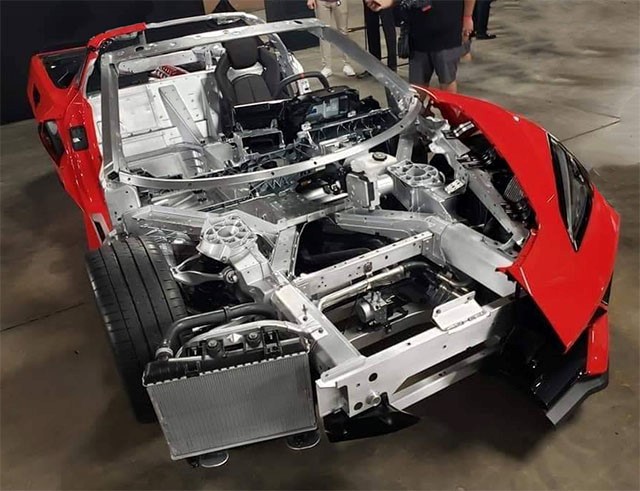 When GM announced the new C8, their goal was to make a true "supercar" for everyday use. A car that could compete on the world stage. Well, it appears that goal has been accomplished!
In order to do this, Corvette had to shed its relatively low-tech past and add some of the common tech and safety features offered on the advanced cars of today. What's amazing, is that GM was able to do this and keep the price way below the competition!
These new tech items are included on the 2LT and 3LT (the 1LT gets fewer features):
Rear Cross Traffic Alert
Side Blind Zone Alert Mirrors
Upgraded HD Rear Vision Camera
Updated Front Curb View Camera
HD Live Video Rear View Mirror. It can also be used as a normal mirror
Park Assist displaying distance-to-object
You will notice that some tech items, like Pre-Collision Braking and Adaptive Cruise Control have been left out of the C8. Well, according to Corvette Chief Engineer Tadge Juechter, that was done on purpose. These items were left off as the Corvette was designed as a driver's car and thus, should be driven, not drive itself.
Here is a video we found that gives a great overview of the New C8. View by clicking Here!
---

Listen to Mike's interview on Cars Yeah with Mark Greene by clicking Here.
---
We buy used cars!
Cream puff inventory needed!
Lemons need not apply.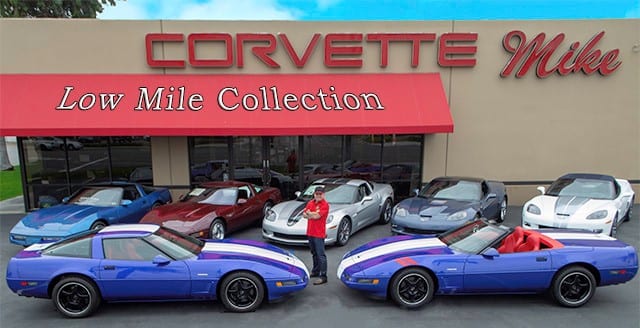 Consignments Net YOU More!!
You get the $$$ and we do all the work for you!!!
Garage too full?
Have one or more cars to sell?
Same day cash! Running or not!!!
For approved collections, Mike will visit personally.
---
Inbound NOW!

1968 Camaro Camaro SS350 Coupe
Beautifully restored and optioned with power steering and rare factory air conditioning!
Priced at: $59,988.88
Trades accepted. Excellent financing.
---
Featured Car of the Week
1965 396/425hp, 4-Speed Manual
National N.C.R.S. Top Flight Award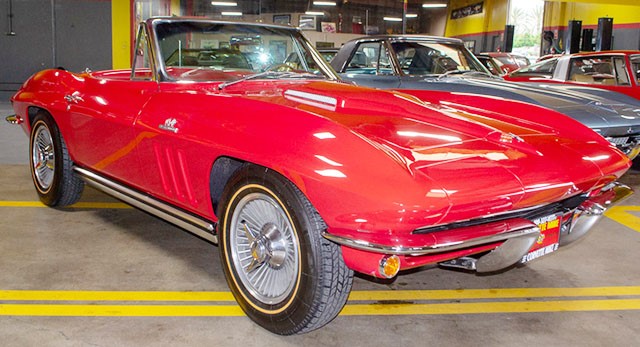 What Mike likes about this car:
"I received a call back around the Fall of 1989 from a school teacher in Riverside CA. She claimed she had an original 1965 Red 396 Convertible that she bought from a local guy in the area.
I loved those phone calls back then in the real good ole days!!! When you knew you were dealing with the Genuine Article.
Unlike over the past couple decades when one must be careful about the cars we find.
This is the REAL DEAL. No fakes. No clones. No Smoke or Mirrors.
Do you want to add a super rare Red on Red 396 Convertible to your collection that you can be proud of? With Documentation, Notarized Affidavits from the original owner and the school teacher, Awards, All receipts from our exhaustive frame off restoration and so much more!!  Binders full. Original drive train. Drives as it should and a list of all the owners, I've had the pleasure of selling it to over the past 30 years. A true California Black plate 396.
No Bull. I'll stake my reputation on it."
Happy Throttling!
Apex • Exit • Accelerate!!
Striking would be a word that comes to mind upon viewing this '65 in person. Beautiful, dazzling and graceful would be a few others.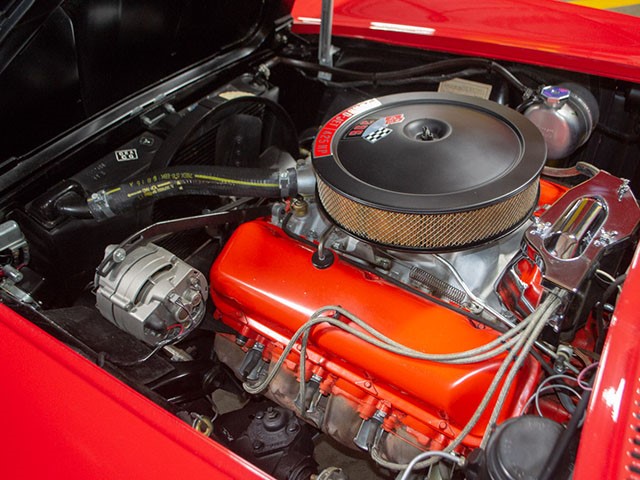 Optioned with power windows, am/fm radio and knock off wheels with Gold line radial tires.
The 1965 425hp has been beautifully and correctly frame-off restored.
Special Price: $157.500 Firm
Trades maybe?   Financing yes!!! Thrill rides no!!!
---
Upcoming Events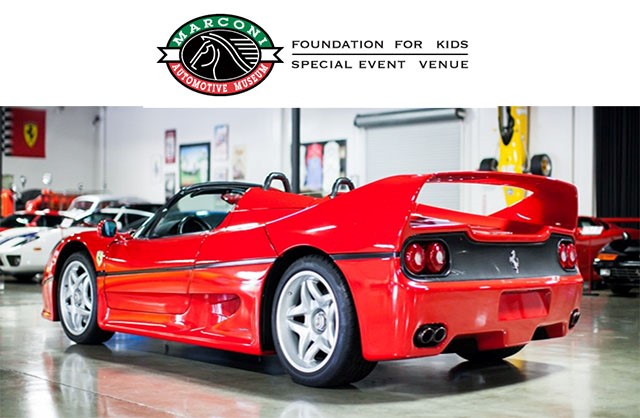 Marconi Automotive Museum
Open House & Meet The Founder
August 11 2019 – 8AM-1PM
Pebble Beach Automotive Week:
Pebble Beach, Monterey and Carmel, CA
August 13-18
Pre-Reunion Races at Laguna Seca
August 9-10
Automobilia Monterey
August 12-14
Corvettes at Carlisle
Aug 22-25
Carlisle, PA
2019 National Corvette Museum 25th Anniversary Celebration
And Hall of Fame Induction
Aug 28-31
Have a special event coming up? Let us know and we will let others know.
Real Kelsey Hayes Knock offs and Bolt-Ons for sale.
Tires, repro wheels and caps.
Call for pricing.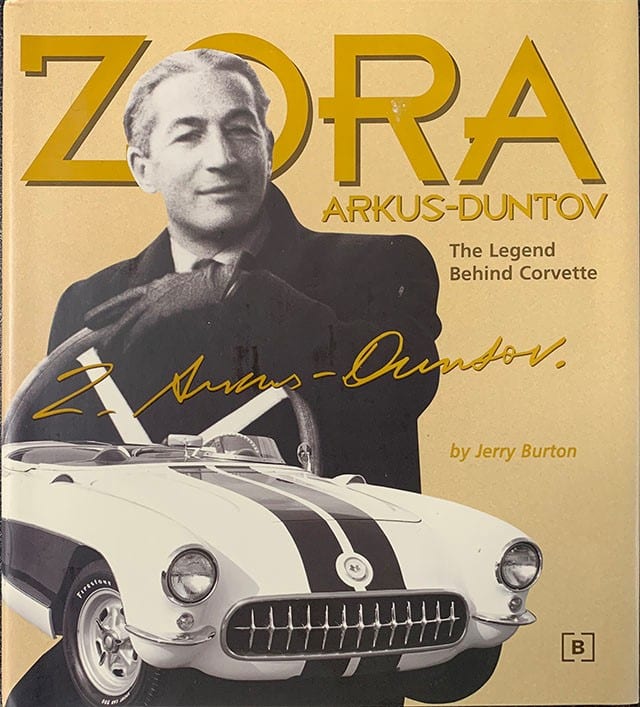 Zora Arkus-Duntov
The Legend Behind Corvette
Signed by the author Jerry Burton
Price: $25  $15!
Other books and artwork available.
Discounted Parts Table Items
Pictures Available Upon Request.
1956-1962 Corvette Hardtops – Priced from $4,888.
1963-1967 Corvette Hardtops – Priced from $2,000.
1968-1975 Used convertible top assembly. Good condition.
1957 Corvette Fuel Injection Unit – taken off of a '57 Corvette engine, completely rebuilt and is ready to use. Part #7014520. Price $5,500 OBO (make us an offer).
1968-1969 L88 Holley 4bbl carburetor – Completely rebuilt (by Jerry Luck) and ready to install. 3925519 R4054A 861. Price: $4,500 $3,500.
---
Cars Listed on Bring A Trailer at Auction Pricing
5,800 Mile, 1965 Ford Mustang Coupe 3-Speed Time Capsule

Cars Listed on eBay at Auction Pricing
1953 Frame Off Restored Roadster
1958 Snowcrest White Convertible
1967 Camaro Indy 500 Pace Car Convertible
1967 Rally Red, Red Int, L71 427/435hp 4-Speed
1970 Twilight Blue Oldsmobile 442 W30 Convertible
1999 Plymouth Prowler, Prowler Purple w/Slate Interior Convertible
2011 Supersonic Blue ZR1 w/3ZR
2013 White Porsche Cayenne S, Automatic, AWD
2017 Yellow C7 Corvette Z51 Coupe, Automatic