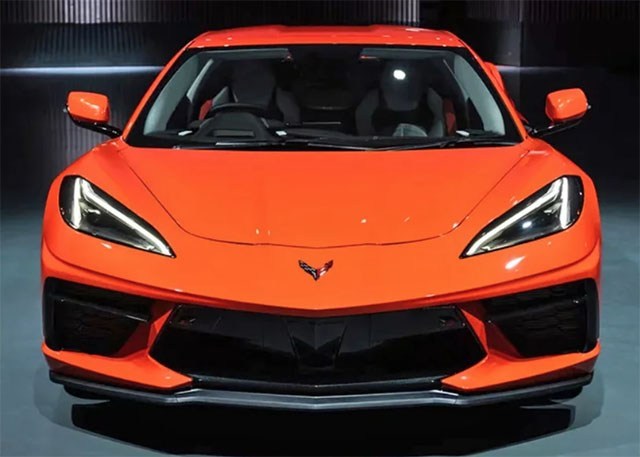 Corvette Goes Right-Hand-Drive
December 13, 2019
The new C8 Corvette has broken a lot of norms already by moving the engine to the back of the car, but this was not enough for Chevrolet. They wanted a Corvette that could be enjoyed the world over, and that required a version with the steering wheel to the right side of the car.
Well, that is exactly what Chevrolet has done. Starting in 2021, the C8 Corvette will be available for sale in both left-hand-drive, and right-hand-drive, versions. In most countries, it will be sold at Chevrolet dealerships with one exception. That market is Australia, where the Corvette is debuting in 2021 in Holden and HSV (Holden Special Vehicles) dealers, but not all of them. The Australian version will not be rebadged as a Holden, but rather just marketed as a Corvette.
Offering the right-hand-drive version makes it more suitable for export to countries where it has never been a big player, such as the U.K., Ireland and Japan, as one expects, but also India, New Zealand, large parts of the Caribbean, numerous countries in sub-Saharan Africa, Indonesia, Malaysia and large parts of Southeast Asia. In total, the new Corvette is suited for 75 countries and territories where traffic keeps on the left side of the road.
Just in
2020 C8 Corvette Is SOLD Out!
Production does not even start until early February, but the 40,000 allotment of C8 Corvettes have all been spoken for, even before one sellable C8 has been produced! This update comes directly from Barry Engle, president of North America for General Motors, during an interview with Motor Trend.
Inbound NOW!
1978 Pace Car With Only 114 Miles!
This all-original Pace Car is "in the wrapper" and has been driven only 114 miles (mostly in "Homecoming" parades) since it rolled off the St. Louis assembly line back in '78! The decals are still in the original box and the Window Sticker is still on the window and includes the Owner's Kit, Dealer Invoice, Pre-Delivery Check Sheet, Shipper and more!
Tell me this wouldn't make the perfect Xmas gift for that special person of yours.
Priced today at $34,900 OBO
Trades accepted. Excellent financing.
Featured Car of the Week
Rare 1965 L79 with factory air conditioning!
What Mike likes about this car:
"This particular color combination, to me, is so rare and classic. It works perfectly with the body style and interior package that was offered on the C2/mid-year Sting Ray. Like a Silver bullet!
The layout and configuration of the cockpit, the seats and the spaciousness of a coupe from 1963 through 1967 have always been an all-time favorite. Today we are finding that the coupe model is being requested more than the convertible. I remember back when I started in the business, we used to say coupes are for chickens! Well, I guess that's not the case anymore.
If you are out of state, have a friend come by and personally inspect this car; it's absolutely a beautiful restoration done by a well-known Corvette restorer/shop in Michigan by the name of Werner Meier."
Check out our great financing options.
Happy Throttling!
Apex • Exit • Accelerate!!
CM V8tro
Striking would be a word that comes to mind upon viewing this '65 in person. Beautiful, dazzling and graceful would be a few others. All apt descriptions for "The Silver Bullet".
This rare mid-year left the factory in '65 with a stunning Silver Pearl with matching Silver interior color combo. What also makes it unusual is its L79 327/350hp small block engine paired up with factory air conditioning!
A 4-speed manual transmission was all that was available with the L79, but when this '65 was recently frame off restored, it was decided that for the sake of drivability, a 5-speed manual was in order (4-speed included), so that's what's currently backing up the L79. And boy does that extra gear make a difference! It's a blast to drive down the fwy! And you will want to drive it everywhere! Other options include power brakes, power steering, power windows, am/fm radio, telescoping steering column and knock off wheels wrapped black wall radial tires.
Trades maybe?
Financing yes!!!
Thrill rides no!!!
Upcoming events:
Mike at the Scottsdale Auto Auctions
January 11-19, 2020
Mike will be available if you have any interest in cars to sell, buy, or just meet up!
Bloomington Gold
June 25-27, 2020
Indianapolis Motor Speedway
Have a special event coming up? Let us know and we will let others know.
—————————————————————————————————-
Corvette From The Inside
Signed by Author
Dave McLellan
Corvette Chief Engineer 1975-1992
Price: $25!
Other books and artwork available.
Real Kelsey Hayes Knock offs and Bolt-Ons for sale.
Tires, repro wheels and caps.
Call for pricing.
Discounted Parts Table Items
Pictures Available Upon Request.
1956-1962 Corvette Hardtops – Priced from $4,888.
1963-1967 Corvette Hardtops – Priced from $2,000.
1968-1975 Used convertible top assembly. Good condition.
1957 Corvette Fuel Injection Unit – taken off of a '57 Corvette engine, completely rebuilt and is ready to use. Part #7014520. Price $5,500 OBO (make us an offer).
1969 L88 Holley 4bbl carburetor – Completely rebuilt (by Jerry Luck) and ready to install. 3955205 R4296 932. Price: $4,500 $3,500.
Complete Corvette News Collection from Volume 1 Issue 1. Starting in 1958.
One pair of factory aluminum cylinder heads for big block Chevy. Pt.#3919842. These heads were original equipment on '68 & '69 L88 and L89 engines. Both heads in excellent condition. $4,500 for the pair.