Peter Max 36 Corvettes to sell at Raffle
December 26, 2019
About a year ago we told you about a set of Corvettes that were from a contest VH1 did back in 1989. The winner of the contest sold the cars to Peter Max, who was going to use them in an art project. The cars ended up languishing in a single New York Metropolis parking storage instead.
The collection included 36 Corvettes; one from every year starting in 1953 until 1989.
The current owners, a group called Corvette Heroes, have restored each of the Corvettes and are going to raise money for the National Guard Educational Foundation by raffling the cars off. There will be two drawings to pick the winners. First, 36 tickets will be chosen at random to form a group of winners. Then another drawing will decide which winner gets which Corvette.
Raffle tickets start at $3 for one, five tickets are $10 and 20 tickets go for $25. There are also discounts if you want to buy more up to 7,200 tickets for $5,000!.
Just in
C8 Nurburgring Lap Time rumor
There is a new rumor about the C8 rounding the Nurburgring. The time they are stating is 7:28.30. In comparison, Z51 C7 set a time of 7:33, so the new car is considerably faster if these rumors are true. We at Corvette Mike have questions about this time though. Even though it is faster than the C7 with the same configuration, we're just not convinced this 7:28.30 is the number.
---
Selling Soon – At Auction, bid soon, Going fast
Click to Bid

2011 SUPERSONIC BLUE CORVETTE ZR-1 – 3ZR
1958 REGAL TURQUOISE CORVETTE CONVERTIBLE
4,600-MILE 1997 CHEVROLET CORVETTE 6-SPEED
500-MILE 2004 FORD THUNDERBIRD PACIFIC COAST ROADSTER
Featured Car of the Week: 1955 V8 Corvette Roadster
What Mike likes about this car:
"1955 a very significant year indeed. For several reasons, Disneyland opened in Anaheim CA. The first V8 was put into a Corvette and a kid with the name of Mike Vietro (pronounced V8Tro) was born.
Little did he know that Monday evening at 8:47 PM on the 28th of March 1955 his last name would be synonymous with the famous V8 engine Chevy would be known for. Well, that's not all I like about the 1955 Corvette, that early roadster without roll-up windows, with the wire mesh covered headlight, has always been such a clean design. Smooth, sleek and sexy. This is the early, raw design of a great American Classic. Here we are 65 years later with a very limited number of V8 Corvettes left out of the 700 built. These museum pieces will always be sought after and enjoyed for many more years to come. This is a turn-key cruiser, sorted and judged for your immediate enjoyment. Start the New Year off right, get behind the wheel of this car before its gone. And it will be gone. Happy New Year to all. And a healthy one as well.
Corvette Mike V8tro."
Check out our great financing options.
Happy Throttling!
Apex • Exit • Accelerate!!
This 1955 Chevrolet Corvette was fully restored in 2006 and holds the National Corvette Restorers Society (NCRS) highest qualification of Top Flight, placing it in the top 3% of judged Corvettes.
This 40k-mile example comes from the first year of V8 power for the Corvette and is still equipped with its numbers-matching engine backed by a Powerglide 2-speed automatic transmission!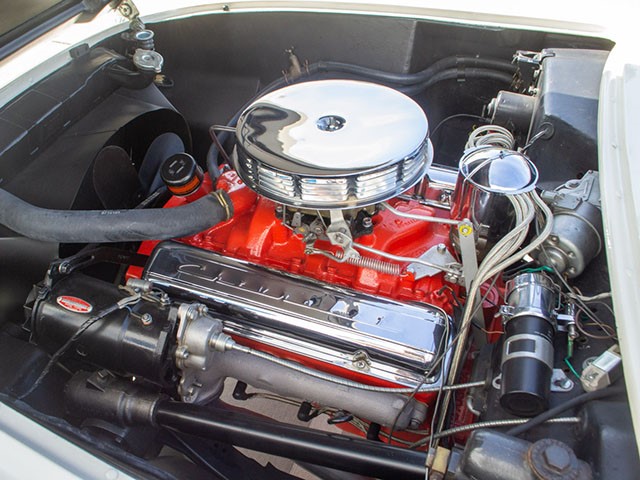 Documentation of its judged performance at the 2006 Quartz Hill event in California is included and shows a score of 4,363 out of 4,510. The 265ci V8 was recently rebuilt and is fitted with correctly date-coded manifolds. This well-documented Corvette has only been driven about 500 miles in the decade since the restoration was completed.
Priced at: $127,900 OBO
Trades maybe?
Financing yes!!!
Thrill rides no!!!
---
Upcoming events:
Mike at the Scottsdale Auto Auctions
January 11-19, 2020
Mike will be available if you have any interest in cars to sell, buy, or just meet up!
Bloomington Gold
June 25-27, 2020
Indianapolis Motor Speedway
Have a special event coming up? Let us know and we will let others know.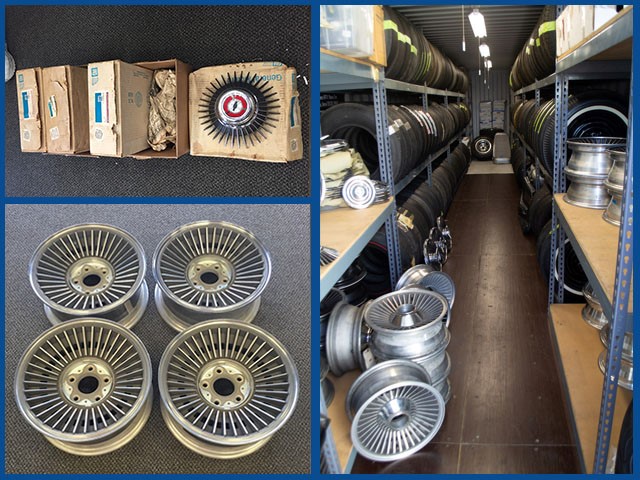 Real Kelsey Hayes Knock offs and Bolt-Ons for sale.
Tires, repro wheels and caps.
Call for pricing.
Discounted Parts Table Items
Pictures Available Upon Request.
1956-1962 Corvette Hardtops – Priced from $4,888.
1963-1967 Corvette Hardtops – Priced from $2,000.
1968-1975 Used convertible top assembly. Good condition.
1957 Corvette Fuel Injection Unit – taken off of a '57 Corvette engine, completely rebuilt and is ready to use. Part #7014520. Price $5,500 OBO (make us an offer).