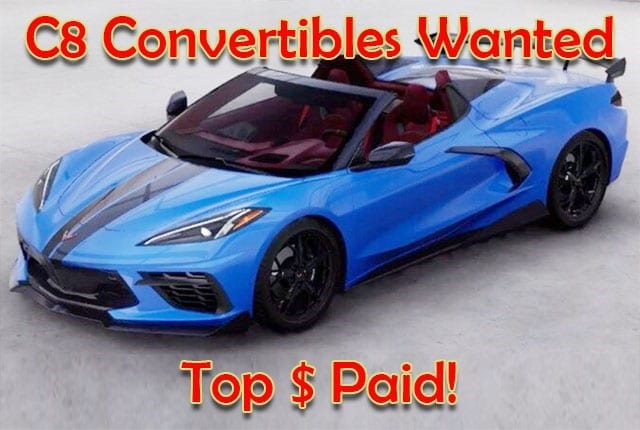 C8 Convertibles Wanted!
January 8, 2021
Corvette Mike's Thundering Thursday
Volume 8-18 • January 7, 2021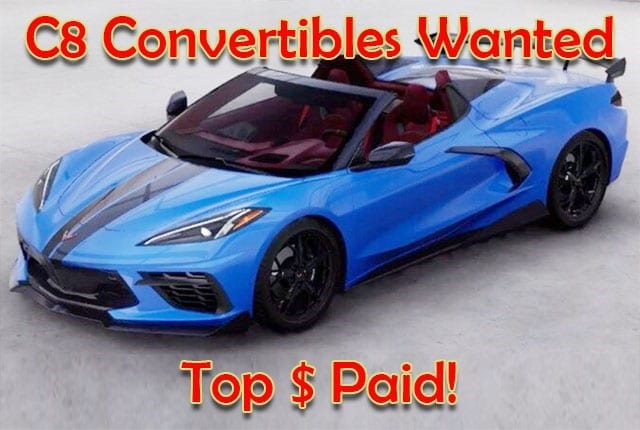 C8 Earns Motor Authority's Best Car to Buy Award
The awards for the Mid-Engine C8 Corvette continue to grow. The most recent was from Motor Authority declaring the C8 Corvette "Best Car To Buy 2021"! They tested performance, luxury, and electric vehicles to find the car they thought was the best of the best to buy and drive.
Some of their editors thought the redesigned mid-engine Corvette was a shoo-in, but Editorial Director Marty Padgett challenged them to expand our definition of performance for the EV evolution underway. The Ford Mustang Mach-E crossover SUV proved to be quick, agile, and genuinely fun to drive. But the Corvette was more fun to drive by a wide margin.
The Corvette offers all those traits, plus a sonorous V-8. Most importantly, it's the kind of car we want to own and drive. And the way it drives is what earned the Corvette the Best Car To Buy 2021 award.
"It's one of those cars that almost reads your mind when you drive it," Motor Authority contributor Brian Wong said after a drive. "If I wanted the nose to dive in, it would. If I wanted to hang on the power and get it to move around a little in the back, it would."
---
---

We buy used cars!
2020 Corvettes wanted top dollar paid
Top money paid for the right cars.  Submit today.
Cream puff inventory needed!
Lemons need not apply.
Consignments Net YOU More!!
You get the $$$ and we do all the work for you!!!
Garage too full?
Have one or more cars to sell?
Same day cash! Running or not!!!
For approved collections, Mike will visit personally.
Sales@CorvetteMike.Com
---
Inbound Now!
1965 Ford Shelby GT 350
The Real Deal! Owner History from New!

Selling for estate of celebrity owner.
Wimbledon White w/Black interior, 289/271+hp, 4-spd. manual transmission.
No expense spared, rotisserie nut and bolt restoration.
---
Weekly Special
1978 Indy Pace Car
Only 118 miles!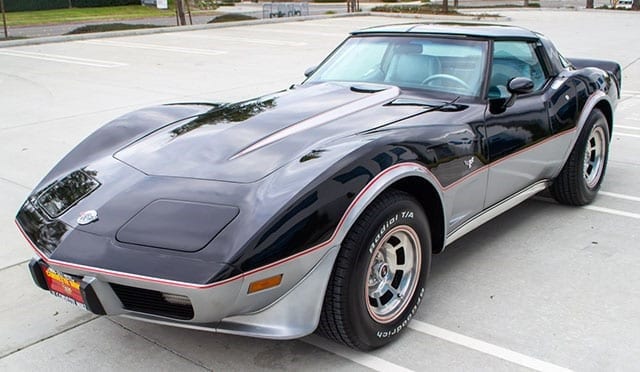 What Mike Likes about this Corvette:
"July 6, 1978 a day that will go down in the annals of car trivia.
The 25th Anniversary of the Corvette.  And the start of a young man's childhood dream. To own America's only true Sports Car.  Fresh out of the Marines and attending a free college in the Golden State.  On Summer break selling cars for the first time and earning enough money to fulfill one's dream.  That's it, I'm doing it I'm buying my Corvette. But where do you find one? Brand new of course!  All roads and referrals led to Harry Mann Chevrolet of Los Angeles.  Heck I was sales pro; with three weeks on the job and scraggly beard to prove my obligation fulfilled to Uncle Sam.  Off I went to meet the sales manager, Joel Wolf, at Harry Mann. Now all I had to do was get financed. I picked out a JEM, actually it was the only one available. All the '78's were selling for over sticker price for the first time and they were sold out everywhere.  Most were $3,000 over sticker. With the rare and desirable '78 Pace Cars as much as $10,000 over.
Well I couldn't afford that and settled for one that had an MSRP of $11,718.00.  With $2500.00 down on credit card my payment was only $313.00 for 48 months. Gulp!! My condo payment was $434.00 in the city of Orange.  What was I thinking?  I did have help however from a Marine buddy roommate and my wife who worked part time as cashier in a car wash while attending Cal State Long Beach.  She never stood in my way and allowed that purchase to happen.  What if she hadn't?  Would Corvette Mike ever exist?  Well readers I'm here to tell you, that 1978 was start of the career of Corvettte Mike. Because obsession, tenacity, drive and persistence were all the reasons and the driving force which no one could stand in the way of. You can't make this stuff up. So what is it that Mike likes about this 1978 25th Anniversary Pace Car Corvette?  I CAN AFFORD IT NOW!!  So can you!  The moral of my story; Don't let anyone or anything stand in the way of your dreams. 
Corvette Mike celebrating 39 years On January 10th, 2021.  What a ride and rode well traveled it's been.  But truly, it's the friendships garnered that I cherish most. Some that go back all 39 years plus a couple.
Happy New Year!!"
Corvette Mike V8tro / CM V8tro
Check out our great financing options.  
Happy Throttling!
Apex • Exit • Accelerate!!
This beautiful example has managed to survive these last 43 years completely untouched with the exception of tires and service.  And has clocked only 118 miles since it rolled out of St Louis!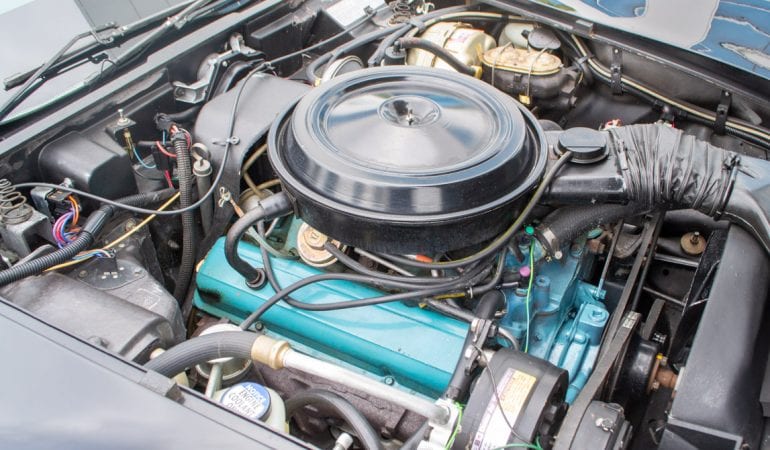 Black/Silver w/Silver interior, L48 350, 3-spd. automatic transmission.
Trades maybe?
Financing yes!!!
Thrill rides no!!!
Corvette From The Inside
Signed by Author
Dave McLellan
Corvette Chief Engineer 1975-1992
Price: $25!
Other books and artwork available.
Real Kelsey Hayes Knock offs and Bolt-Ons for sale.
Tires, repro wheels, and caps.
Call for pricing.
Complete Corvette News Collection from Volume 1 Issue 1. Starting in 1957.  Priced at $3,250
We have many duplicate issues so, if you are missing one, or a few, from your personal collection, we have individual issues starting at $20 each based on availability and rarity of the volume.
---
Discounted Parts Table Items
Pictures Available Upon Request.
1956-1962 Corvette Hardtops – Priced from $4,888.
1963-1967 Corvette Hardtops – Priced from $2,000.
1968-1975 Used convertible top assembly. Good condition.
Auctions


More Coming Soon
More Coming Soon

More Coming Soon
Cars on eBay at Auction Pricing
1962 Ford Thunderbird M-Code Landau Hardtop
1965 White Mustang Resto-Mod nicknamed "Vendetta"
1965 Goldwood Yellow Corvette Convertible L76 327/365hp
1965 Rally Red Corvette Convertible L78 396/425hp, 4-speed
1967 Marina Blue Corvette L71 Coupe, Frame Off Restored
2017 Corvette Grand Sport Collector Edition Convertible 3LT
2020 Yellow Corvette Coupe with 2LT & Z51
2020 Torch Red Corvette Convertible, 2LT, NAV, Front Lift
---
Comic of the Week

Some Random Thoughts
Every time I "get with the program"… somebody changes the channel.
The trouble with jogging is that, by the time you realize you're not in shape for it, it's too far to walk back.
When you sit with a nice girl for two hours, it seems like two minutes; when you sit on a hot stove for two minutes, it seems like two hours. That's relativity.
About Us
The Leader of the Pack for nearly 40 years (est. 1982), in which time Corvette Mike has earned a reputation of unsurpassed integrity, and expertise while becoming one of the world's leading sports car dealers. Dealing in Corvettes, American Muscle cars, Ferrari, Porsche and Jaguar among others, Corvette Mike is your one-stop for your collection and sports car needs. Visit our online showroom!