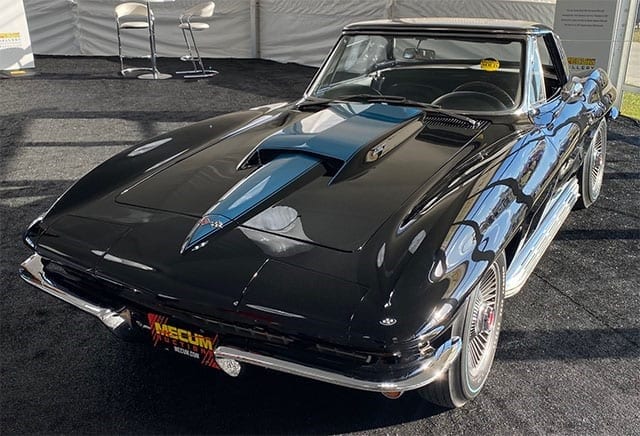 Breaking News from Kissimmee Florida
January 21, 2021
Corvette Mike's Thundering Thursday
Volume 8-20 • January 21, 2021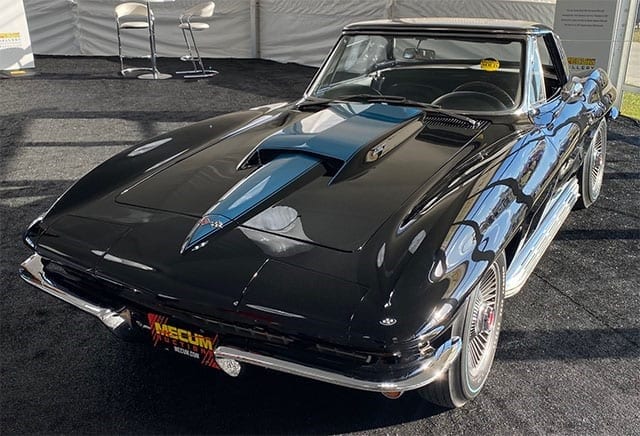 Mecum just held its large Kissimmee auction, and the top seller was a triple Black L88, selling for $2,500,000! This is great news for Corvette community and collectors worldwide.
The 1967 L88 Corvette is the best of the best in terms of performance when it comes to the second generation. They featured a high-performance 427-cid big block engine mated to a heavy duty M22 'Rock Crusher' 4-speed manual transmission and nearly every race ready option GM had to offer. Its ultra-high-performance engine pumped out over 500-horsepower, and the transmission was nearly unbreakable. Suspension components were as heavy-duty as was ever put in a GM car and there was no need for a heater. Visually, the cars were not much different from every other 1967 Corvette, with the exception of the iconic L88 hood. However, unlike any Corvette that came before, these cars did not have any standard comfort or convenience features. They were produced for one thing only-speed.
While the L88 that just sold was one of the rare 1967 L88's produced, it still was not as original as the super rare L88's that still have their original motors under the hood, with only three still in existence.

The yellow one pictured here was owned for over 30 years by a famous Corvette collector by the name of Steve from Minnesota. He was a dealer and a collector and kept the original title untouched from 1967. The documentation and the history of this car is an amazing story. What really makes this particular L88 super rare, is that it's the only coupe that retains its original motor, original chassis, and original tags. These cars were built to race and run hard.
I am offering this amazing 1967 fully documented, Duntov certified, and Triple Diamond award winning, Corvette for sale. It has no equal. There will only be one new owner who can claim and boast the ownership of this amazing 67 Corvette L88 (still titled to the original owner).
Priced at: $3,427,430.67
---
Mid-Engine Corvette Development Story
---

We buy used cars!
2020 Corvettes wanted top dollar paid
Top money paid for the right cars.  Submit today.
Cream puff inventory needed!
Lemons need not apply.
Consignments Net YOU More!!
You get the $$$ and we do all the work for you!!!
Garage too full?
Have one or more cars to sell?
Same day cash! Running or not!!!
For approved collections, Mike will visit personally.
Sales@CorvetteMike.Com
---
Inbound Now!
1969 L89 Convertible Corvette
Born with original motor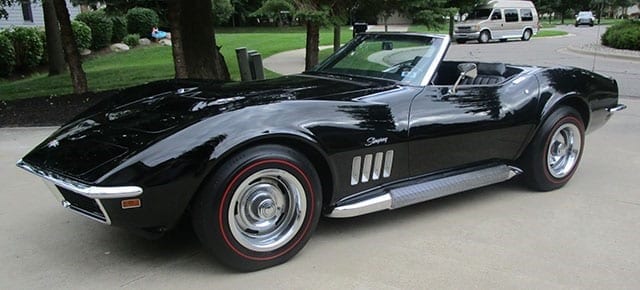 1969 L89 in triple black, born with original motor, leather seats, ncrs top flight, Boomington Gold, triple crown, NCRS shipping data report, NCRS document validation, tank sticker (Roy Sinor), Super Chevy magazine article April 1986, from the Milt Robson collection/Rich Haydinger, and other collectors!
Priced at: $375,000
---
Weekly Special
2020 C8 Convertible
With just 92 miles.

What Mike Likes about this Corvette:
"This extremely pleasing and sophisticated color combination of Artic White with Black&Red interior goes together so well they are like the original 1953 Corvette, but far more modern. Stop by and have a close look at this Chevrolet marvel of engineering. No other car on the market comes close to delivering a knockout punch like the C8 Corvette. Car and Driver so named it for a reason. And let's stop saying, for the price, for a moment and recognize that maybe all the other so-called exotics are grossly overpriced.  I'll bet their makers are scratching their heads wondering how sales will be moving forward."
Corvette Mike V8tro / CM V8tro
Check out our great financing options.  
Happy Throttling!
Apex • Exit • Accelerate!!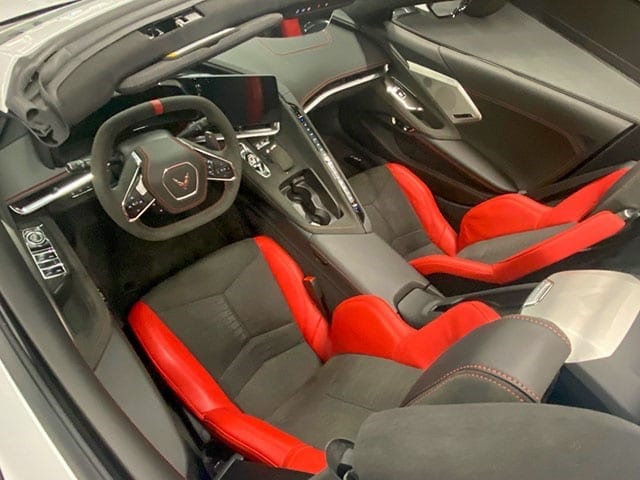 Super loaded convertible!
Comes with 3LT, Z51, Interior Carbon Fiber Trim, Magnetic Ride, Front Lift, Trident Wheels, Red Leather Stiching, Carbon Flash Nacelles, and so much more.
Special priced at: $115,000
Would you like to see your prime collector car example featured here? Click Here to send an email.
Trades maybe?
 Financing yes!!!
Thrill rides no!!!
Corvette From The Inside
Signed by Author
Dave McLellan
Corvette Chief Engineer 1975-1992
Price: $25!
Other books and artwork available.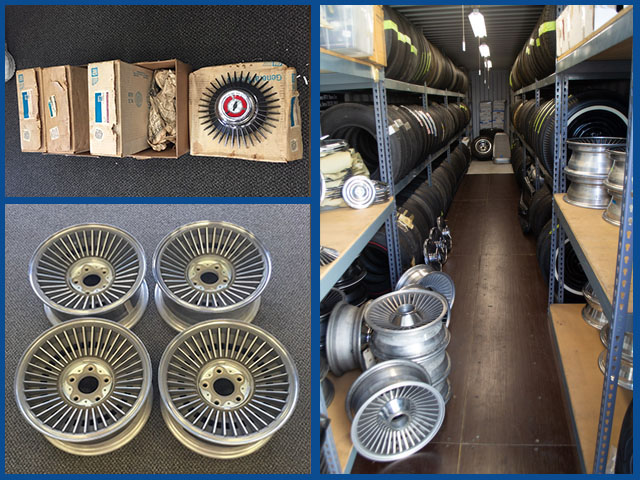 Real Kelsey Hayes Knock offs and Bolt-Ons for sale.
Tires, repro wheels, and caps.
Call for pricing.
There are so many items in the Corvette-themed collection that he changed the way Guinness World Records classifies car collecting. Anyone can go on a giant shopping spree and buy a bunch of cars, Mallon said. Eventually Guinness created a new category for "Corvette items," and in 2012, Charles was awarded the world record.
Click here to submit your bid.
---
Discounted Parts Table Items
Pictures Available Upon Request.
1956-1962 Corvette Hardtops – Priced from $4,888.
1963-1967 Corvette Hardtops – Priced from $2,000.
1968-1975 Used convertible top assembly. Good condition.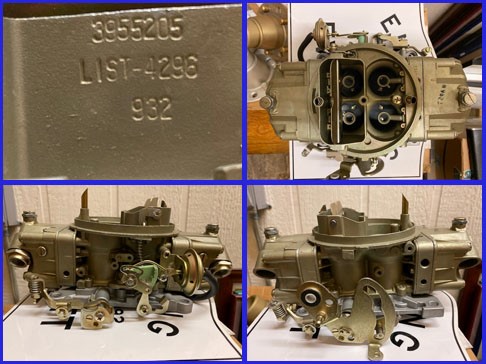 1969 L88 Holley 4bbl carburetor – Completely rebuilt (by Jerry Luck) and ready to install. 3955205 R4296 932. Price: $4,500 $3,500.
---
Auctions


More Coming Soon
More Coming Soon


More Coming Soon

Cars on eBay at Auction Pricing
1962 Ford Thunderbird M-Code Landau Hardtop
1965 White Mustang Resto-Mod nicknamed "Vendetta"
1965 Goldwood Yellow Corvette Convertible L76 327/365hp
1965 Rally Red Corvette Convertible L78 396/425hp, 4-speed
1967 Marina Blue Corvette L71 Coupe, Frame Off Restored
2017 Corvette Grand Sport Collector Edition Convertible 3LT
2020 Yellow Corvette Coupe with 2LT & Z51
2020 Torch Red Corvette Convertible, 2LT, NAV, Front Lift
---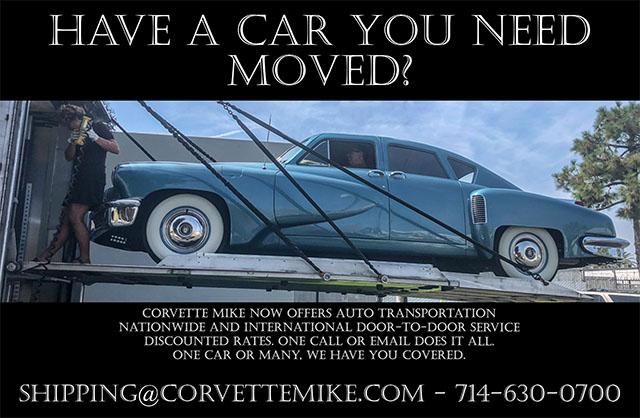 Comic of the Week
Some Random Thoughts
Nothing makes you more tolerant of a neighbor's noisy party than being there.
When life gives you lemons, sell them for $20 as very rare oranges.
Instructions for twerking: Step 1 – Reconsider.
About Us
The Leader of the Pack for nearly 40 years (est. 1982), in which time Corvette Mike has earned a reputation of unsurpassed integrity, and expertise while becoming one of the world's leading sports car dealers. Dealing in Corvettes, American Muscle cars, Ferrari, Porsche and Jaguar among others, Corvette Mike is your one-stop for your collection and sports car needs. Visit our online showroom!