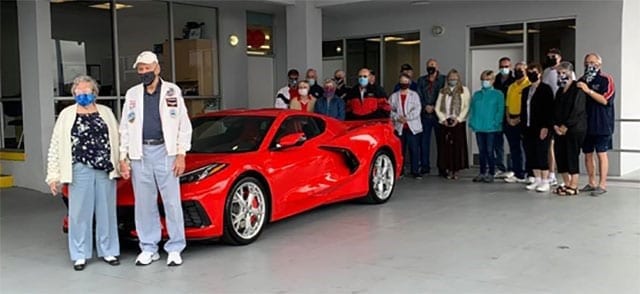 C8's Are Not Just for Kids
January 28, 2021
Corvette Mike's Thundering Thursday
Volume 8-21 • January 28, 2021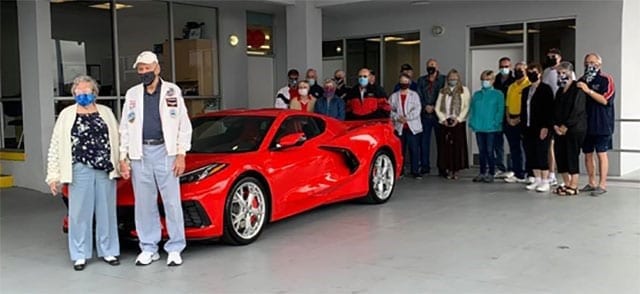 You may have been reading how the new C8 Corvette has been attracting a much younger group of buyers, and this may be true, but the new Mid-Engined Corvette is not just for kids, as Chuck Cook will tell you.
Cook is not new to Corvettes, as he has owned 3 before buying his 4th for his 90th birthday; a shinny new Torch Red C8 Coupe. "This is my birthday present to myself," Cook said to local Florida newspaper Daily Commercial. "I've owned Corvettes since 1981 when I bought my first one. This makes my fourth one in my lifetime. I can't wait until the pandemic is over so I can get this to all the car shows."
Cook, who spent four years serving in the U.S. Air Force stationed in Korea working on fighter jets, so it is not hard to see where he developed his love for great sports cars.
---
Mid-Engine Corvette Development Story
---
We are looking for C2's.
1967 Maroon or Red 327 Convertible
Any year C2 coupe with 327 and any transmission.
Also want low mile
2016 Z06 Coupe
2017 Grand Sport Coupe
2019 Black ZR1 Coupe

We buy used cars!
2020 Corvettes wanted top dollar paid
Top money paid for the right cars.  Submit today.
Cream puff inventory needed!
Lemons need not apply.
Consignments Net YOU More!!
You get the $$$ and we do all the work for you!!!
Garage too full?
Have one or more cars to sell?
Same day cash! Running or not!!!
For approved collections, Mike will visit personally.
Sales@CorvetteMike.Com
---
Inbound Now!
2017 Z06 Corvette with 2LZ
Only 3900 Miles!

Showroom condition throughout with under 4k miles on the odometer! Options include; 2LZ, Black painted aluminum wheels, Red brake calipers and more!!
Priced at: $74,900
---
Weekly Special
1969 L89 Convertible Corvette
Born with original motor
8 Time NCRS Top Flight Awarded
Bloomington Gold
MCACN Triple Crown

What Mike Likes about this Corvette:
"The late 1970s. It was a marvelous time for drivers! Turn the clock back to when fuel was cheap and roads were scorched by high performance cars: Corvettes, Mustangs, MOPARs, Cobras, Ferraris and the like were rarely worth as much as ten grand. You could buy a Ferrari Daytona or Shelby GT350 for a pittance, relative to the present. I remember looking at a 1973 Ferrari Dino for $18,000 back then, a $300k+ collectible now. Even rarer models, such as L89 Corvettes, could be acquired for four figures.
Which brings me back to today, when spirited driving, solo or with one's partner or friend, is a thrill we can experience safely in the COVID-19 era. This 1969 L89 convertible is extremely rare, the only one known to exist with its array of desirable options. It cost me a mere $15,000 in 1984. I found it at a Corvette Show in Costa Mesa, CA. It was quite the surprise, for I knew how rare they were. About ten years earlier the owner had informed me it was for sale at a used car dealership on PCH in Redondo Beach, for a staggering $3,999.00. Yep. I'm not omitting a zero. Only four grand!!! Can you imagine? OMG!!
I remember well who I sold it to, but he wouldn't close the deal until I dropped the gas tank and the tank sticker could be inspected to confirm the factory options included. That well known collector was an astute muscle car buyer Milt Robson from Gainesville, Georgia. The L89's factory options were as follows: black on black leather interior; L89 aluminum headed 427/435 V8; convertible top; side pipes; power steering; power windows; power brakes. We consummated the deal with 275 Benjamins, back when cash was king. Those were the days. Then a year later I tried to buy it back. And every year after that for many years until I was able to grab it for the more daunting sum of $75,000 in January of 1989, in time for the Bloomington Gold show in June. I took home the Gold and a check from a great customer, Tim McKeon, for $118,500. You can't make this stuff up!! So unfolded the series of L89 related events–for decades–as I lost contact with one of my most cherished Corvettes of all time.
Here we come full circle, back to my wheelhouse: rare Corvettes. It's a privilege to once again offer this amazing one of a kind American built pinnacle of the muscle car era, my baby!!!  My first L89 and it is such a special Corvette. Although it will hurt to cut it loose again, who will carry the torch for me into the future?
PS keep in mind when Rick Hendricks owned this car it took $500,000.00 to separate it from him. Today I offer this car at a no excuse, no BS, no frills, no smoke or mirrors at $375,000.00. If you want it, I will reluctantly sell it to you. However, with the proviso I get it back should you decide to sell."
Corvette Mike V8tro / CM V8tro
Check out our great financing options.  
Happy Throttling!
Apex • Exit • Accelerate!!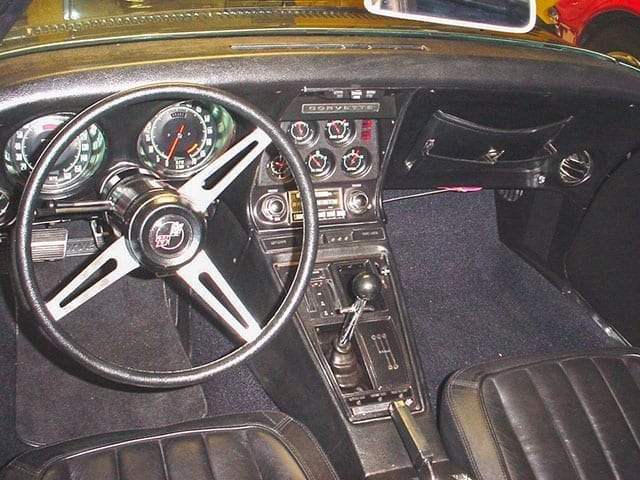 If given the opportunity to travel back in time with the time machine coordinates set to "Local Chevy Dealer 1969", what Corvette would you order? I'm sure many of us have fantasized about what special RPO's, color combo's etc. we would choose. It makes for a fun game to play among fellow Corvette aficionados. The car presented here just might be considered the ultimate '69!  Take a look at what this car is and the options it has and you might agree! But regardless, I think we would all acknowledge that the person who ordered this Corvette new, had excellent foresight!
Tuxedo Black w/Black interior, L89, 427/435hp aluminum head big block. M21 4-speed manual transmission.
N.C.R.S. Shipping Data Report
N.C.R.S. Document Validation of the Tank Sticker by Roy Sinor
Super Chevy Magazine article form April '86
From the Milt Robson Collection/Rich Hydinger and other distinguished owners/collectors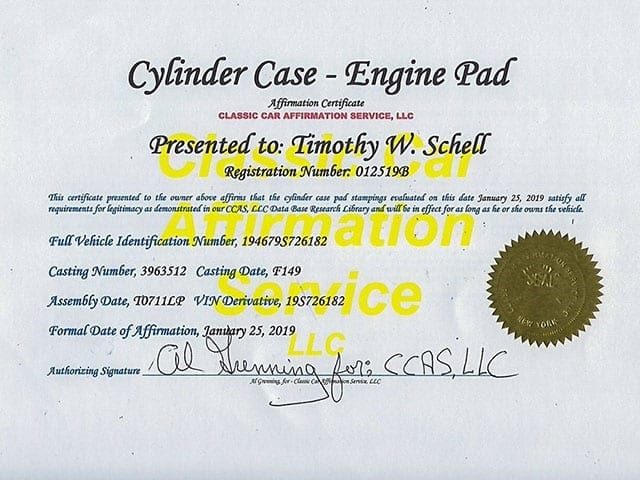 Born with original motor certified by CCAS.
Options: L-71, K66, G81, M21, CO7 (We do not have the hard top), U69, A01, A31, GS4, POSI, J50, L89, N14, N37, N40, TJ2
Special priced at: $375,000
Would you like to see your prime collector car example featured here? Click Here to send an email.
Trades maybe?
 Financing yes!!!
Thrill rides no!!!
Corvette From The Inside
Signed by Author
Dave McLellan
Corvette Chief Engineer 1975-1992
Price: $25!
Other books and artwork available.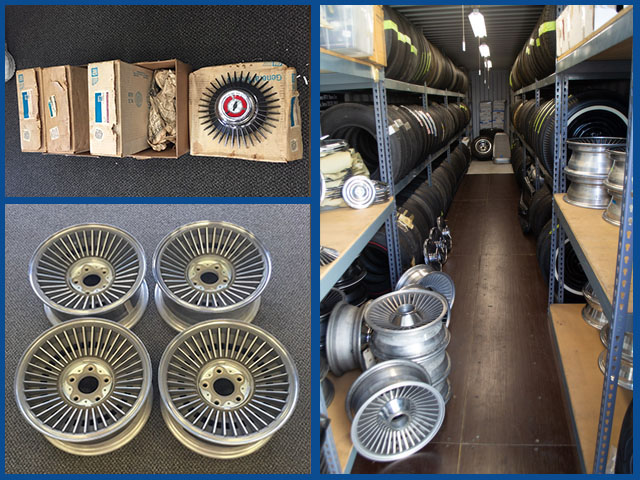 Real Kelsey Hayes Knock offs and Bolt-Ons for sale.
Tires, repro wheels, and caps.
Call for pricing.
There are so many items in the Corvette-themed collection that he changed the way Guinness World Records classifies car collecting. Anyone can go on a giant shopping spree and buy a bunch of cars, Mallon said. Eventually Guinness created a new category for "Corvette items," and in 2012, Charles was awarded the world record.
Click here to submit your bid.
---
Discounted Parts Table Items
Pictures Available Upon Request.
1956-1962 Corvette Hardtops – Priced from $4,888.
1963-1967 Corvette Hardtops – Priced from $2,000.
1968-1975 Used convertible top assembly. Good condition.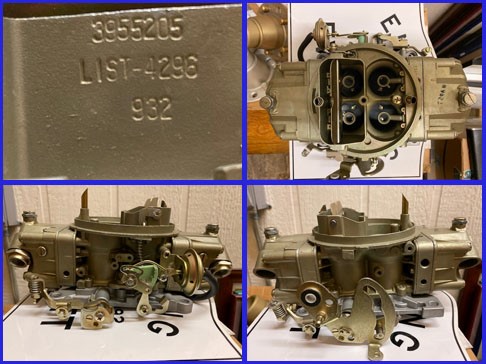 1969 L88 Holley 4bbl carburetor – Completely rebuilt (by Jerry Luck) and ready to install. 3955205 R4296 932. Price: $4,500 $3,500.
---
Auctions


120-Mile 1978 Chevrolet Corvette Pace Car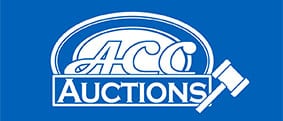 More Coming Soon

More Coming Soon

Cars on eBay at Auction Pricing
1962 Ford Thunderbird M-Code Landau Hardtop
1965 Goldwood Yellow Corvette Convertible L76 327/365hp
1965 Rally Red Corvette Convertible L78 396/425hp, 4-speed
1967 Marina Blue Corvette L71 Coupe, Frame Off Restored
2017 Corvette Grand Sport Collector Edition Convertible 3LT
2020 Yellow Corvette Coupe with 2LT & Z51
2020 Torch Red Corvette Convertible, 2LT, NAV, Front Lift
---
Comic of the Week

Some Random Thoughts
It's a five minute walk from my house to the pub. It's a 35 minute walk from the pub to my house. The difference is staggering.
People who wonder whether the glass is half empty or half full are missing the point. The glass is refillable.
I got myself a seniors' GPS. Not only does it tell me how to get to my destination, it tells me why I wanted to go there.
About Us
The Leader of the Pack for nearly 40 years (est. 1982), in which time Corvette Mike has earned a reputation of unsurpassed integrity, and expertise while becoming one of the world's leading sports car dealers. Dealing in Corvettes, American Muscle cars, Ferrari, Porsche and Jaguar among others, Corvette Mike is your one-stop for your collection and sports car needs. Visit our online showroom!