New Details About C8 Variants Emerge
February 11, 2021
Corvette Mike's Thundering Thursday | Volume 8-23 • February 11, 2021

We all know that Chevrolet would not sit on their laurels, and the news coming out today proves this to be true. The rumors are talking turbochargers, flat-plane cranks, hybrid powertrains, and even a full EV version!
First to be announced will be the Z06, maybe a 2022 release! It will come with a naturally aspirated 5.5-liter flat-plane crank V-8, producing around 620hp and be able to rev all the way to 9,000 rpm.
The very next year (2023) look for the ZR-1 to be announced. This may get the 5.5-liter flat-plane V-8 with two turbochargers bolted on. With the Turbos pumping air into the 5.5L V8, it should be producing around 840hp!
By 2023 we will see the first AWD plug-in hybrid (PHEV) Corvette. It is rumored to have two electric motors on the front axle, and possibly a third adding more power to the same Z06's powered 5.5L V8 engine in the back. This may be called the E-Ray that GM has copyrighted a few years back. This combination should produce high 700's horsepower!
As GM has announced, they want to have 30 all electric offerings by 2025. To this end, we may see the first all-electric Corvette in 2024! How it will be powered is unknown by us at this time.
Then there is the Zora!!! Making its appearance in 2025. Chevrolet should announce the one we are all waiting for the 1,000+ horsepower Corvette Zora. How do you get to 1,000+ hp? Take the twin-turbo V-8 from the ZR1, and the hybrid system from the all-electric hybrid, and you end up with a Corvette Hyper Car!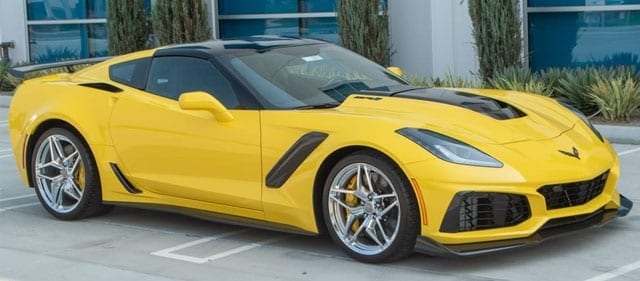 There is a special auction on Bring A Trailer now for a 2019 Yellow ZR-1 with just 92 miles on the odometer and 7-Speed Manual!
We think this is one of the sharpest ZR-1's we've ever seen! This rare (second only to Admiral Blue) Corvette Yellow BEAST is equipped with the 3ZR Preferred Equipment pkg., chrome wheels, carbon fiber dual pkg. and more! This is essentially a "new" ZR-1 with only 92 miles on the odometer!  This is quickly becoming the Corvette to own. The best of the end of an era!
We are looking for C2's
1967 Maroon or Red 327 Convertible
Any year C2 coupe with 327 and any transmission.
Also want low mile
2016 Z06 Coupe
2017 Grand Sport Coupe
2019 Black ZR1 Coupe

We buy used cars!
2020 Corvettes wanted top dollar paid
Top money paid for the right cars.  Submit today.
Cream puff inventory needed!
Lemons need not apply.
Consignments Net YOU More!!
You get the $$$ and we do all the work for you!!!
Garage too full?
Have one or more cars to sell?
Same day cash! Running or not!!!
For approved collections, Mike will visit personally.
Sales@CorvetteMike.Com
---
Inbound Now!
1996 Corvette Grand Sport
LT4 350/330 HP, 6 Speed Manual Transmission!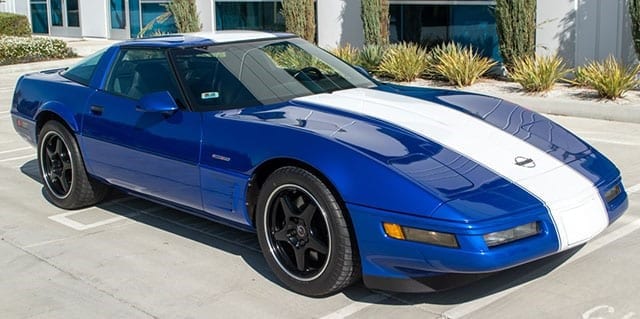 This absolutely beautiful Grand Sport came to us from a local client.  We sold him the car, but a growing collection and very little space necessitated he reluctantly pass it along to its next care taker.  It's in show condition throughout and is a high scoring N.C.R.S. Top Flight Award winner!
Priced at: $39,900
---
Weekly Special
2017 Corvette Grand Sport Convertible Collector Edition
1 of 935 and only 15k Miles!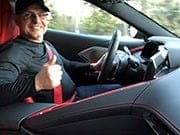 What Mike Likes about this Corvette:
"Here we have a very rare (1 of only 935) and desirable Collector's Edition Grand Sport Convertible in a stunning color combination of (appropriately named) Watkins Glen Gray with Tension Blue racing stripes, hash marks and interior.
Of all the Grand Sports that have been introduced over the years, i think this C.E. makes quite a statement and then some! Possibly like no other before it! Aggressive in looks and performance, with a large dash of flair thrown in for good measure!
This is actually the only '17 C.E. G.S. we've had. That will tell you right there how uncommon they are.
And on a related subject, what a surge we have seen in the price structure of the latest C7 Corvette values! The price escalation of the new mid-engine C8 Corvette has helped spiral upward the value of Corvettes last generation of front engine examples. This particular Collector's Edition was actually a trade-in on one of our pre-production C8 Convertibles."
Corvette Mike V8tro / CM V8tro
Check out our great financing options.
Happy Throttling!
Apex • Exit • Accelerate!!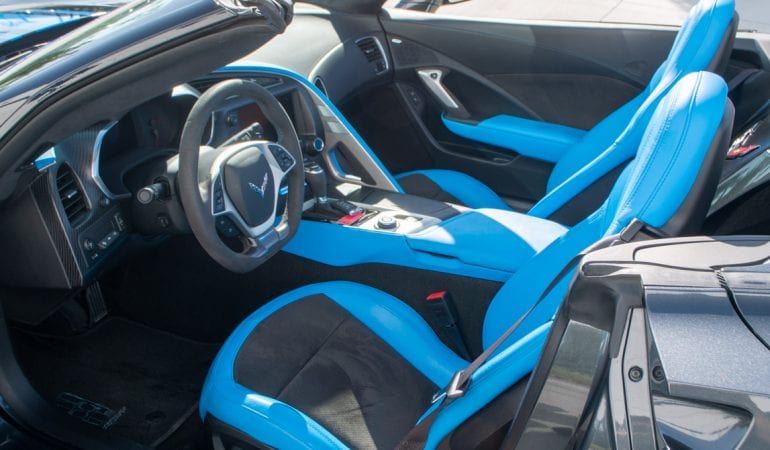 As if a Grand Sport Convertible wasn't special enough? How about a Collector Edition Grand Sport Convertible? To commemorate their introduction, a very special C.E. was brought out, and only 935 examples were produced. This one is #852. What you got was a 3LT Packaged, Watkins Glen Gray exterior with Tension Blue hash marks on the fender, Tension Blue stripes, a Tension Blue interior, special engraved plaque on the dash, special G.S. floor mats and some other interesting touches. If you're looking to keep a "low profile", this G.S. is probably not for you. Want to make a statement? Step right up and into this stunning example!
Watkins Glen Gray Metallic w/Black/Blue interior.
Power is produced by the base cars normally aspirated LT-1 engine which put out 460hp and equipped with dry-sump oiling, and mated to the Paddle-Shift automatic transaxle. The brakes are Brembos with 6-piston Black calipers on the front and 4-piston calipers on the rear. Added to this is a rear differential cooler, Magnetic Ride Control, NPP performance exhaust, specific wheels shod with Michelin summer tires, rear wing, and more.
Special priced at: $66,900 $62,900
Would you like to see your prime collector car example featured here? Click Here to send an email.
Trades maybe?
Financing yes!!!
Thrill rides no!!!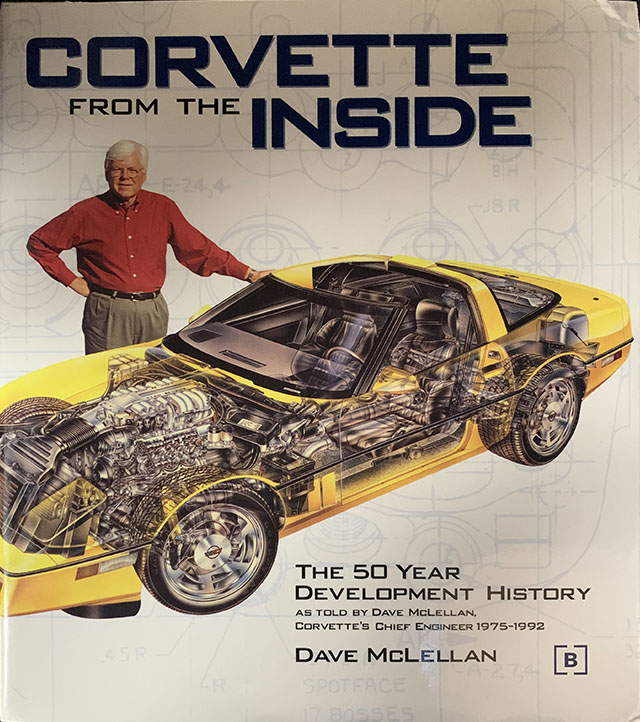 Corvette From The Inside
Signed by Author
Dave McLellan
Corvette Chief Engineer 1975-1992
Price: $25!
Other books and artwork available.
Real Kelsey Hayes Knock offs and Bolt-Ons for sale.
Tires, repro wheels, and caps.
Call for pricing.
There are so many items in the Corvette-themed collection that he changed the way Guinness World Records classifies car collecting. Anyone can go on a giant shopping spree and buy a bunch of cars, Mallon said. Eventually Guinness created a new category for "Corvette items," and in 2012, Charles was awarded the world record.
Click here to submit your bid.
---
Discounted Parts Table Items
Pictures Available Upon Request.
1956-1962 Corvette Hardtops – Priced from $4,888.
1963-1967 Corvette Hardtops – Priced from $2,000.
1968-1975 Used convertible top assembly. Good condition.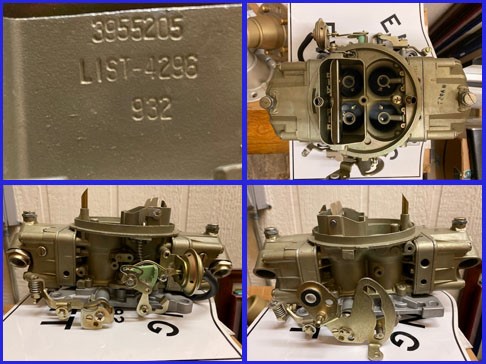 1969 L88 Holley 4bbl carburetor – Completely rebuilt (by Jerry Luck) and ready to install. 3955205 R4296 932. Price: $4,500 $3,500.
---
Auctions
92-Mile 2019 Chevrolet Corvette ZR1 7-Speed
2020 Chevrolet Corvette Stingray Coupe Z51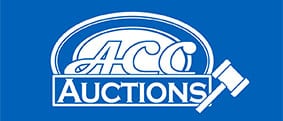 More Coming Soon

More Coming Soon
Cars on eBay at Auction Pricing
1962 Ford Thunderbird M-Code Landau Hardtop
1965 Goldwood Yellow Corvette Convertible L76 327/365hp
1965 Rally Red Corvette Convertible L78 396/425hp, 4-speed
1967 Marina Blue Corvette L71 Coupe, Frame Off Restored
2017 Corvette Grand Sport Collector Edition Convertible 3LT
2020 Yellow Corvette Coupe with 2LT & Z51
2020 Torch Red Corvette Convertible, 2LT, NAV, Front Lift

---
Comic of the Week
Some Random Thoughts
I hate it when people cannot let go of the past. Debt collectors are the worst.
My wife and I have two kids right now and we support adoption. Just pay the shipping and handling and you can have them.
The trouble with jogging is that, by the time you realize you're not in shape for it, it's too far to walk back.
About Us
The Leader of the Pack for nearly 40 years (est. 1982), in which time Corvette Mike has earned a reputation of unsurpassed integrity, and expertise while becoming one of the world's leading sports car dealers. Dealing in Corvettes, American Muscle cars, Ferrari, Porsche and Jaguar among others, Corvette Mike is your one-stop for your collection and sports car needs. Visit our online showroom!