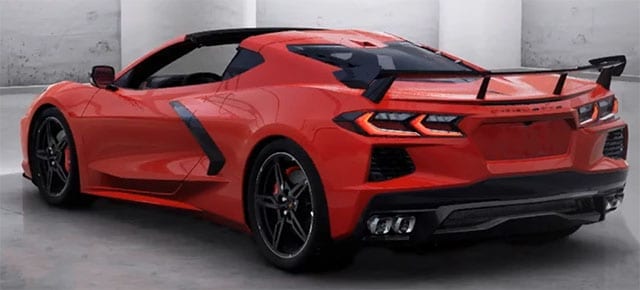 2021 High-Wing Spoiler Coming April 8th
March 19, 2021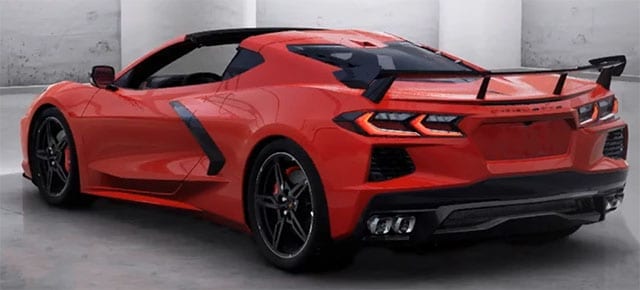 The High-Wing option was only briefly offered during the 2020 model year, and is coming back to the C8 starting on April 8th, according to GM Authority. The dealer-installed accessory, which is available in no fewer than five finishes, will cost you $995 plus installation.
The option code 5ZZ "gives your vehicle a more aggressive look" or so says the online description. There is no mention of downforce, but we do know the high wing offers a little less drag than the Z51 Performance Package spoiler.
The High-Wing Spoiler is designed to fit Z51 models pre-drilled holes, and is sold with four M6 bolts, two M6 nuts, two temporary locating pins, a template, a solvent package, and installation instructions. The required tools list consists of a power drill, three drill bits (4, 7, and 9 millimeters), a torque wrench, ratchet, extension, a 10-mm socket, a hairdryer, and a fishing line.
Corvette Owner's Corner
Rolf & Petra (from Germany)
Leonard, the 1966 race car, come today to our new Home in Germany. I now have two M22 Cars are sitting side by side. The Coupe is the second build L88 Prototype.
Now I want to start the research. 
Thank you very much for this car.
Want to be our next Corvette Owner highlighted? Send Troy@CorvetteMike.Com an email.
Subscribe to our newsletter and receive updates on new arrivals and featured cars!
Win a 1963 Corvette Convertible Fuelie
The not-for-profit Auburn Cord Duesenberg Automobile Museum located in Auburn, Indiana just launched their 2021 fundraiser and they picked a real winner to serve as their grand prize – a 1963 Corvette Sting Ray Fuel Injected Convertible! This '63 Roadster in Riverside Red with Black interior features a matching numbers 327 ci V8 engine which makes 360 horsepower and 352 lb-ft of torque. Thundering Thursday readers can get 20% BONUS ENTRIES on donations of $25 or more so get your tickets today!.
Click Here to get your Entries today!
---
We are looking for C2's
1967 Maroon or red 327 convertible
Any year C2 Coupe with 327 and any Transmission
Also want low mile:
2015-2019 Z06 Coupe
2010-2019 Grand Sport Coupe
2019 ZR1 Coupe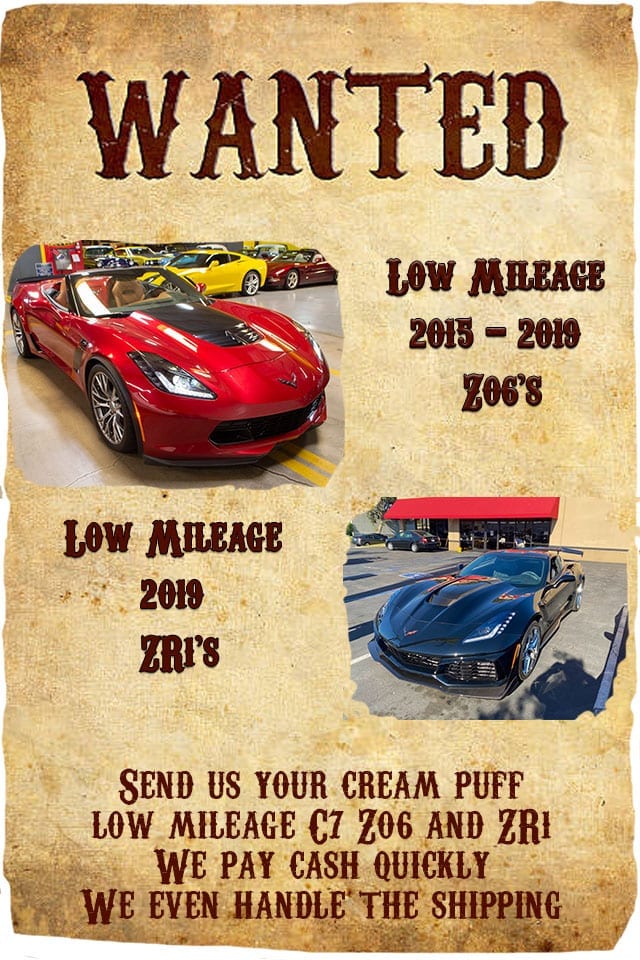 Just in!
2021 3LT, Z51, Mag Ride, Lift
Brand New With just 4 Miles
If you haven't already put your order in for a '21 C8, the chances are slim that you will be able to get one this year.  But, if you're not one of the fortunate few, fear not!  We might be able to help you!  If you act fast, that is.
Comming soon special price: $128,900
---
Weekly Special
2021 3LT, Z51, Mag-Ride, Lift
black GT2 seats with red stitching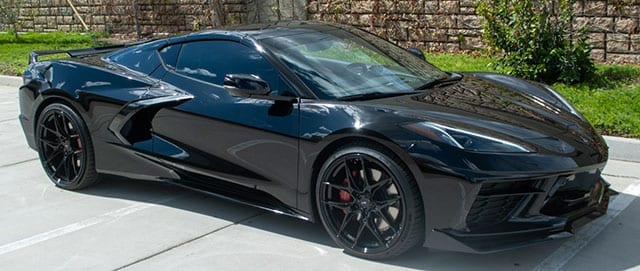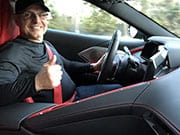 What Mike Likes about this Corvette:
"The introduction of a new generation Corvette is always an eagerly anticipated event! But, I think it would be safe to say that the introduction of the first mid-engine Corvette was definitely more anticipated than most! To say that the all-new C8 was a home run would be a mild understatement. The car is everything and more that us Corvette fanatics have been hoping for! From it's sleek body lines that are new, but still somehow familiar. To the beautifully designed ergonomic interior and excellent quality of materials. To the more than impressive drivetrain. The C8 delivered on all the promises made! 
This extremely pleasing and sophisticated color combination of Black with Jet Black with Red stiching interior complements the lines of the car beautifully. Stop by and have a close look at this Chevrolet marvel of engineering. No other car on the market comes close to delivering a knockout punch like the C8 Corvette. Car and Driver so named it for a reason. And let's stop saying, for the price, for a moment and recognize that maybe all the other so-called exotics are grossly overpriced.  I'll bet their makers are scratching their heads wondering how sales will be moving forward.  As you all know, the '21's are a hot ticket and very hard to come by. This one is sitting in our showroom and ready or immediate delivery. So, don't miss your opportunity to put this one in your garage today!"
Corvette Mike V8tro / CM V8tro
Check out our great financing options.  
Happy Throttling!
Apex • Exit • Accelerate!!
Trades maybe?
 Financing yes!!!
Thrill rides no!!!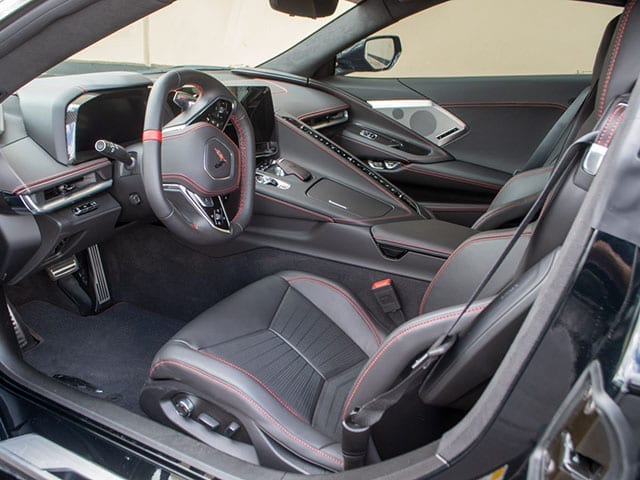 You want a '21 Corvette?  We got a '21 Corvette!  And not just any '21!  This sinister looking C8 is absolutely loaded with factory options and some extra, as well!  To start, you got Z51 and 3LT with carbon fiber factory interior upgrade, Black GT2 seats w/Red sticking interior,Z51 package with magnetic ride suspension, front lift, engine appearance package with Red engine cover.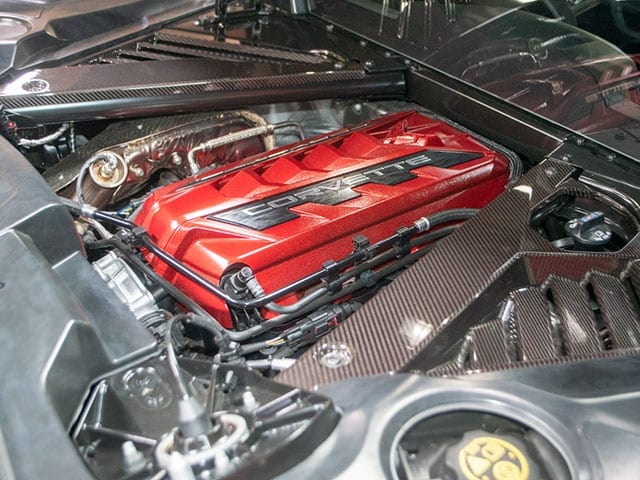 The extras are the complete front/lower sides clear protection film, ceramic coated entire car and wheels, Sevene custom wheels with new set of original brand tires.  It's a Stealth Fighter on wheels!  Bad to the bone.
March Special price: $114,900
Would you like to see your prime collector car example featured for sale here? Click Here to send an email. We buy and consign.
---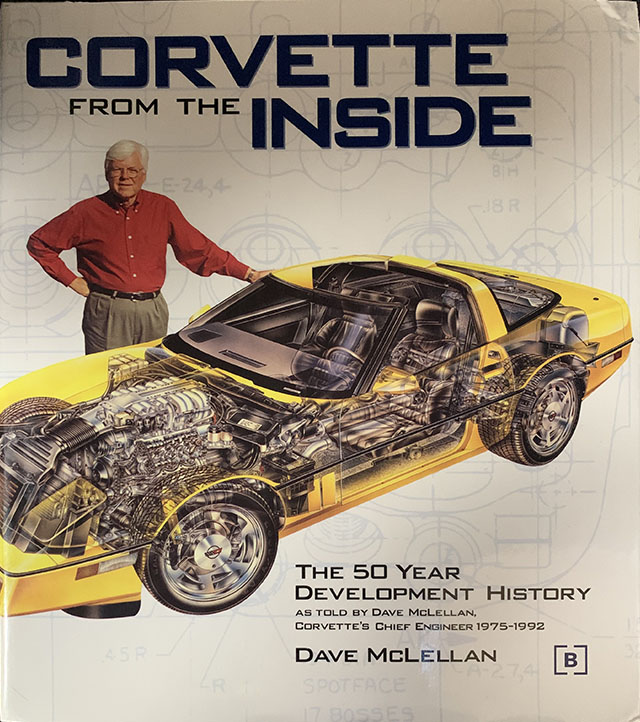 Corvette From The Inside
Signed by Author
Dave McLellan
Corvette Chief Engineer 1975-1992
Price: $25!
Other books and artwork available.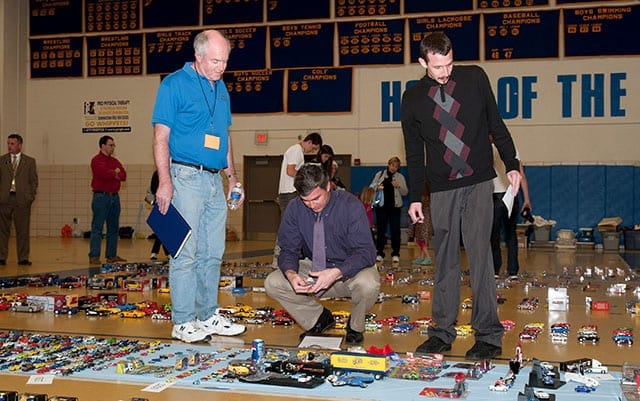 Guinness World Record for of Chevrolet Memorabilia
Being sold by blind auction. Click here to submit your bid.
There are so many items in the Corvette-themed collection that he changed the way Guinness World Records classifies car collecting. Anyone can go on a giant shopping spree and buy a bunch of cars, Mallon said, but accumulating over 2,000 unique examples would take years. Eventually Guinness created a new category for "Corvette items," and in 2012, Charles was awarded the world record.
Click here to submit your bid.
Discounted Parts Table Items
Pictures Available Upon Request.
1956-1962 Corvette Hardtops – Priced from $4,888.
1963-1967 Corvette Hardtops – Priced from $2,000.
1968-1975 Used convertible top assembly. Good condition.
1969 L88 Holley 4bbl carburetor – Completely rebuilt (by Jerry Luck) and ready to install. 3955205 R4296 932. Price: $4,500 $3,500.
---
Auctions
4k-Mile 2015 Chevrolet Corvette Z06

2017 Audi RS7, Black/Black 560hp
More Coming Soon
More Coming Soon
Cars on eBay at Auction Pricing
1962 Ford Thunderbird M-Code
1962 Roman Red Corvette Convertible
1965 Rally Red Corvette Convertible L78 396/425hp, 4-speed
1967 Silver Pearl Corvette L71 Convertible
1998 Sebring Silver Metallic Corvette Coupe
2017 Corvette Grand Sport Collector Edition Convertible 3LT
2018 Audi Q7 Quattro Prestige SUV. Loaded with only 36k miles!

---
Comic of the Week