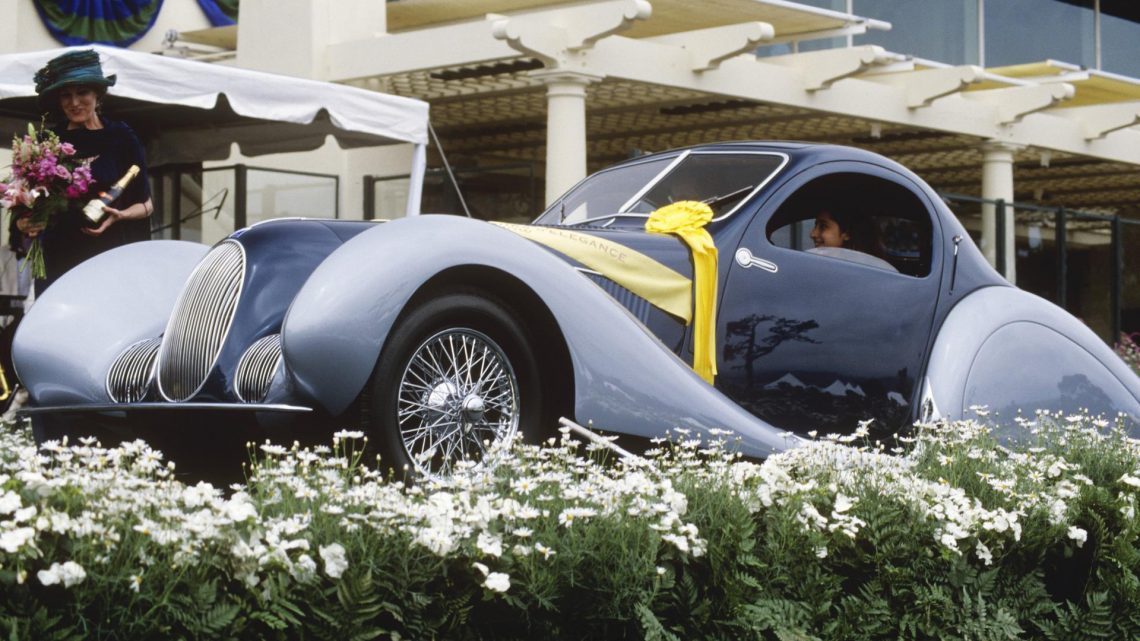 Joseph Figoni to be Celebrated at 2023 Pebble Beach Concours
June 24, 2022
This 1937 Talbot-Lago T150 C-SS Figoni et Falaschi Goutte d'Eau, or Teardrop Coupé, was named Best of Show in 1997. 
2023 PEBBLE BEACH CONCOURS d'ELEGANCE TO CELEBRATE FAMED COACHBUILDER JOSEPH FIGONI 
Additional Features include Pegaso, Invicta, and Mercedes-Benz S, SS and SSK
PEBBLE BEACH, Calif. (July 23, 2022) — Next year marks the 100th anniversary of Joseph Figoni's coachbuilding firm, and we are excited to announce that Figoni and his work will be celebrated at the 72nd Pebble Beach Concours d'Elegance, to be held on Sunday, August 20, 2023.
Additional 2023 features include Pegaso; Invicta; Mercedes-Benz S, SS, and SSK; and American Sports Cars of the 1950s—with more to be announced in the early fall. A formal call for entry applications will go out later in the fall, and they will be due in early January 2023.
Joseph Figoni began his coachbuilding enterprise in 1923, intending to produce sporting and lightweight bodies in his own unique style. He was already a well-known Parisian coachbuilder when he joined forces with businessman Ovidio Falaschi in 1935 to create Figoni et Falaschi. Figoni rose to international prominence soon after, when a rotating turntable at the 1936 Paris Auto Salon featured his stunning  streamlined Delahaye Roadster with fully enclosed fenders on a short competition chassis. Today Figoni is perhaps most known for his iconic Teardrop Coupé, which debuted on a Talbot-Lago T150 C-SS chassis at the New York Auto Show in 1937.
With that design, Joseph Figoni achieved an elegance and balance of proportion that has rarely been matched, according to Peter Larsen, author of several volumes on French coachbuilding and a member of the Pebble Beach Car Selection Committee. He says Figoni's designs stand out because, paradoxically, they exhibit "great simplicity coupled with a voluptuous complexity of lines."
"There are and have been over the years, numerous designers who have had pictures of Figoni designs hanging on their walls," says Larsen. "I think that the organic cohesiveness of the bodies, the beauty of their inherent logic, is something that can inspire people across decades."
Concours Chairman Sandra Button noted that Figoni's designs have taken the top award at Pebble Beach on two separate occasions: "It would be rare to have a year at the Concours that didn't feature at least one of his creations—and there are often more. But this centennial celebration should be something truly special."
---