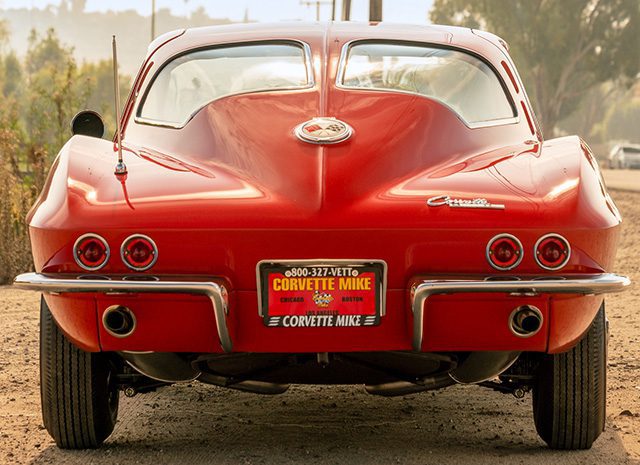 Pebble Beach Automotive Week 2022
July 8, 2022
wanted and will pay a pirate's ransom
for the right car
Must be a 1963 Red Split Window Coupe
340 HP or better with or without Awards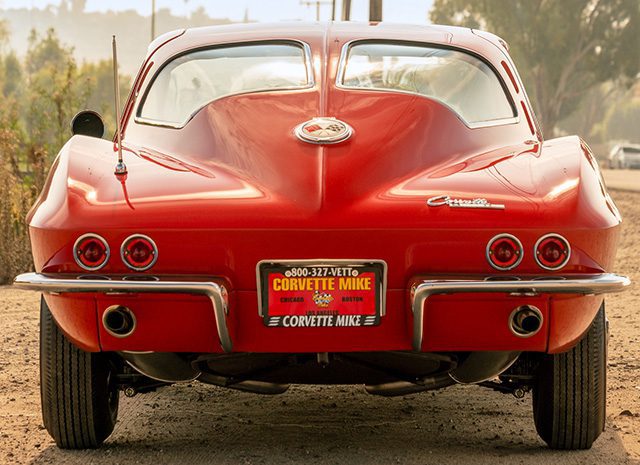 Got a really, really nice 1963 SWC in RED?
We are looking for one and will pay top dollar in cash.
714-630-0700
CorvetteMike@CorvetteMike.Com
---
WE'RE BUYING 2023 Z06 Orders
And Other DREAM CARS!
Friends, as you all know, we don't fuss with auctions or shuffle cars from other dealers. Our cars come from you.
So, if you are thinning out your collection let us know!
Click here to email us about your C8 Z06 order or other cars.
---
---
Pebble Beach Automotive Week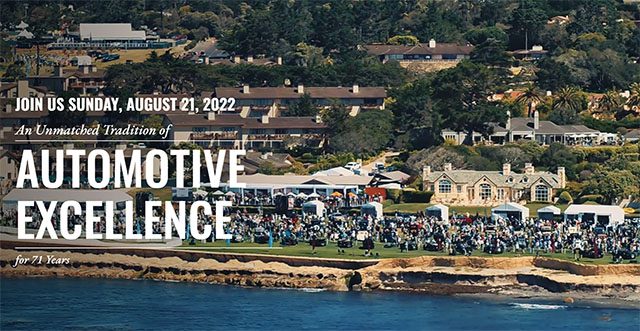 Photo Credit: Pebble Beach Company
It is that time again for the mega car event called the Monterey Car Week & Concours D'elegance. It runs from August 12th thru the 22nd this year.
The event dates back over half a century, where only 200 of the best collector cars in the world roll onto the legendary 18th fairway of Pebble Beach Golf Links to be shown and compete. Only a handful of these will receive official recognition for style, technical merit and historical accuracy.
But, the Concours is only the final event in a packed week celebrating the classic automobile! All over Monterey County, classic cars take to streets, golf courses, parks and the world-renowned Mazda Raceway Laguna Seca, surrounding visitors with automobiles from today and yesteryear.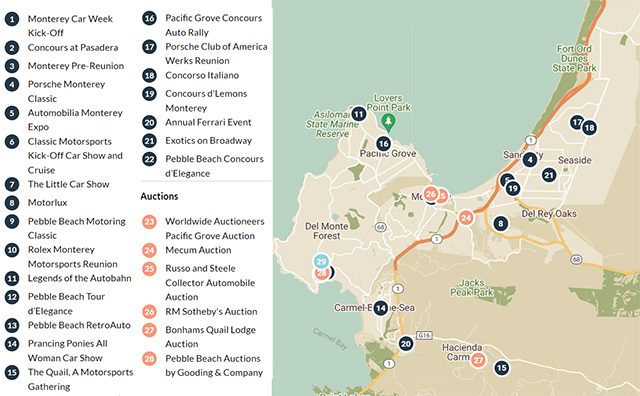 Here is a partial list of events:
    Friday, August 12:
Monterey Car Week Kick-Off
    Saturday, August 13-14:
      Monterey Pre-Reunion
    Monday, August 15:
Automobilia Monterey Expo
The Porsche Monterey Classic
    Tuesday, August 16:
      Automobilia Monterey Expo
Classic Motorsports Magazine Monterey Kickoff Cruise-In
Wednesday August 17:
Rolex Monterey Motorsports Reunion
Hagerty Motorlux *formerly McCall's Motorworks Reviva
Pebble Beach Motoring Classic
Automobilia Monterey Expo
The Little Car Show
Thursday August 18:
Legends of the Autobahn
Pebble Beach Classic Car Forum
Pebble Beach RetroAuto
Prancing Ponies Women's Car Show
Rolex Monterey Motorsports Reunion
Friday August 19:
Werks Reunion
Rolex Monterey Motorsports Reunion
Pebble Beach Classic Car Forum
Pebble Beach RetroAuto
The Quail, A Motorsports Gathering
The Pacific Grove Concours Auto Rally
Saturday August 20:
Rolex Monterey Motorsports Reunion
Pebble Beach Classic Car Forum
Pebble Beach RetroAuto
Concours d'LeMons
Concorso Italiano
Exotics on Broadway
24th Annual Ferrari Owners Club Gathering
Sunday August 21:
Pebble Beach Concours D'Elegance
Pebble Beach RetroAuto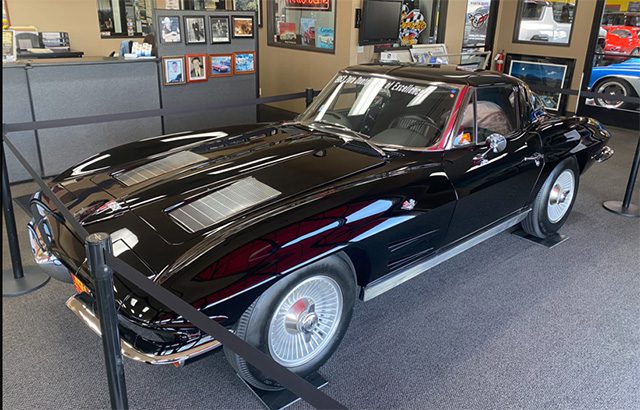 Mike's Duntov winning 1963 Black Corvette SWC has been invited to
the The Quail, A Motorsports Gathering on Friday!
Auctions:
Mecum Auctions, August 18-20
Russo and Steele, August 17-19
Bonhams Quail Lodge Auction, August 17-19
RM Sotheby's, August 19-20
Gooding & Company, August 19-20
Monterey Jet Center Auction, August 17-18

 Get your tickets and more information by clicking Here.
Subscribe to our Thundering Thursday newsletter to
receive updates on new arrivals and featured cars!
Win a 2022 Corvette IMSA GTLM
Champion Edition C8.R Convertible
Plus Racing Prize Package

The International Motor Racing Research Center (IMRRC) at Watkins Glen is a 501(c)(3) charitable organization that collects, shares, and preserves the history of motorsports. Their 2022 annual fundraiser is offering a 2022 Corvette IMSA GTLM Championship C8.R Edition Convertible as the Grand Prize! The C8.R Edition Convertible features the Hypersonic Gray exterior with Yellow racing stripes and it comes with the Z51 Performance Package! When you make a donation to the IMRRC you are automatically entered to win the car, plus season race tickets at Watkins Glen and the two-day Corvette Owner's School at Ron Fellows Performance Driving School at Spring Mountain.
Thundering Thursday subscribers can get 30% BONUS ENTRIES with donations of $25 or more Clicking Here! The winner will be announced this December.
---
Want to share your story in our
Corvette Owners' Corner And get a
chance to win $50? Give us your address
along with the story to Automaticly recieve
a limited-edition Corvette Mike Keychain.
Send a short story and picture of your car to Troy@CorvetteMike.Com.
Owners' Corner May $50 drawing
Winner: Navy A.
---
This Weeks Owners' Corner

Gordon's 1,000,000 mile Corvette goal.

When you hear of ultra-high mile daily driver's, names like Toyota, Honda and Volvo, are usually the first that you'd think of. Corvette, on the other hand isn't a car that would immediately come to mind for that purpose. Not that Corvettes aren't an excellent and exciting mode of daily transport. They definitely are! It's just that Corvette owners tend to drive their cars shorter distances or for fun weekend get-a-ways. 
However, there are exceptions to that rule! We think Gordon and his '90 Red Corvette Coupe deserves recognition as possibly one of the highest mile Corvettes still on the road! Who says a Corvette isn't a reliable daily driver? Well Gordon Fong surely doesn't! He purchased this 1990 almost new in 1990 with just 15k miles on the odometer. Since then he's managed to only rack up an additional 700k more miles! He's even driven it across country and back! What's the secret to keeping this Vette on the road? Well, it's not really a secret. Just change the oil every 5k miles. Gordon has been taking his car to Corvette Mike for oil changes and regular maintenance for about as long as he's owned it! And his diligent caretaking has paid off with more than 3/4 of a million miles!
Gordan F.
We buy used cars!
2021 Corvettes wanted!
Top money paid for the right cars.
Submit Your Car today!
Cream puff inventory needed!
Lemons need not apply.
---
4th of July Specials
1979 L82 Coupe
Very rare L82, 4-speed

Black w/Black Interior, L82 350/225hp, 4-Speed Manual
This one is rare for a number of reasons, not the least of which is the cars originality.  The paint, and interior are original, and it is believed the 32k miles showing on the odometer is accurate. What makes it even more unusual is the fact that the original engine was replaced under factory warranty by Larry Barnes Chevrolet in Bosie ID. on 4/20/79. We have the documentation to prove it, as well as the original window sticker, P.D.I. sheet, dealer correspondence and more.
Additional equipment includes:
Removable glass roof panels.
Electric rear window defogger.
Air conditioning.
Sport mirrors.
Front and rear spoilers.
Gymkhana suspension.
Tilt/tele steering column.
Aluminum wheels.
AM/FM stereo radio w/cassette.
Power antenna.
Dual Rear speakers.
Power windows.
Power door locks.
Convenience group.
---

Silicon Silver w/Ebony interior, 3.0 liter/340hp Supercharged 6, 8-spd. auto
This Discovery has been meticulously maintained both mechanically and cosmetically with a detailed service history!
Options include:
16-way memory seats w/Windsor Leather
Vision Assist Pkg.
Black Design Pkg.
Heated Windshield
Ebony Headliner
21″ 10 Split-Spoke Style wheels w/Gloss Black finish
Front Center Console Cooler compartment
Black Rook Rails
Autonomous Emergency Braking
Activity key
Silicon Silver Premium Metallic paint
. . . and more!
Would you like to see your prime collector car example featured Here for sale?
Click Here to send an email.
We buy and consign.
---
Auctions



1978 Green Toyota FJ-40 Land Cruiser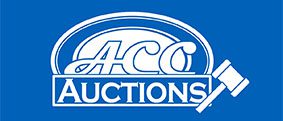 More Coming Soon


Comic of the Week
some random thoughts
Knowledge is knowing a tomato is a fruit; wisdom is not putting it in a fruit salad.
The only time a woman really succeeds in changing a man is when he is a baby.
Always borrow money from a pessimist. He won't expect it back.