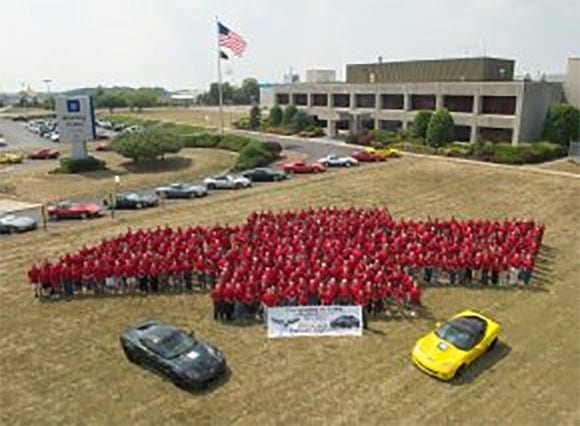 Corvette Plant is Safe
November 30, 2018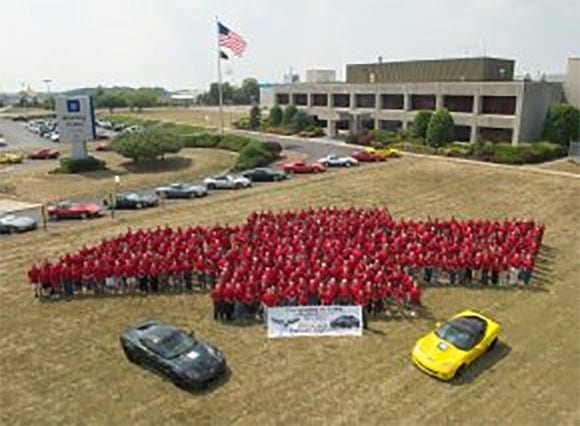 You may have heard the news that GM is closing 5 plants, and that the global workforce of salaried and salaried contract workers will be cut by 15 percent, including a 25 percent cut in GM executives; an estimated cut of 14,000 jobs.
The good news is that the Corvette plant in Bowling Green, Kentucky is not among the five plants set to cease production next year.
Like Ford announced a few months ago, GM is calling the closing of the five plants a "transformation", and in its corporate announcement, said the company is going to focus on trucks, crossovers, SUVs and electric vehicles.
The GM plants to be closed are in Maryland and Ohio, as well as two in Michigan and one in Canada. Those plants produce sedans, as well as the Chevy Cruze compact and the Chevy Volt plug-in hybrid.
SAVE THE DATE!
Corvette Mike's Annual Car Show and Toy Drive!
Toy Drive: Saturday December 15th
For Our Loyal Customers
Consignments Net YOU More!!
You get the $$$ and we do all the work for you!!!
Garage too full?
Have one or more cars to sell?
Same day cash! Running or not!!!
For approved collections, Mike will visit personally.
Discounted Parts Table Items
Pictures Available Upon Request.
1956 – 1960 Corvette Hardtop – Charcoal/Red. Price:

$5,995

  $4,888
1967 Corvette Red Line Tires. 7.75 x 15 Firestone Deluxe Champion Red Line Tires. Complete set of 4. For judging purposes only. Price:

$995

  $685
1991 ZR-1 Owner's Kit – Complete and like new. Price:

$650

$375. Two sets available at this price.
1957 Corvette Fuel Injection Unit – taken off of a '57 Corvette engine, completely rebuilt and is ready to use. Part #7014520. Price $5,500 OBO (make us an offer).
1968-1969 L88 Holley 4bbl carburetor – Completely rebuilt (by Jerry Luck) and ready to install. 3925519 R4054A 861. Price:

$4,500

$3,500.
Inbound!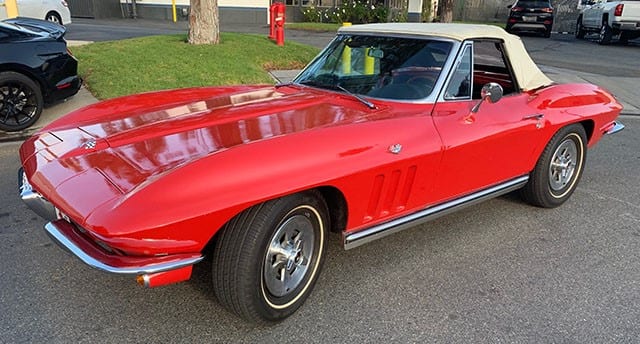 Nice driving 1965 priced to move at only $43,500! Don't miss out!!!
Featured Corvette of the Week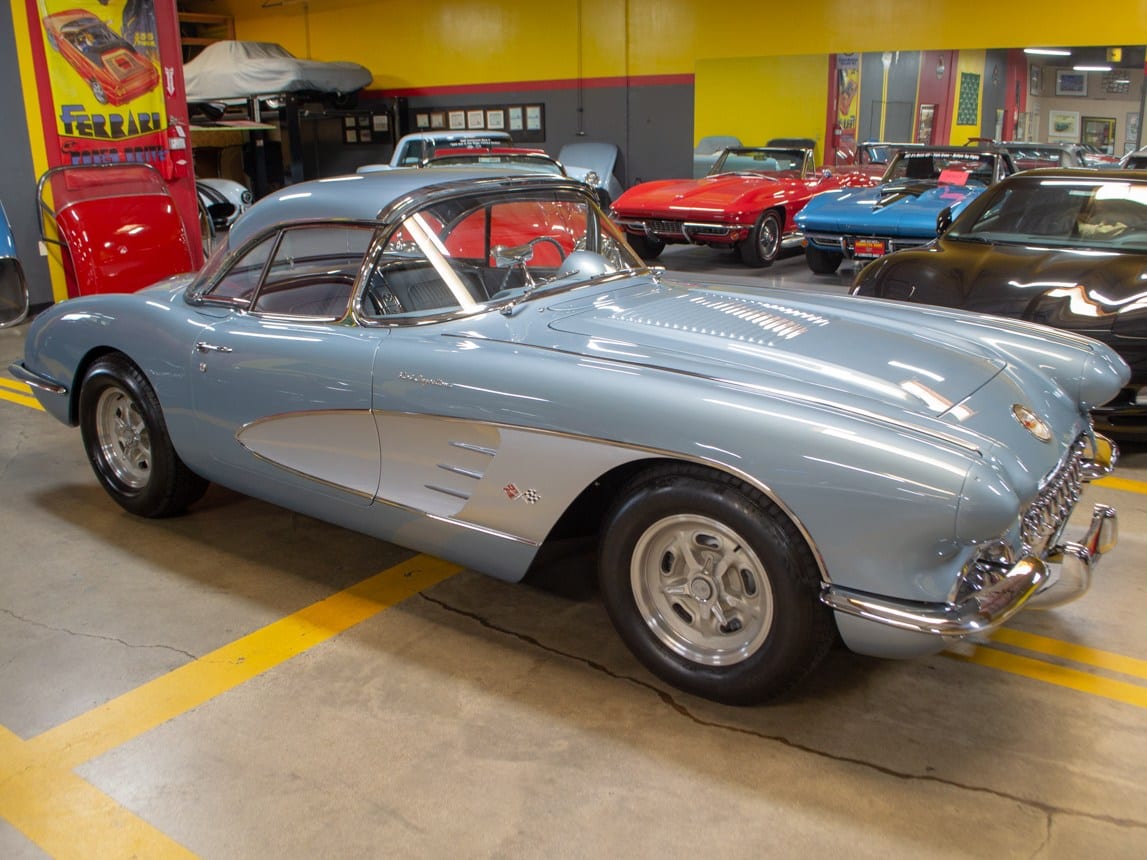 1958 Silver Blue Big Brake Fuelie
This is a beautiful '58 that dates way back to a So California origin. Verified by well known Corvette Racing Historian, Jim Gessner, and has been collector owned for most of its life.

This rare 58′ has some interesting and very rare options in its own right! Ordered with the top-tier 283/290hp fuel injected small block engine, 4-speed manual transmission, hard top (only) and power windows.But what really sets it apart from the rest is the ultra-rare RPO 684 Heavy Duty Brake and Suspension option. This gave you special front and rear springs and shocks, heavier front stabilizer bar, quicker steering adaptor, metallic brakes, finned brake drums, fresh air ducting to the rear brakes, and air deflectors, aka Elephant Ears for the front brakes..

The car has been meticulously restored and features reproduction Hilabrand pin drive wheels and aero headlight covers (the chrome bezels are included). Paperwork includes the Owner's Kit, a binder with restoration receipts and photos of the restoration. To say this '58 is striking is an understatement.

Stock #: 6085 – Price: $149,900
Cars Listed on eBay at Auction Pricing
1958 Silver Blue Big Brake, Fuelie, 4-Speed
1960 Red Resto-Mod with LS2 and 6-Speed
1962 Red Roman Red, 327/340hp, 4-Speed
1963 Sebring Silver/Red 327/300hp, 4-Speed
1966 Tuxedo Black Conv. Silver interior, L72 427/425hp, 4-Speed
2005 LeMans Blue Coupe 1SB Automatic
1967 Rally Red/Red, L97 327/350hp 4-speed
2007 Yellow Z06 with only 27k miles
2013 Audi Q7 3.0T S line Prestige AWD, Automatic
2016 Land Rover LR4 HSE Silver Edition
2017 White C7 Corvette Coupe
2017 Corvette Racing Yellow Z51 Coupe With 1,600 Miles
Comic of the Week