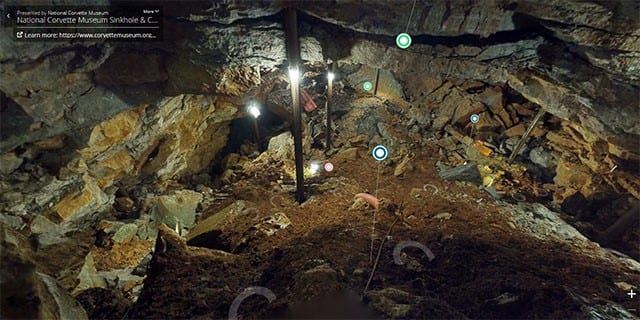 CAN YOU BELIEVE IT HAS BEEN 5 YEARS?
February 17, 2019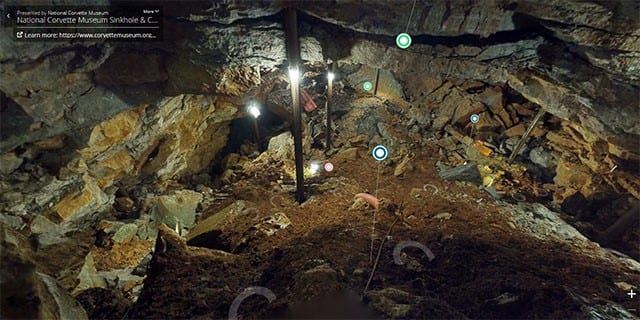 Can you believe it was 5 years ago, February 12, 2014, that a sinkhole opened up and took 8 prized Corvettes into the pit that formed under the National Corvette Museum?
News of the sinkhole spread quickly via national and international news. The NCM was quick to post the security video showing each Corvette disappearing into the chasm; further adding to the intrigue.
The folks at the NCM had a crisis on their hands, and instantly started holding news conferences, and on-line updates. To further feed the ravines worldwide interest, the NCM setup online webcams that caught every aspect of the recovery process.
Then came the day that the world sat on the edge of their seats as each Corvette was pulled from the sinkhole. Some cars would later be brought back to their prior condition, while others were just too dammaged to be repaired.
As bad as this event was, it put the NCM on the world map. People that had never heard of the NCM made plans to come and see the sinkhole for themselves. As a result, NCM attendance jumped 67-percent.
While the Museum has filled in most of the sinkhole, they also provided a viewing man-hole for attendees to peer into the remaining areas, as well as an outline on the floor of the Skydome that depicts the original scope of the sinkhole. The NCM has further figured out a way to give the curious a better look at what lies beneath their feet. Working with LifeLike Imageworks, they have created a 360-degree interactive tour of the south side of the cave which is available on the Museum's website. The tour allows virtual visitors to explore nearly every inch of the cave, and even utilize VR goggles.
The 360-degree tour is free to access and can be found on the Museum's website by clicking on the Explore – Exhibits menu, then selecting the Corvette Cave-In link or by clicking HERE.
Discounted Parts Table Items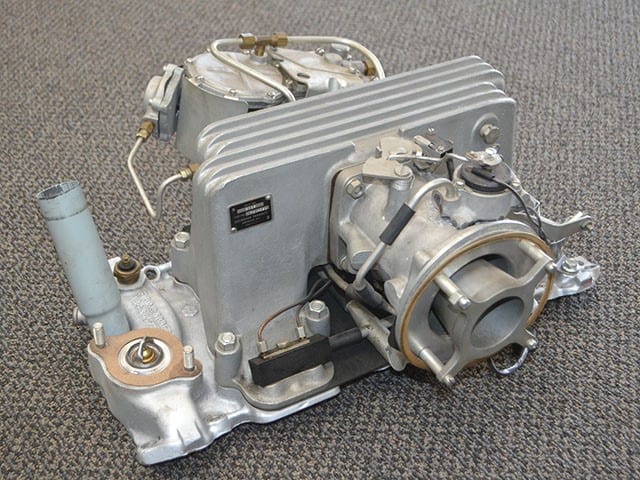 Pictures Available Upon Request.
This F.I. unit was taken off of a '57 Corvette engine.  It has been completely rebuilt and is ready to be installed.  What is needed is the distributor and air cleaner unit (not included).
The numbers are as follows: Serial # 2102. Part #7014520.  Air Meter #7014521A.  Fuel Meter #7014522 which is a mid-1957 fitment for either a 250hp or 283hp engine.
Price: $6,950 $5,350
1956 – 1960 Corvette Hardtop – Charcoal/Red. Price:

$5,995

  $4,888
1991 ZR-1 Owner's Kit – Complete and like new. Price:

$650

$375. Two sets available at this price.
1968-1969 L88 Holley 4bbl carburetor – Completely rebuilt (by Jerry Luck) and ready to install. 3925519 R4054A 861. Price:

$4,500

$3,500.
Inbound NOW!

2006 Sunset Orange & Ebony interior Z06
This beautiful ZO6 is practically "In the wrapper", having been driven only 8,200 miles since new!  It's a 2LZ with chrome wheels that perfectly complement the rarest color; Sunset Orange (only 282 ZO6's built in '06)! 
Priced at: $39,900 $36,000 – Good until end of day 2/18/19
Trades accepted. Excellent financing.
Featured Car of the Week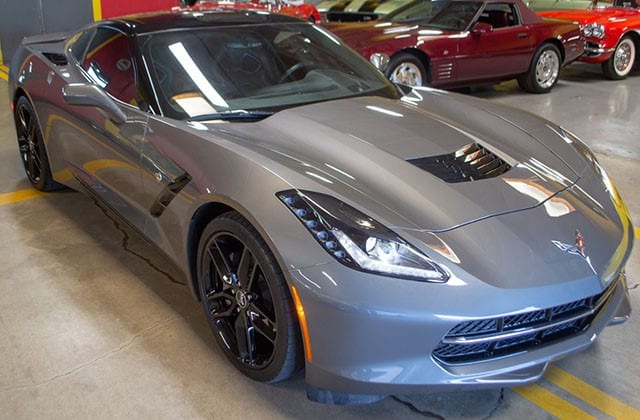 2015 8-Speed Paddle-Shift Automatic Coupe
What Mike likes about this car:
"It's truly amazing how color can affect the look of an automobile in such a dramatic way!

Shark gray works on the C7 Stingray Corvette like marshmallows work in Smore's!"
This very sinister looking '15 is sure to impress with its Shark Gray exterior, gloss Black wheels.Loaded with options, including 3LT Equipment Group.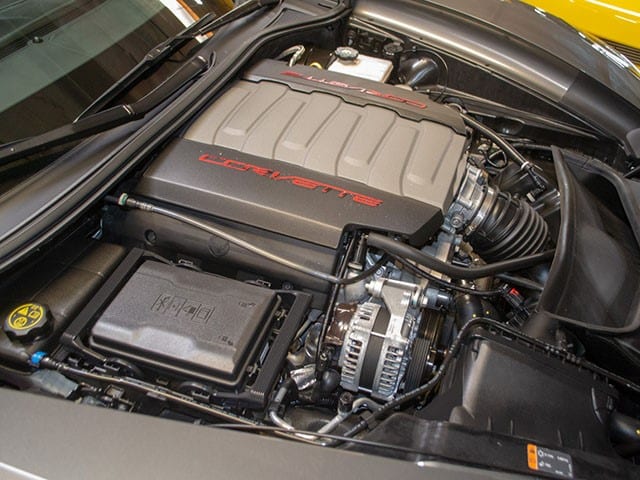 376/460hp, 8-spd. paddle-shift automatic transaxle.  Stock #: 6137 – Discount priced at: $44,500
Cars Listed on eBay at Auction Pricing
1956 Venetian Red/Red with 265/225hp 3-Speed
1960 Red Resto-Mod with LS2 and 6-Speed
1966 Tuxedo Black Conv. Silver interior, L72 427/425hp, 4-Speed
1967 Rally Red/Red, L79 327/350hp 4-speed
2005 LeMans Blue Coupe 1SB Automatic
2007 Velocity Yellow Convertible Automatic
2013 White Porsche Cayenne S, Automatic
NO RESERVE: 2013 Audi Q7 3.0T S line Prestige AWD, Automatic
2017 Corvette Racing Yellow Z51 Coupe With 1,600 Miles
2018 Long Beach Red Callaway Corvette Convertible
2019 Sebring Orange Corvette ZR1 Coupe With 820 Miles
Comic of the Week