C8 CORVETTE IS SO POWERFUL, IT CANNOT BE CONTAINED
March 18, 2019

It has been some time since we have reported on new rumors of the C8 Corvette, as the news has been more of the same, C8's sightings here and there, ever changing release dates and more camouflaged pictures.
Well there is some major news coming out of reliable sources that we found interesting.
First is the release date. The rumors are the production date has been pushed all the way to the end of this year.
Second is that the prototype, with a twin-turbocharged V8 is so powerful it is causing a "structural distortion of the aluminum spaceframe" during tests. There is a report that in one case the engine moved so much that the rear window was broken!
Third is that the C7 will cease production once the C8 enters production. This means that this may be the last year for a front engine Corvette, and for the most powerful Corvette ever produced; the ZR1. What a collectors item this could be!
Discounted Parts Table Items
Pictures Available Upon Request.
This F.I. unit was taken off of a '57 Corvette engine.  It has been completely rebuilt and is ready to be installed.  What is needed is the distributor and air cleaner unit (not included).
The numbers are as follows: Serial # 2102. Part #7014520.  Air Meter #7014521A.  Fuel Meter #7014522 which is a mid-1957 fitment for either a 250hp or 283hp engine.
Price: $8,500 $5,350
1956 – 1960 Corvette Hardtop – Charcoal/Red. Price:

$5,995

  $4,888
1991 ZR-1 Owner's Kit – Complete and like new. Price:

$650

$375. Two sets available at this price.
1957 Corvette Fuel Injection Unit – taken off of a '57 Corvette engine, completely rebuilt and is ready to use. Part #7014520. Price $5,500 OBO (make us an offer).
1968-1969 L88 Holley 4bbl carburetor – Completely rebuilt (by Jerry Luck) and ready to install. 3925519 R4054A 861. Price: $4,500 $3,500.
Inbound NOW!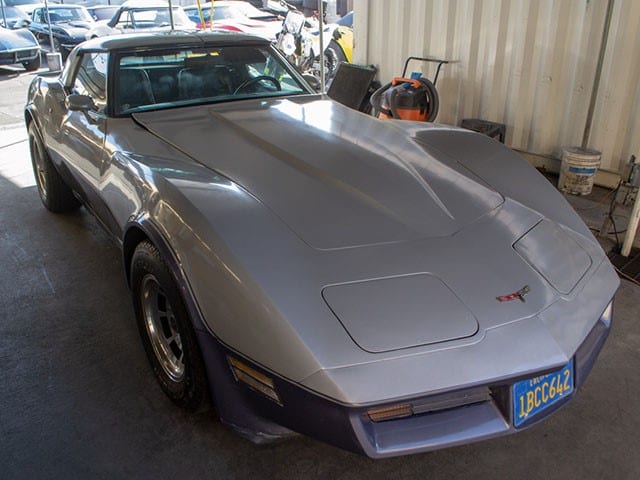 1981 Silver Coupe
Silver/Blue two-tone exterior w/Dk. Blue interior, 350/190hp, automatic transmission.  This is a one owner, local So. CA. car!  It's a great driver and a good "First Corvette".  This is also the last of the carbureted Corvettes.
Priced at: $Highest Offer
Trades accepted. Excellent financing.
Featured Car of the Week
2019 Sebring Orange Corvette ZR1 Coupe
What Mike likes about this car:
"What I like about this car;  what's not to like?
I walked in the showroom for the first time after it showed up and I stood there in awe!!  The Orange is ELECTRIC!!
I thought to myself; Chevy built this car?  Then I remembered my lingering thoughts about the 67 Corvettes. And then trying to imagine what it must have been like to see a 67 435 sitting on the showroom floor in August of 1966. I was 11. So I can't.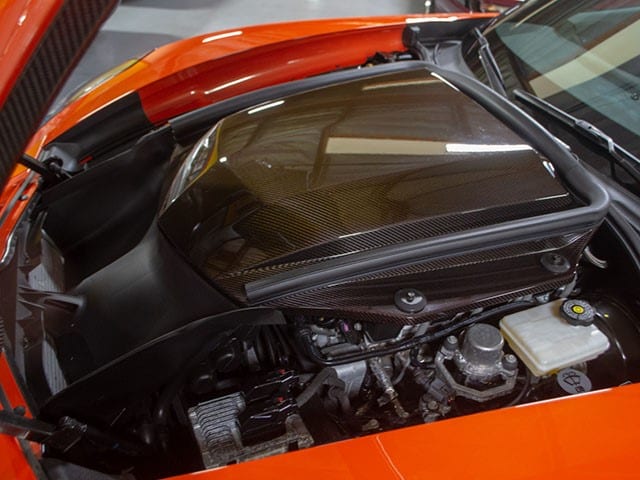 Can someone 5-10 years older than me explain this to me. Please!!!!"
First place winner in 2019 Road & Track Performance Car of the Year contest! This awe-inspiring '19 Sebring Orange ZR1 has just landed in our So. CA. showroom! It's the most heavily optioned C7 we've ever had in stock, including the top of the line 3ZR Premium Equipment Group.

This ZR1 comes in Sebring Orange with Jet Black interior and 8-speed paddle-shift automatic.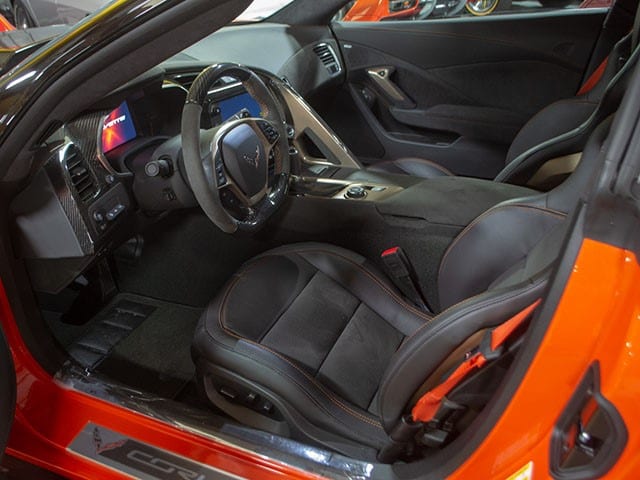 This E ticket ride is virtually new with only 820 miles and, unlike other dealers who are asking over sticker, we have priced under M.S.R.P. for our loyal customers!
All signs point to this being a one year only car and may be the next collector car.
       Stock #: 6127 – Discount priced at: $149,000
Cars Listed on Bring A Trailer at Auction Pricing

1967 Chevrolet Corvette Convertible L71 427/435 4-Speed
No Reserve: 2009 Audi S5 6-Speed
Cars Listed on eBay at Auction Pricing
1960 Red Resto-Mod with LS2 and 6-Speed
1966 Tuxedo Black Conv. Silver interior, L72 427/425hp, 4-Speed
1967 Marina Blue Corvette 300hp Auto
1970 Twilight Blue Oldsmobile 442 W30 Convertible
2005 LeMans Blue w/Ebony interior, 364/400hp, 4-spd. auto
2013 White Porsche Cayenne S, Automatic, AWD
2013 Audi Q7 3.0T S line Prestige AWD, Automatic
2017 Corvette Racing Yellow Z51 Coupe With 1,600 Miles
2019 Sebring Orange Corvette ZR1 Coupe With 820 Miles
Comic of the Week