THE C8 NEWS VOID
March 28, 2019
Well, there is a claim from a person named Chris Smith, that anybody with access to a Canadian dealership, can ask the dealership to pull up the C8 configuration tool via the GM workbench. So, a few people on the Corvette forum recently did just that, and were told there was no such configuration tool, but this did not keep the screen shoots, shot on a cell phone by user NBVette4U of CorvetteForum.com, from going viral. It is further stated that this tool was only issued to all Canadian GM dealers.
There are a few reasons to think these documents may not be real. First off, there are small formatting inconsistencies and typos throughout and look unprofessional, not something GM would allow out the door. Second, the colors are listed as "Rapid Blue," "Zeus Bronze," and "Black" and don't sound like color names GM would use. Third, there is no mention of engine options, like the twin-turbo V-8 we reported on a few weeks back that was bending the frame on the C8.
If all this is not enough to make you think twice about the accuracy of this report, why would GM only release this information to Canadian dealers, and why is only one-person reporting seeing this information if all Canadian dealers have this information?!
---
INBOUND NOW!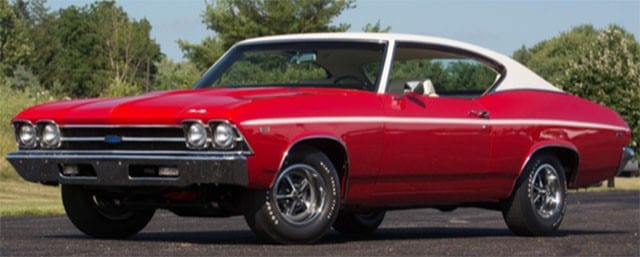 1969 CHEVROLET COPO CHEVELLE
1 OF 1 COPO WITH PAINT DELETE COWL TAG
From the Ken Lingenfelter Collection
Restored by COPO specialist Dave Tinnell in 1998
COPO Connection certificate
COPO 9562 Matching Numbers L72 427/425 HP engine
M22 4-speed transmission
And so much more!
Priced at: $Highest Offer
Trades accepted. Excellent financing.
---
Featured Car of the Week
1992 Corvette Convertible
If you want a "showroom new" hardtop/soft top Corvette; this is it!
Stunning, low miles N.C.R.S.Top Flight!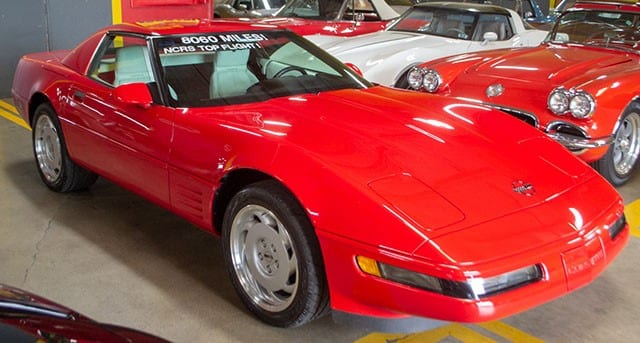 What Mike likes about this car:
"It was 1992 and Corvette Mike was celebrating its 10th anniversary of being in business in Southern California. I am a huge fan of white interior and it's so coincidental that today I am able to offer the super rare COPO Chevelle red with white interior and this stunning 1992 also red with white interior. Both are breathtaking in my opinion and will always be sought after by collectors worldwide."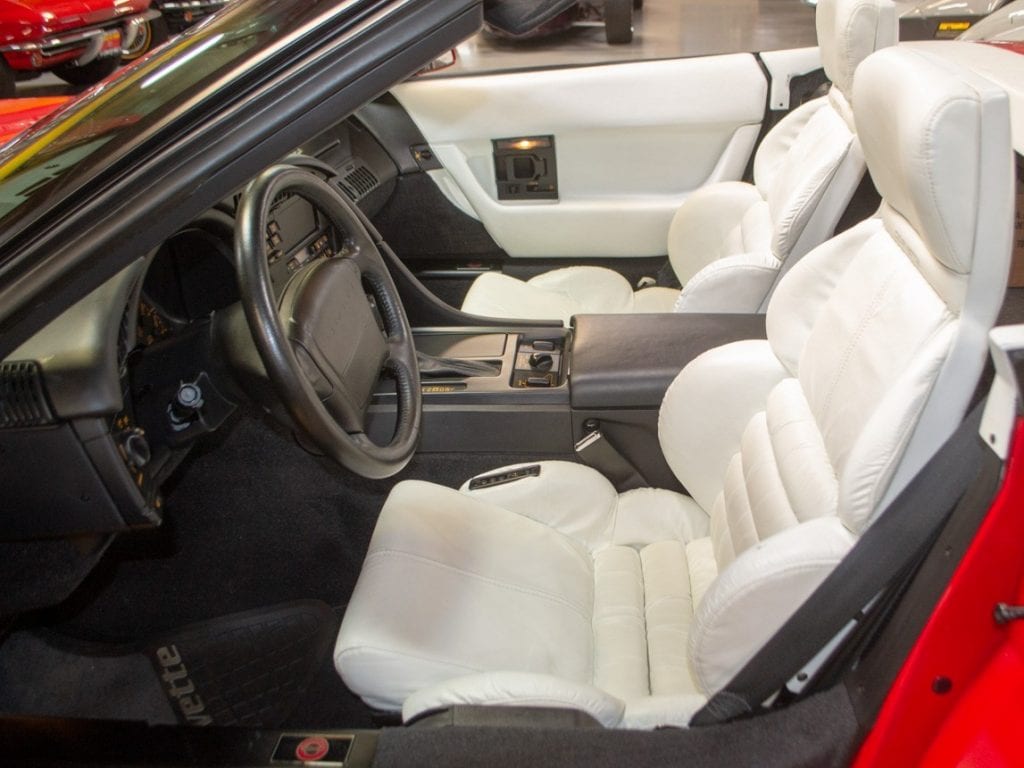 The original owner had this car in his private collection for years and it was purchased by the 2nd owner with only 1700 miles. Believed to be 8,100 original miles now.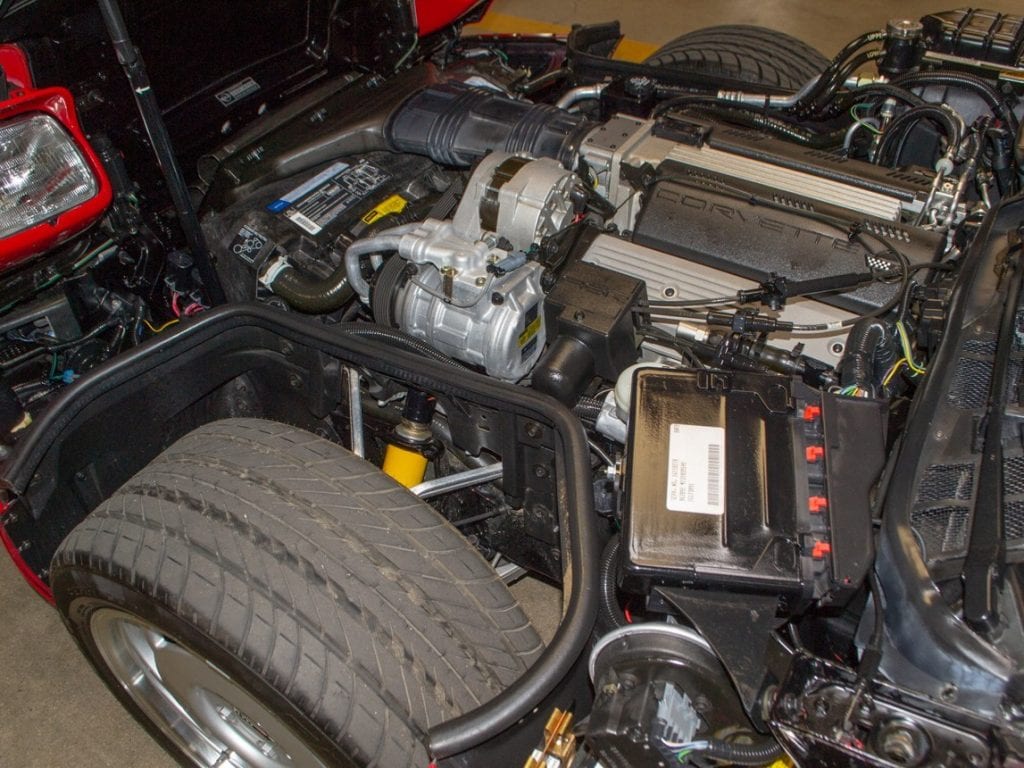 It is a beautiful and rare (1 of only 232 built) color combination and even rarer with hardtop option. it also comes with N.C.R.S. Top Flight Award; Preservation Class with a score of 99.4!
1st place; Desert Corvette Association.
All factory docs.
Rare color combination. Only offered for 2 years.
Corvette Preferred Equipment Group.
Removable Hard Top.
Selective Ride and Handling.
Arctic White Leather Adj. Sport Bucket Seats.
And More!
       Stock #: 6147 – Discount priced at: $25,900
---
Corvette Artwork!
PoIIcerotic
By Daniel Authouart
Price: $2,820 (50% off) $1,410!
Other artwork by Daniel Authouart also available.
Discounted Parts Table Items
Pictures Available Upon Request.
1956 – 1960 Corvette Hardtop – Charcoal/Red. Price:

$5,995

  $4,888
1991 ZR-1 Owner's Kit – Complete and like new. Price:

$650

$375. Two sets available at this price.
1957 Corvette Fuel Injection Unit – taken off of a '57 Corvette engine, completely rebuilt and is ready to use. Part #7014520. Price $5,500 OBO (make us an offer).
1968-1969 L88 Holley 4bbl carburetor – Completely rebuilt (by Jerry Luck) and ready to install. 3925519 R4054A 861. Price:

$4,500

$3,500.
---
Cars Listed on Bring A Trailer at Auction Pricing
1981 No Reserve Silver Coupe – Coming soon
Cars Listed on eBay at Auction Pricing
1960 Red Resto-Mod with LS2 and 6-Speed
1965 Rally Red Coupe, L76 and 4-Speed
1966 Tuxedo Black Conv. Silver interior, L72 427/425hp, 4-Speed
1967 Marina Blue Corvette 300hp Auto
1970 Marlboro Maroon LS5, Auto
1970 Twilight Blue Oldsmobile 442 W30 Convertible
1999 Plymouth Prowler, Loaded and Chrome Wheels
2013 White Porsche Cayenne S, Automatic, AWD
2013 Audi Q7 3.0T S line Prestige AWD, Automatic
2015 3LT Coupe, Shark Gray and Jet Black Interior
2017 Corvette Racing Yellow Z51 Coupe With 1,600 Miles

Comic of the Week