THE C8 AND C8.R ARE COMING
April 19, 2019

Well, the C8 Corvette is finally semiofficial. Late last week, General Motors CEO Mary Barra rode shotgun while Corvette chief engineer Tadge Juechter drove slowly through Times Square in a camouflaged C8 Corvette. Emblazoned on the side of the C8 was July 18th, 2019, which is reported to be the official launch date.
The rumors of the C8 being called a "Zora" had fuel added to them, as a C8 photographed in New York wore small Zora Arkus-Duntov Stickers on the mirrors and door handles.
It is also being reported that the C7 front engine Corvette is coming to an end; no C7 and C8 being built/offered at the same time. This means there is no reason to keep racing the C7.R. The good news for Corvette Racing is that a rumored all-new C8-based race car is in the works; there is even video of a C8 at Sebring International Raceway in Florida. If history repeats itself like it usually does, the C8.R will be announced sometime later this year. It is expected that the C7.R's last race will be at the Petit Le Mans this year, with the C8.R arriving at the 2020 Rolex 24.
Inbound NOW!

1964 Corvette Convertible – Silver Automatic
Local, Southern California, single family owned since new.
Sold new by Harry Mann Chevrolet.
Original Dealer Invoice and Sales Contract.
Sateen Silver w/Black interior, #'s matching 327/300hp, Powerglide and 2-tops.
Frame off restored with great paperwork!
Priced at: $57,500
Trades accepted. Excellent financing.
Featured Car of the Week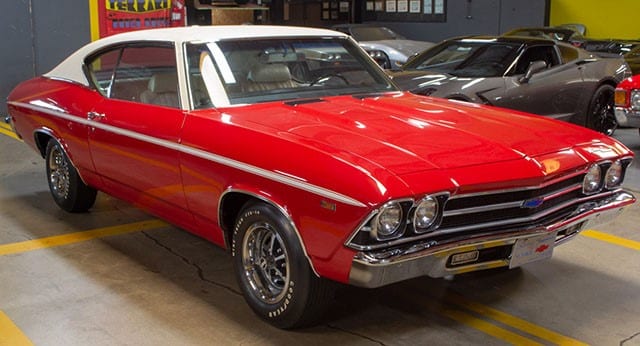 1969 Chevrolet COPO Chevelle
1 of 1 COPO with Paint Delete Cowl Tag
What Mike likes about this car:
"COPO- Central Office Production Order.  This term has always sparked interest in collectors.  Why?  Rarity.
Bragging rights.  Only a few will ever have a COPO 427 Chevelle in their elite collection.  There are only so many of them to start.
But when you take one like our featured car and then add the paint delete cowl tag, well now you have something to really brag about.
What else do I like…. WHITE interior is my absolute favorite in this car and Stingray Corvettes.  This car comes with complete owner history and was previously in the Ken Lingenfelter collection.  Who's collection will it be in next?"
From the Ken Lingenfelter Collection
Restored by COPO specialist Dave Tinnell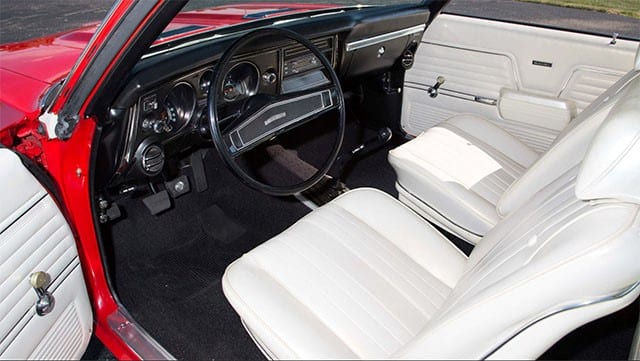 Parchment vinyl interior, radio delete.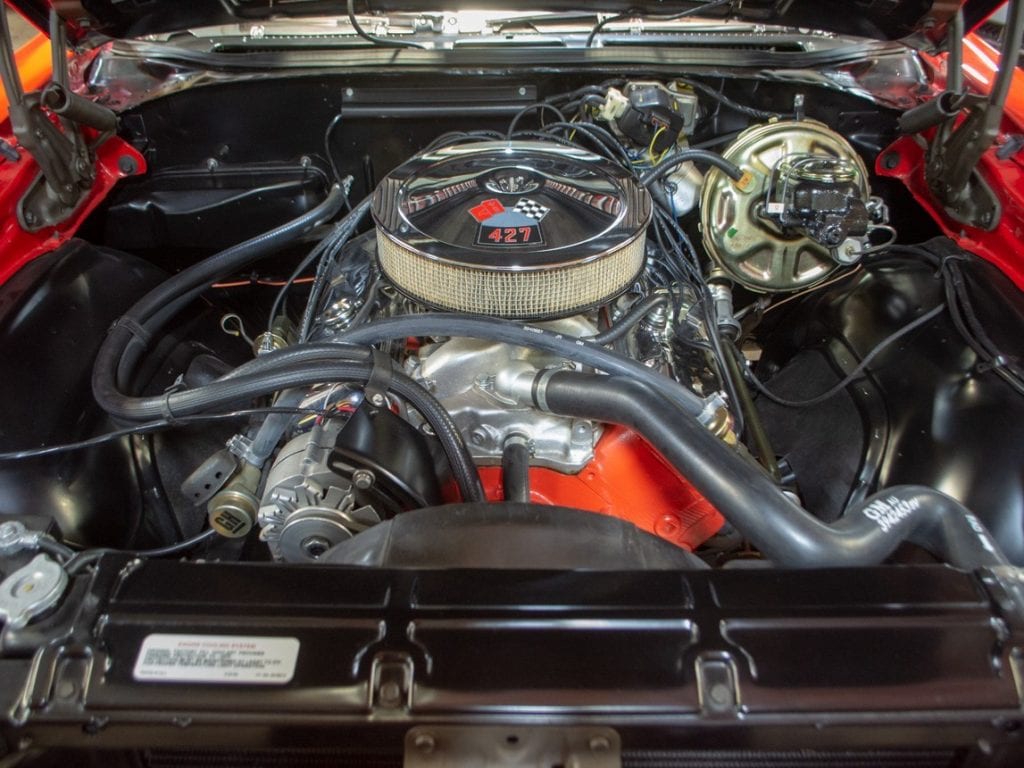 COPO Connection certificate
COPO 9562 Matching Numbers L72 427/425 HP engine
M22 4-speed transmission
And so much more!
Details:  https://corvettemike.com/used-corvettes-for-sale/1969-chevrolet-copo-chevelle/
       Stock #: 6153 – Price: $147,500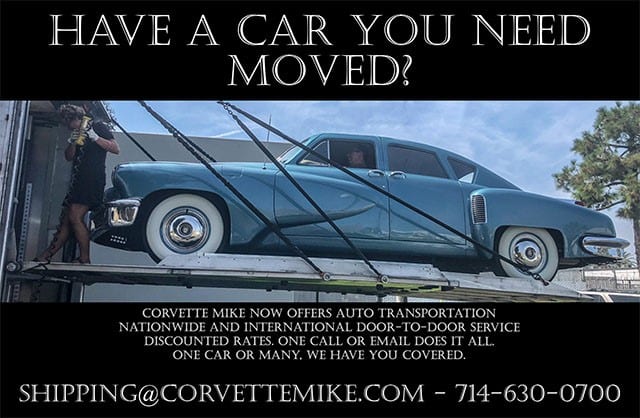 Discounted Parts Table Items
Pictures Available Upon Request.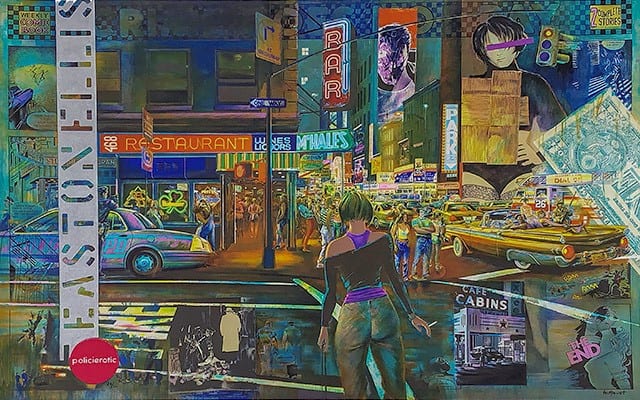 Poiicerotic
By Daniel Authouart
Price: $2,820 (50% off) $1,410!
Other artwork by Daniel Authouart also available.
1956 – 1960 Corvette Hardtop – Charcoal/Red. Price:

$5,995

  $4,888
1991 ZR-1 Owner's Kit – Complete and like new. Price:

$650

$375. Two sets available at this price.
1957 Corvette Fuel Injection Unit – taken off of a '57 Corvette engine, completely rebuilt and is ready to use. Part #7014520. Price $5,500 OBO (make us an offer).
1968-1969 L88 Holley 4bbl carburetor – Completely rebuilt (by Jerry Luck) and ready to install. 3925519 R4054A 861. Price:

$4,500

$3,500.
Cars Listed on eBay at Auction Pricing
1960 Red Resto-Mod with LS2 and 6-Speed
1966 Tuxedo Black Conv. Silver interior, L72 427/425hp, 4-Speed
1966 Milano Maroon w/Black interior, L72 427/450hp, 4-speed
1967 Rally Red, Red Int, L71 427/435hp 4-Speed
1967 Marina Blue Corvette 300hp Auto
1970 Twilight Blue Oldsmobile 442 W30 Convertible
2013 White Porsche Cayenne S, Automatic, AWD
2013 Audi Q7 3.0T S line Prestige AWD, Automatic
2015 3LT Coupe, Shark Gray and Jet Black Interior
2017 Corvette Racing Yellow Z51 Coupe With 1,600 Miles


Comic of the Week