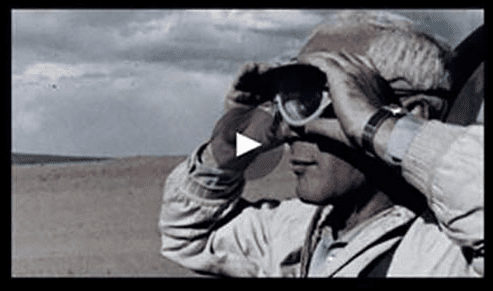 MID-ENGINE C8 CORVETTE TO DEBUT IN ORANGE COUNTY, CALIFORNIA ON 7/18/19
May 2, 2019
Chevrolet is continuing to hand feed us tiny details about the mid-engine C8 Corvette's debut. The latest bit of information comes from an e-mail invitation sent to media, which the Mid-Engine Corvette Forum published on Tuesday. In the invite, Chevrolet names Orange County, California, as the location for the mid-engine C8 Corvette's debut. As Corvette Mike Anaheim is in Orange County, you bet we will be bringing you updates as they happen.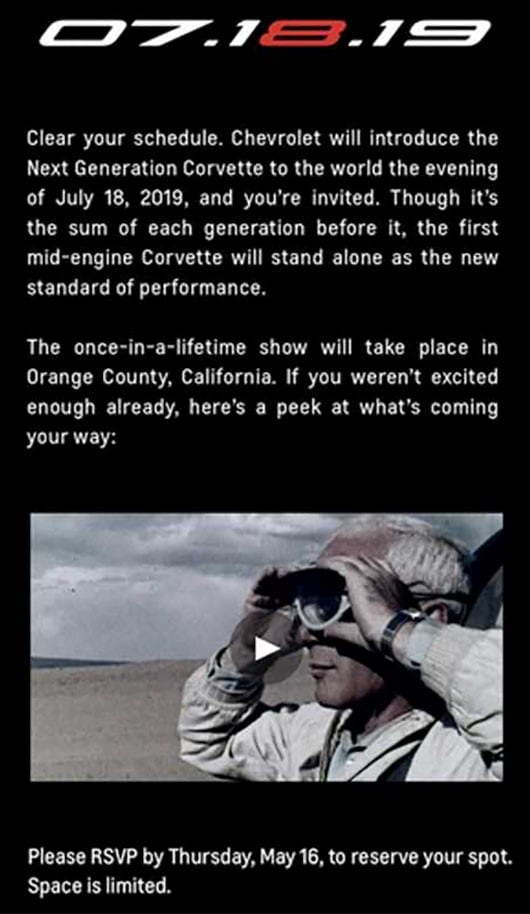 There is also a new teaser from Chevrolet that, among other things, flashes through Corvette history. The video opens with Zora Arkus-Duntov, the father of the Corvette, also an accomplished race car driver, getting ready to hit the track.
It is expected that only a base model C8 will be at the reveal. It will most likely come with an upgraded version of the current 6.2-liter LT1 V8 engine with about 500 horsepower and a new dual-clutch automatic. Additional variants, possibly being a 1,000-hp hybrid model and a mid-range twin-turbo 4.2-liter Cadillac Blackwing V8 producing around 600-hp, will come in future releases, just like GM did with the C7.
Inbound NOW!

Fully restored 1948 – 5 window Chevy pickup
216 CI 6-cylinder Thriftmaster engine,
Manual transmission with floor mount shifter
Optional oil bath air cleaner
Red Oak wood bed.
Priced at: $35,000
Trades accepted. Excellent financing.
Featured Car of the Week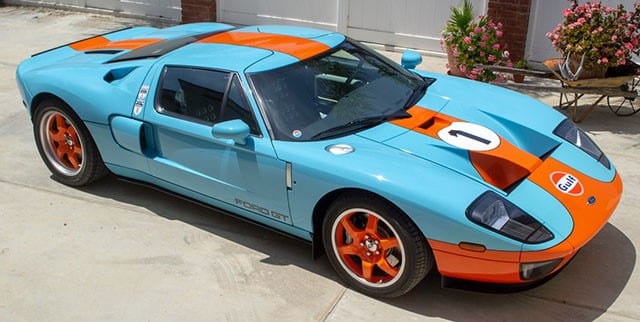 The most desirable Ford GT, 1 of 343
Only 3,914 Miles
What Mike likes about this car:
"I was there when the original owner, (longtime friend and customer) bought this Heritage GT new.  It's not every day you meet a guy that has two GT's that he is the original owner of each.  What I can tell you is this car is as new as they come.  I inspected it very carefully and there is not a flaw to be found on the body (clear bra installed since new).  The tires are like new and the engine bay looks like the day it rolled off the line.  The car lived its entire life in a climate controlled detached man cave at his home outside of LA.  Our perfect dry climate has preserved this car and all of its finishes to factory delivery condition.  I could go on and on but send out your most experienced inspectors and if they are not 100% satisfied and it is not museum quality I will pay for their airfare, lunch, rental car and new eyeglasses."
1 Owner, California, Rare Heritage Edition in Gulf Blue and Orange livery Package. Every supercar collection demands a Ford GT, and the Heritage editions are inarguably the most desirable and highly sought-after GT by enthusiasts.
Factory options: Mcintosh radio, Heritage Edition and painted calipers included. Ordered with factory BBS forged wheels and buyer has his choice of the pictured color keyed wheels in orange or the factory BBS light weight wheels for our asking price.
All paperwork including original window sticker and one-time Ford authenticity package. Has had all the factory updates including the airbags preformed.  Over 150 photos were taken of every component.  Just ask.
Many upgrades including (original parts available) Halon Fire Suppression System, Billet engine Vents, Clear Bra, Transmission Cooler, and so much more.
Priced aggressively for quick sale at $435,000.00.
Track Time NEVER!!!
Trades maybe?
Financing yes!!!
Thrill rides no!!!
Discounted Parts Table Items
Pictures Available Upon Request.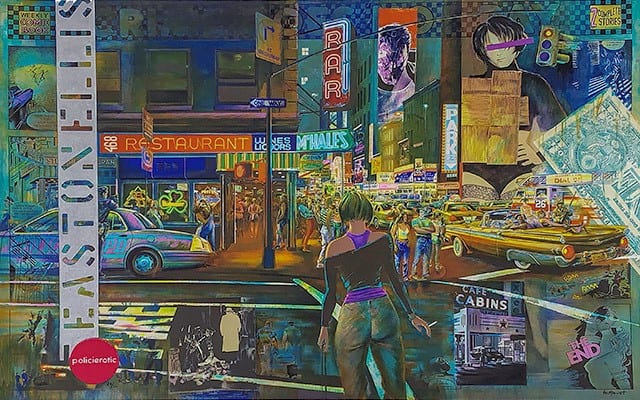 Poiicerotic
By Daniel Authouart
Price: $2,820 (50% off) $1,410!
Other artwork by Daniel Authouart also available.
1956-1962 Corvette Hardtops – Priced from $4,888.
1963-1967 Corvette Hardtops – Priced from $2,000.
1968-1975 Used convertible top assembly. Good condition.
1991 ZR-1 Owner's Kit – Complete and like new. Price:

$650

$375. Two sets available at this price.
1957 Corvette Fuel Injection Unit – taken off of a '57 Corvette engine, completely rebuilt and is ready to use. Part #7014520. Price $5,500 OBO (make us an offer).
1968-1969 L88 Holley 4bbl carburetor – Completely rebuilt (by Jerry Luck) and ready to install. 3925519 R4054A 861. Price:

$4,500

$3,500.
Cars Listed on eBay at Auction Pricing
1960 Red Resto-Mod with LS2 and 6-Speed
1966 Tuxedo Black Conv. Silver interior, L72 427/425hp, 4-Speed
1966 Milano Maroon w/Black interior, L72 427/450hp, 4-speed
1967 Rally Red, Red Int, L71 427/435hp 4-Speed
1967 Marina Blue Corvette 300hp Auto
1970 Twilight Blue Oldsmobile 442 W30 Convertible
1999 Plymouth Prowler, Prowler Purple w/Slate Interior Convertible
2012 Ashen Gray Metallic Camaro ZL-1 Coupe With 350 Miles
2013 White Porsche Cayenne S, Automatic, AWD
2013 Audi Q7 3.0T S line Prestige AWD, Automatic
2017 Mosaic Black Camaro ZL-1 Coupe With 123 Miles

Comic of the Week