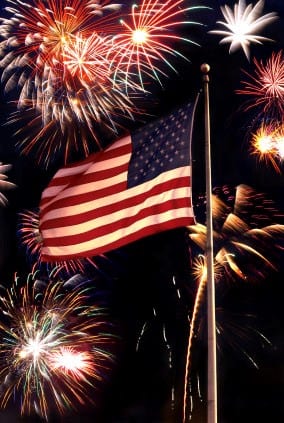 What The 4th Means To Me
July 4, 2019
For one who was born and grew up near Boston, MA., there is a special kind of recollection about the Fourth of July.
I remember it as a day almost as long-anticipated as Christmas. This was helped along by the appearance in store windows of all kinds of fireworks and colorful posters advertising them with vivid pictures.
As I grew up, I began to be aware of the meaning of the day, and with that awareness came the birth of patriotism. July Fourth is the birthday of our nation. I believed as a boy, and believe even more today, that it is the birthday of the greatest nation on earth.
There is a legend about the day of our nation's birth in the little hall in Philadelphia, a day on which debate had raged for hours. The men gathered there were honorable men hard-pressed by a king who had flouted the very laws they were willing to obey. Even so, to sign the Declaration of Independence was such an irretrievable act that the walls resounded with the words "treason, the gallows, the headsman's ax," and the issue remained in doubt.
The legend says that at that point a man rose and spoke. He is described as not a young man, but one who had to summon all his energy for an impassioned plea. He cited the grievances that had brought them to this moment and finally, his voice falling, he said, "They may turn every tree into a gallows, every hole into a grave, and yet the words of that parchment can never die. To the mechanic in the workshop, they will speak hope; to the slave in the mines, freedom. Sign that parchment. Sign if the next moment the noose is around your neck, for that parchment will be the textbook of freedom, the Bible of the rights of man forever."
He fell back exhausted. The 56 delegates, swept up by his eloquence, rushed forward and signed that document destined to be as immortal as a work of man can be. When they turned to thank him for his timely oratory, he was not to be found, nor could any be found who knew who he was or how he had come in or gone out through the locked and guarded doors.
Well, that is the legend—but we do know for certain that 56 men, a little band so unique we have never seen their like since, had pledged their lives, their fortunes and their sacred honor.
Let the Fourth of July always be a reminder that here in this land, for the first time, it was decided that man is born with certain God-given rights; that government is only a convenience created and managed by the people, with no powers of its own except those voluntarily granted to it by the people.
We sometimes forget that great truth, and we never should.
Happy Fourth of July.