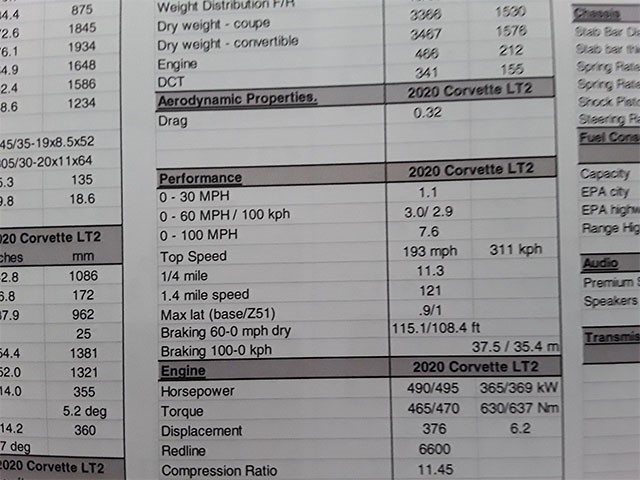 11.3 seconds at 121 mph
August 29, 2019
The new C8 may be a 11.3 second car
A photo is worth 1,000 words, and it may take you longer to look over the picture below than the new C8 dispatches the quarter mile.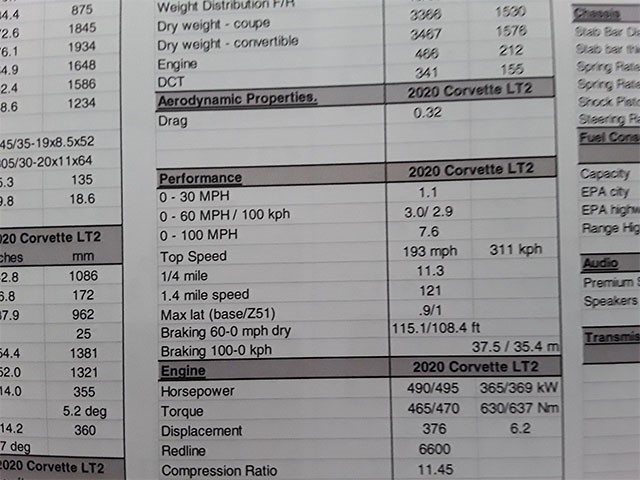 It always comes up when talking about sports cars, and is one of the biggest bragging/selling points, how long does it take to cover the quarter mile. Per a photo posted to CorvetteForum, the mid-engine Corvette will supposedly knock out the quarter mile in just 11.3 seconds at 121 mph. This photo hasn't been confirmed as legitimate and was apparently taken during the Corvettes at Carlisle event. Per the forum user, the photo is from a booklet that detailed many 2020 Corvette Stingray specs. It's unclear if this figure is for the base Corvette or for the 5hp more powerful Z51 optioned version.
For comparison, the 11.3 second time is about a full second quicker than the C7-generation Corvette with the Z51 package. The current Z06 does a 10.95 second quarter-mile time at 127 mph. It is rumored that the 2022 C8 Z06 (or it may be called a ZR1) will get a twin-turbo V8 producing 800hp and around 700 lb-ft of torque. It will be interesting to see the quarter mile times with the added 300hp.
Listen to Mike's interview on Cars Yeah with Mark Greene by clicking Here.
---
Inbound NOW!
1969 Cougar Eliminator & 1971 Plymouth GTX
This very rare 1969 Cougar Eliminator Hardtop comes in Blue with Blue interior, 428 Cobra Jet/335hp and 4-speed manual transmission. It has been completely restored and ready for a new home.
This last year 1971 Plymouth GTX Hardtop comes in Blue with Blue interior, 440 6-Pak/385hp, 4-speed manual transmission and Air Grabber hood!  Beautifully restored and ready to enjoy.
Both cars from a private collector and can be purchased separately or as a package.
Trades accepted. Excellent financing.
Featured Car of the Week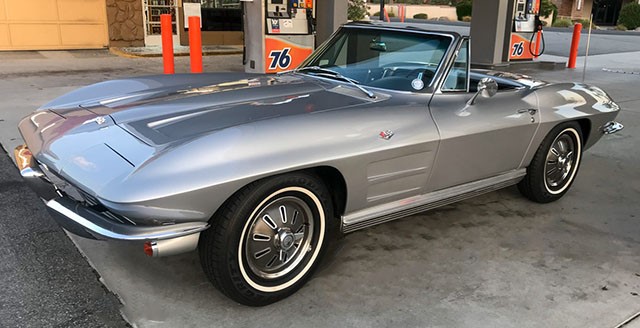 1964 327/300hp, Powerglide Automatic
What Mike likes about this car:
"The 1964 Corvette convertible with an automatic hold a special place in my memory banks. It was the first stingray Corvette I owned back in the late 70s. Mine also had a powerglide transmission, which was not as popular as it is now. It was all I could afford back then, and I was extremely pleased to own it. This prime example spent a lot of time getting restored in our service department and is truly a stingray worth owning. Stop by for a quick spin around the block. "
Happy Throttling!
Apex • Exit • Accelerate!!
CM V8tro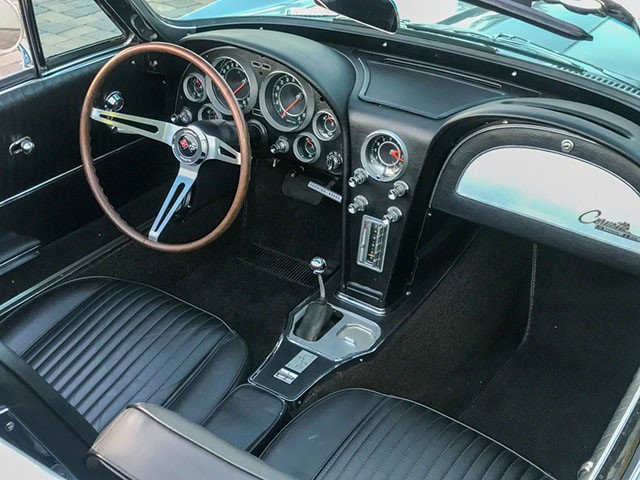 This great looking example was in the hands of the original owner's family since brand new!  It was purchased at the legendary Harry Mann Chevrolet in Los Angeles on 8-26-64 and spent it's whole life right here in Southern California!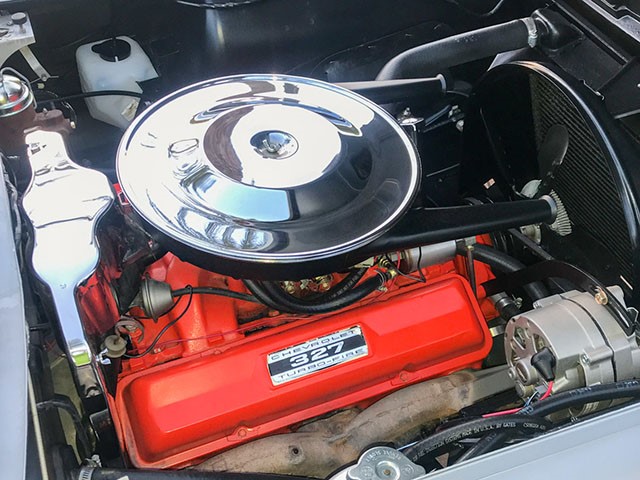 It underwent a complete, nut and bolt restoration a number of years ago retaining it's original drivetrain and is in beautiful condition throughout.
Trades maybe?
Financing yes!!!
Thrill rides no!!!
Upcoming events:
2019 National Corvette Museum 25th Anniversary Celebration
And Hall of Fame Induction
Aug 28-31
NCRS Lake Tahoe Regional (Northern California Chapter)
September 19-21
MontBleu Resort Casino & Spa
55 Highway 50, Steateline, NV
Bloomington Gold Charlotte
October 11-12
Hendrick Motorsport Complex, Charlotte, NC
The Muscle Car & Corvette Nationals
November 23 & 24, 2019
Donald E. Stephens Convention Center
5555 N. River Rd, Rosemont, IL. 60018
Have a special event coming up? Let us know and we will let others know.

Corvette From The Inside
Signed by Author
Dave McLellan
Corvette Chief Engineer 1975-1992
Price: $25!
Other books and artwork available.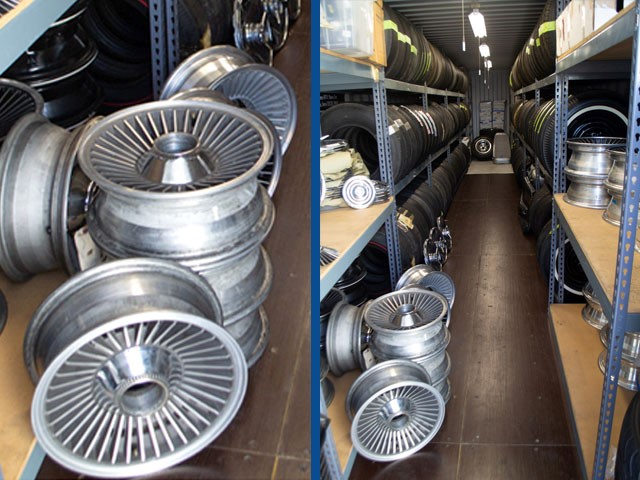 Corvette PartsReal Kelsey Hayes Knock offs and Bolt-Ons for sale.
Tires, repro wheels and caps.
Call for pricing.
Discounted Parts Table Items
Pictures Available Upon Request.
1956-1962 Corvette Hardtops – Priced from $4,888.
1963-1967 Corvette Hardtops – Priced from $2,000.
1968-1975 Used convertible top assembly. Good condition.
1957 Corvette Fuel Injection Unit – taken off of a '57 Corvette engine, completely rebuilt and is ready to use. Part #7014520. Price $5,500 OBO (make us an offer).
1968-1969 L88 Holley 4bbl carburetor – Completely rebuilt (by Jerry Luck) and ready to install. 3925519 R4054A 861. Price:

$4,500

$3,500.

Cars Listed on eBay at Auction Pricing
1953 Frame Off Restored Roadster
1967 Camaro Indy 500 Pace Car Convertible
1967 Rally Red, Red Int, L71 427/435hp 4-Speed
1970 Twilight Blue Oldsmobile 442 W30 Convertible
1999 Plymouth Prowler, Prowler Purple w/Slate Interior Convertible
2011 Supersonic Blue ZR1 w/3ZR
2013 White Porsche Cayenne S, Automatic, AWD
2015 Crystal Red Corvette ZO6 3LZ Convertible One owner, CA Car
2017 Yellow C7 Corvette Z51 Coupe, Automatic