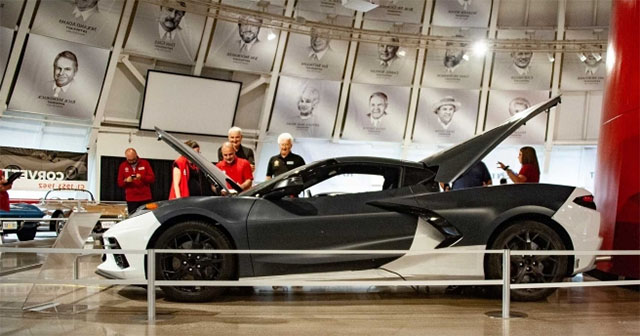 C8 Prototype & Scale Clay Model
September 5, 2019
Just In!
Corvette's Chief Engineer Tadge Juechter showed off a video https://www.youtube.com/watch?v=8pqCt_y-a-c of the base C8 doing a 194 mph flying mile average (both directions of the road). The Z51 is said to have a top speed of 184 mph because of the added down force.
Also Just In
The 2020 C8 Corvettes are being assembled in limited quantities in Bowling Green. These will be supplied to engineers and other reviewers. Actual production will ramp up in December. These cars will be sent out to the reviewers and will be built and VIN'd as actual production cars, this way any review or problem they have will be the exact car we get once production starts for the actual saleable cars. Once they are done being used, they will be cleaned up and sold to dealers at auction.
See the Early stages of the C8 at the NCM
As part of the National Corvette Museum 25th anniversary celebration, GM gave (or lent) a C8 Prototype built in 2018 for powertrain development and a 40 percent-scale clay model of the new C8 from 2014.
The Corvette C8 will be at the National Corvette Museum on permanent display and is the only place to see a C8 right now, other than the Traveling C8 show Chevrolet is doing at select dealerships.
The prototype was used primarily at the Milford Proving Ground and only has minimal final exterior components; even the paint is a basic two-colors. It is powered by a 6.2-liter V8 engine with the test equipment to record data during testing on track at the proving grounds still attached.
Also, on display with the C8 prototype is a clay model of the Corvette C8 that was used for aerodynamic testing and official sketches that led to the final design of the C8
---

Listen to Mike's interview on Cars Yeah with Mark Greene by clicking Here.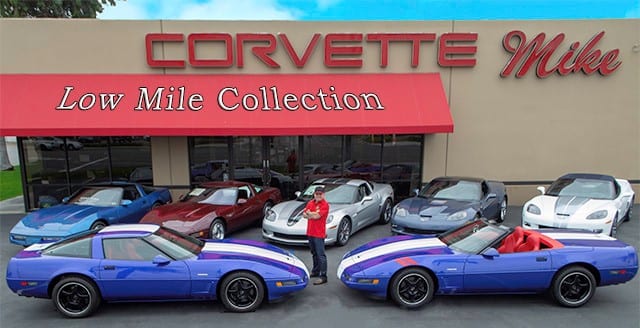 We buy used cars!
Cream puff inventory needed!
Lemons need not apply.
Consignments Net YOU More!!
You get the $$$ and we do all the work for you!!!
Garage too full?
Have one or more cars to sell?
Same day cash! Running or not!!!
For approved collections, Mike will visit personally.
Click Here to submit your car!
Inbound NOW!
1962 Corvette Fuelie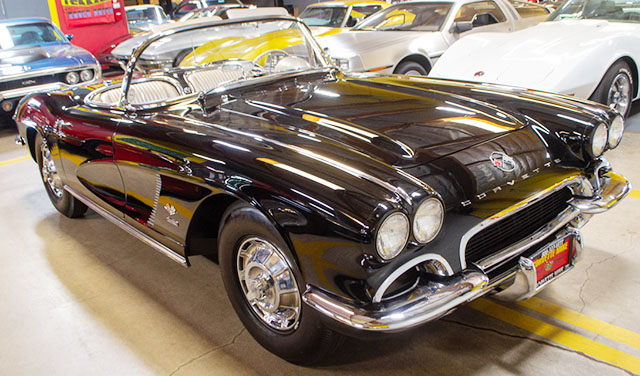 1962 Tuxedo Black with Fawn interior, Fuel Injected, Corvette Convertible.  This is stunning and rare color combination, frame off restored, N.C.R.S. Top Flight Award winner, and with its Original engine!
Trades accepted. Excellent financing.
---
Featured Car of the Week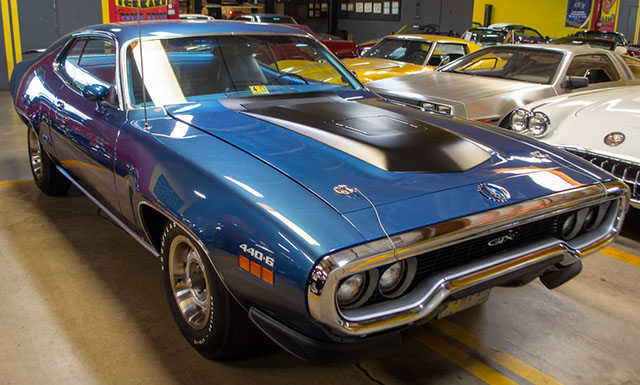 What Mike likes about this car:
"I'm not a big Mopar fan but I have to admit this is one bad ass muscle car from the last year of the huge horsepower battle between Chrysler, GM and Ford. The color combination, the options and the fact it's one of 62 ever built with a four-speed pistol grip shifting transmission is one bad to the bone Mopar! If you listen carefully you can still hear the tires squealing of the GTO's, the GTX's, the Trans Ams, the Boss' and the Corvettes duking it out at the local drag strips! Ahhhhh, Those were the days!!"
Happy Throttling!
Apex • Exit • Accelerate!!
CM V8tro
This beautiful, rare (1 of only 62 built!) and rust-free GTX was sold new in Los Angeles, CA. It then moved and spent most of its live in Texas, and has now come full circle back to So. Cal!  It was painstakingly restored to factory, showroom condition and over a period of 3-4 years in the early '00's, but it looks like it was finished yesterday!
It features its correct, matching #'s 440 6-bbl big block engine, Super Trak Pak, 4-spd. transmission with Pistol Grip shifter, Air-Grabber hood and Dana rear end with 4.10 gears.  Documentation includes, owner history, copies of past titles, correspondence with previous owner's, photos from back in the '70's and extensive restoration receipts.
Special Price: $89,988
Trades maybe?
Financing yes!!!
Thrill rides no!!!
---
Upcoming events:
NCRS Lake Tahoe Regional (Northern California Chapter)
September 19-21
MontBleu Resort Casino & Spa
55 Highway 50, Steateline, NV
Triple Concours Show Hosted By Corvette Mike Midwest September 20 Corvette Mike Midwest
60 Shore Drive, Burr Ridge IL 60527
October 11-12
Hendrick Motorsport Complex, Charlotte, NC
The Muscle Car & Corvette Nationals November 23 & 24, 2019 Donald E. Stephens Convention Center
5555 N. River Rd, Rosemont, IL. 60018
Have a special event coming up? Let us know and we will let others know.
—————————————————————————————————-
Corvette From The Inside
Signed by Author
Dave McLellan
Corvette Chief Engineer 1975-1992
Price: $25!
Other books and artwork available.
Real Kelsey Hayes Knock offs and Bolt-Ons for sale.
Tires, repro wheels and caps.
Call for pricing.
Discounted Parts Table Items
Pictures Available Upon Request.
*   1956-1962 Corvette Hardtops – Priced from $4,888.
*   1963-1967 Corvette Hardtops – Priced from $2,000.
*   1968-1975 Used convertible top assembly. Good condition.
*   1957 Corvette Fuel Injection Unit – taken off of a '57 Corvette engine, completely rebuilt and is ready to use. Part #7014520. Price $5,500 OBO (make us an offer).
*   1968-1969 L88 Holley 4bbl carburetor – Completely rebuilt (by Jerry Luck) and ready to install. 3925519 R4054A 861. Price: $4,500 $3,500.
---
Cars Listed on Bring A Trailer at Auction Pricing
1968 Chevrolet Camaro SS 350/295 4-Speed
10k-Mile 1996 Chevrolet Corvette Grand Sport Convertible

Cars Listed on eBay at Auction Pricing
1953 Frame Off Restored Roadster
1967 Camaro Indy 500 Pace Car Convertible
1967 Rally Red, Red Int, L71 427/435hp 4-Speed
1970 Twilight Blue Oldsmobile 442 W30 Convertible
1999 Plymouth Prowler, Prowler Purple w/Slate Interior Convertible
2011 Supersonic Blue ZR1 w/3ZR
2013 White Porsche Cayenne S, Automatic, AWD
2015 Crystal Red Corvette ZO6 3LZ Convertible One owner, CA Car
2017 Yellow C7 Corvette Z51 Coupe, Automatic
Comic of the Week